After all the planning and packing, eventually, you will need to put all those boxes somewhere. Whether you are moving across the country or across town, you will probably pack up a moving container.
There are storage companies like U-Haul and PODS that will deliver a moving container for you to pack up. In other instances, you may pack a moving truck yourself.
When my husband and I first moved to across the country, we were young and had never lived on our own. The U-Haul U-Boxes were excellent moving containers for us. We filled them and U-Haul moved them for us.
When we moved back, we had collected all the items that keep a home running (and added a bunch of baby items in there!). We used a large moving truck and packed it ourselves.
It may seem simple at first, but packing a moving container is difficult. It takes significant forethought. Overall, the average person is poor at packing a moving container. You waste a lot of empty spaces, and all your boxes are often not stacked or secured properly.
Below, we break down how to pack two different types of shipping containers as well as a few extra tips for packing a moving truck (which is really just a moving container that you drive yourself).
What Not to Pack in a Storage Container
First, let's discuss what not to pack in a moving container. Most moving companies have specific rules about chemicals and flammable items. Almost all moving companies ban items like aerosols, guns, gasoline, or paint in both their moving trucks and moving containers.
Many of the items listed above are prohibited by law to move locally or across state lines.
While it may seem obvious, it is also best to avoid packing foods that need specific temperatures. Anything that is refrigerated or frozen should be disposed of or packed to maintain temperature. It may seem like a neat space for your pets to travel in, but you cannot pack your animals in a moving container.
If you are packing up a moving container to be transported by someone else, we advise keeping any valuable items out of the container. Whether the item is only valuable to you or is worth significant money, it is safer for you to transport it personally.
Furthermore, important documents such as medical records, passports, birth certificates, and financial records should all be kept with you as well.
Moving Methods
There are many different types of storage containers available to rent to get your belongings packed up and moved.
I'm going to go over a few of the most popular options (which also happen to be the ones I've used myself).
Shipping Container (PODS)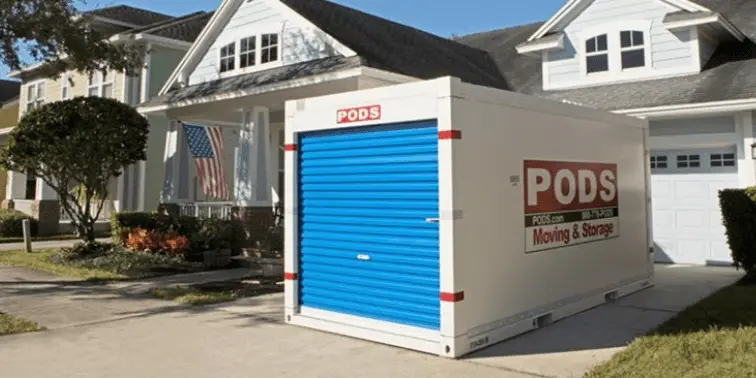 One of the things we loved about using PODS was that you get a few days to pack the container once it's dropped off to you. This is much different than the single day moving event that usually happens with a truck. We found this extra time to really help with the stress of moving process.
No matter if you are using an actual PODS container or working with another company, the method of packing will be the same.
RELATED –> Can You Place PODS on Grass?
Pack as much as you can into boxes. Not only will it make it easier to pack, lift, and stack, it will also make give you easier shapes to work with. Special boxes are sold for televisions, mirrors, and pictures. These are worth the investment. They store your item safely during the tough move.
Smaller boxes are better for heavy items like books. Large boxes filled with books or kitchen items can turn into very heavy boxes that can be cumbersome to lift and carry.
Any fragile items, like a lamp, will need to be wrapped with bubble wrap and secured properly. You should also cushion fragile items even if they're going inside a box. Remove any excess empty spaces in each box with either bubble wrap or soft items like stuffed animals or bedding to ensure these items stay secure inside their box.
Mattresses and furniture will need to be protected with mattress covers and moving blankets. Wrap furniture with plastic wrap to ensure fabric doesn't get ripped or pulled during the move.
Furthermore, appliances will survive the journey better if cardboard is placed to protect the surfaces.
In a moving truck, you want to pack all heavy items towards the front of the truck. This is not the case in a moving container. Weight distribution holds a greater importance. Try your best to disperse weight evenly across the moving containers.
Of course, you will still want to utilize the vertical space of your Pods container. Heavy items should be packed on the bottom with lighter items towards the top. Stand any large furniture vertically when possible. Secure items with loading straps to keep them from shifting in movement.
U-Box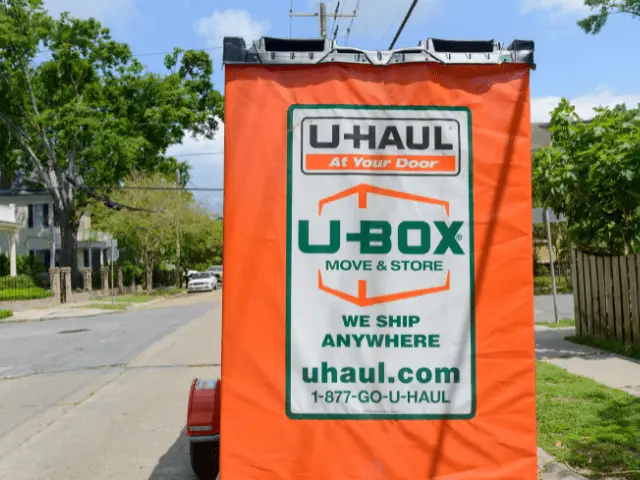 A U-Box is a smaller type of shipping container operated by U-Haul. Oftentimes, you will fill multiple U-Boxes to complete your move. There will be additional strategy for sorting items in each U-Box.
The same holds true, heaviest items on bottom and use your vertical space. Sturdy items should be placed on the bottom to ensure a safe ride. If gaps exist as you pack, fill them with moving blankets or pads to decrease the chance of shifting.
An excellent benefit of U-Boxes is that U-Haul will store your U-Boxes for a monthly fee if your move will take some time.
When we packed our U-Boxes, we packed them based on areas of the house. We saved all light and odd shaped items for the end. This allowed us to put those items up on top to use all our vertical space.
The one major con of U-Boxes is you tow them from a U-Haul facility to your home. With space and towing ability, you will only be able to bring one home at a time. This makes for a lot of logistics in packing and more trips back and forth.
Moving Truck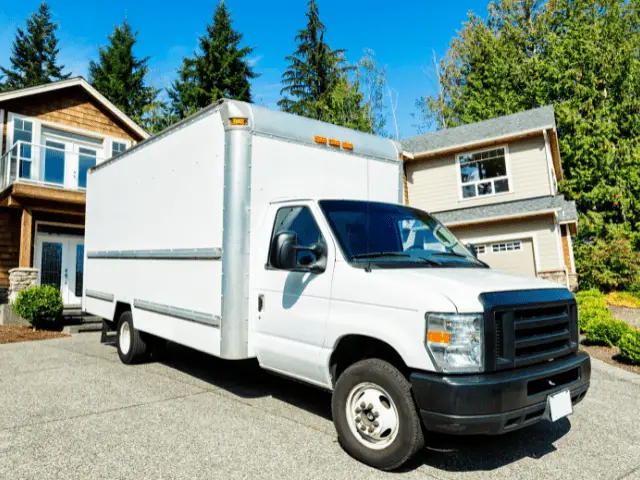 While most of us think of a moving truck and a portable storage container as two different things, they're really not. A moving truck is just a storage container that you drive yourself and many of the same rules and strategies apply for packing a moving truck.
The most important thing in packing a moving truck is determining what size you need. Many companies sport a fleet of trucks up to 26 feet. Ultimately, you will never regret getting a truck that is a little too big.
However, you will really regret renting a truck (or a van for that matter) that is too small.
Weight distribution is incredibly important when packing a moving truck. The largest and heaviest items are best suited for the wall close to the cab. Additionally, heavy items should sit firm on the bottom of the truck and not be stacked onto other items.
If you disassemble your furniture such as your bed frame, it will fit much better in the truck. Dining room tables, headboards, and desks will also take up less space if fully disassembled.
All things considered, the number one crucial mistake made by novices is under-using their vertical space. When possible, stand any large furniture upright to fully use your vertical space.
Secure all items with moving straps. It is okay to do it in layers most of the time. When packing, just pay attention if items seem not secure or if they may shift in transit.
You will find success if you pack as much as you can into boxes. All in all, boxes stack easily and are consistent shapes. Finally, pack the lightest items last. You can stack these light items on top of some of your heavier items.
Final Thoughts
The moving method you choose depends on your moving preferences and how much stuff you must pack. Ultimately, the packing tips are very similar for each method.
You will fit the most in your container if you use your vertical space. Stand furniture up tall and secure heavier items on the bottom. Straps and ropes are essential to secure your items. If you do not properly tie your items down, they could shift during transit and either damage themselves or other items.
Packing your own moving truck gives you autonomy of scheduling but does not give you any storage options if you need to wait to move into your new home.
PODS are an excellent choice if you are moving an entire house. Also, PODS are dropped off at your home, so you do not have to worry about moving the container. PODS will leave the container at your home for a monthly fee. This will give you ample time to pack it up before you go.
Finally, a U-Box is a brilliant solution as well. They will store your box, but the spaces are smaller. However, a king-size bed easily fits in one. The smaller space may allow you to pack more odd shape items with ease. You will only be able to have one U-Box at your house at a time.
No matter what method you use, you will find outstanding success with these tips.