When someone asks about how to pack large items for moving, you begin to wonder. Do they mean an armoire? A sofa? An ATV? Or something else?
Does "large" mean something heavy? Perhaps something that just takes up a lot of space? Something that's bulky but not all that dense or heavy? It's hard to define "large" in this context. But we know it when we see it—and when we try to carry it to a moving truck.
We'll identify a few item categories that commonly are loaded on moving trucks since care and maybe even small trucks won't accommodate them. And we'll discuss the quirks of each and how to deal with them when preparing, packing, and loading/unloading.
Moving Large Items
When packing for a move, it's important to distinguish the sizes and volumes of items you're packing. Small things can get lost easily, whereas it's pretty difficult to lose a large one.
Still, large furniture and other objects can be damaged easily, sometimes causing injury to the people handling them too. Each type brings its unique concerns.
Since we can't begin to discuss every large, bulky, or heavy item that people might want to move, we'll focus on the following, noting overlap among some categories:
Hardwood furniture, like sideboards, dining tables and chairs, can be pretty heavy. It also scratches or dents easily.
Tall and/or wide storage pieces, like many bookshelves, armoires and dressers, are incredibly cumbersome to move. Alert: you will need two (or more) people to move these.
Sofas and sofa beds are moderately heavy but also hard to hold onto. Sofa beds have movable bed frames and springs that, if not secured, can pop put and possibly cause harm.
Large electronics, like many TVs, can be somewhat heavy, depending on their size. Of course, they are also quite fragile and must be handled with great care.
Mattresses and box springs are all but indestructible (mattresses especially). But they're hard to stand up against a wall (again, mattresses are the worst) and generally hard to carry without flopping around.
Lawnmowers and snowblowers are dirty, and most have sharp edges. Many models use gas and oil, which should be expended before loading. Some use batteries, which should be removed and stored separately. At least they are easy to roll onto the truck, though!
Off-road recreational vehicles could be anything from an ATV to a kayak. Since they can take up space on a moving truck, you might consider pulling them on a trailer.
Safety First
Many tools are available to help you move large or heavy furniture. If you use tools, though, don't let them dissuade you from enlisting human helpers as well. Most moving tools are simple machines. They make things easier to move, but it's still possible to injure yourself.
So ask for help when moving large items and hire professional movers if you want to avoid injury.
Also, use furniture-carrying straps when moving furniture. These include the forearm fork life and the shoulder dolly. And be sure to use proper lifting techniques to protect your back and spine. And whether you rent or own them, moving dollies are great tools to have on hand.
And be sure to plan a path for moving something large and unwieldy. Ensure that the path is free of any obstacles and the item is fully covered and padded. If your moving truck is parked in the street, be vigilant of pedestrians and moving traffic.
To Disassemble or Not to Disassemble
Disassembling furniture can mean nothing more than removing the drawers from a dresser or sideboard, making it easier to load and unload these pieces. Disassembly can go farther, though. It can mean removing screws and bolts and loading parts separately to conserve space on the moving truck.
Do this with care and caution!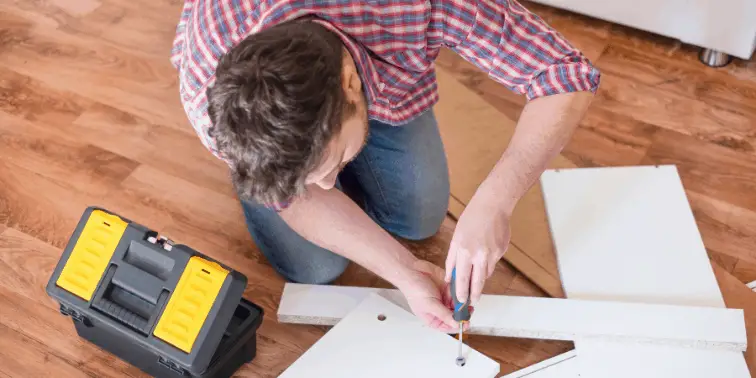 Whether or not you disassemble an item for moving really comes down to the object itself. For example, we absolutely recommend taking out any movable bookshelves to avoid having one slip out and fall on someone. Someone who helped us move lost a toenail because of this; thankfully, it wasn't the whole toe!
Many high-quality hardwood dining tables have legs that simply unscrew. However, when it comes to DIY furniture from Ikea or another discount furniture retailer, you must weigh the pros and cons of leaving the item fully intact vs. taking it apart. Tough choice!
Next time, buy hardwood furniture if you can afford it. Or see what garage sales or secondhand stores have.
While inexpensive furniture pieces made from engineered wood hold together well enough after first assembling them, the screws and bolts tend to loosen—sometimes even splintering the surrounding "wood" and, thus, weakening the whole piece. Unfortunately, this can result from either the disassembling process or jiggling and hitting bumps while on the road.
Other Tricks of the Trade
Besides the straps and other protective gear discussed above, professional movers have their own recommendations for keeping large items intact and undamaged. Here are a few of them:
Plan your strategy. Before starting to move an item, measure the spaces, it will need to go through. If you need to remove a part (e.g., a refrigerator door, the legs on couches), do so. It can help reduce the weight too.
Stand couches on end and hook chairs around corners to avoid getting it wedged in the doorway.
Wrap a piece of bulky furniture first with moving blanks and then cover those with sticky plastic wrap. You might still bump corners or doorframes, but your items should escape unblemished.
If you don't want to pay for furniture sliders to move furniture across a floor, use moving blankets or heavy bedspreads for bare floors and plastic container covers or frisbees on carpeting.
Push large items instead of pulling or dragging them. It's much easier on your body!
Properly tie-down furniture in the back of the moving truck so pieces don't go sliding around all over the place.
Nearly everyone who has moved or seen professional movers ply their trade probably has even more tips and tricks to share. We haven't come close to covering them all!
Don't Overdo It!
Still, we think the best advice for concluding this post is to know your limits. If you're in your sixties, don't be embarrassed about not being able to do what you did in your twenties. And if you've suffered a back injury, don't risk reactivating it.
Smart people hire professional movers or (healthy young people who need money) to move their large items—or anything else, for that matter. Remember, you might have the kitchen of your dreams.
But if your luxury fridge is clunky and weighs a ton, and you try to move it anyway, how much will you enjoy it when you're in a hospital bed or rehab recovering?