Packing a moving van can be a daunting task. Sure, you've packed and labeled all your boxes

, but as you look into the moving van, you're wondering how you are going to fit everything in.
When planning how to pack your moving van, you need to consider the size and weight of your items and how you will evenly distribute weight in the moving van. You also need to remember to keep your important items (things you'll need while you're moving, important documents, etc) out of the moving van.
The most important thing is don't stress! Packing a van can be straightforward when you follow our tips.
What Is a Moving Van?
There can be some confusion between moving vans and a moving truck so I want to briefly make sure we're on the same page. A moving van is very similar to a moving truck, but generally smaller (potentially much smaller) in size.
Because it is smaller, a moving van is usually almost more budget-friendly. This can make it a perfect option for someone who doesn't have a lot of stuff to move. Think 'moving into a first apartment' level of stuff.
They are still rented through a truck rental company and most popular companies (U-Haul & Budget for example) have moving vans for rent.
If you're not sure if all your stuff will fit in a moving van, then I would highly recommend going ahead and upgrading to a moving truck instead. However, if a van works for your situation, let's talk about how to load boxes and save space!
Before You Start
Gather Packing Supplies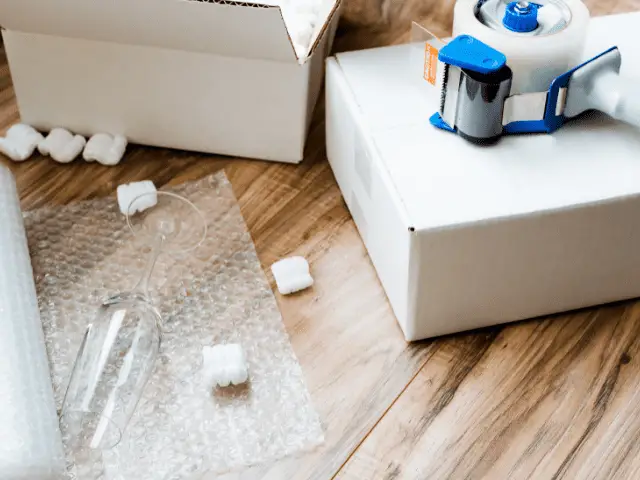 Having the proper moving supplies is often the most critical step in making your packing process efficient and effective.
Before you start moving your things into the van, you will want to ensure you have all your materials ready.
Here is what you will need:
Dolly – A dolly will help you move heavy furniture and boxes efficiently and without hurting yourself. There is a good chance you can rent one from the same place you got your van.
Padding – Paper padding, plastic stretch wrap, furniture pads, moving blankets, or anything to keep your furniture and appliances safe.
Packing Tape – To keep padding in place.
Moving Straps – To keep your furniture together.
A Tarp – Place this on the bottom of the moving van to prevent your furniture from getting dirty. Moving vans take a lot of abuse and the bottom of the van may not be something you want your things touching.
Check out our Moving Supplies Guide

 for a list of everything you may need or want to be prepared for your move.
Things You Don't Want to Pack
You do not want to pack everything into your moving van. Some things need to be kept separate so you can easily find them later. These items can be packed in the cab of the moving van or in a separate car that you're taking to your destination.
Your goal is to keep these items accessible whenever you need them.
Items to keep separate: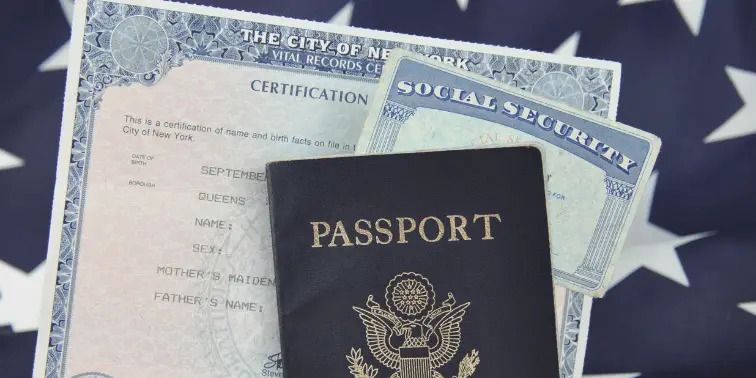 Keep your important documents like Passports and Birth Certificates with you as much as possible during a move.
Overnight bag – Your toiletries, daily necessities, and things you can't go a day (or days) without. The last thing you want is having to run to the store to buy a brush because you packed it somewhere in the back of the moving van.
Tools for re-assembling – You will be dismantling your furniture (especially large furniture) to go in the moving van. Keeping some tools out of the moving van and in an easy-to-find place will ensure that you do not have to unpack every box before setting up bed frames, for example.
Electronics – Place your phone, computer, and other electronics in a safe place during the moving process. This could also include your TV. If there is space at the end of packing up the moving van, you can pack up the electronics you know you will not need for a little bit. Otherwise, keep them nearby.
Valuables – Don't pack anything in the moving van that is extremely expensive or would be disastrous to lose.
Important documents – Don't pack up items you might need to identify yourself or papers you may need when you get to your new house. Pack these in a folder in the cab.
Breakables – If you are really concerned about your fragile items breaking during transit, pack them upfront with you. This could include china plates, items made from glass, fancy pictures, etc.
Save Space by Preparing Items
Disassemble furniture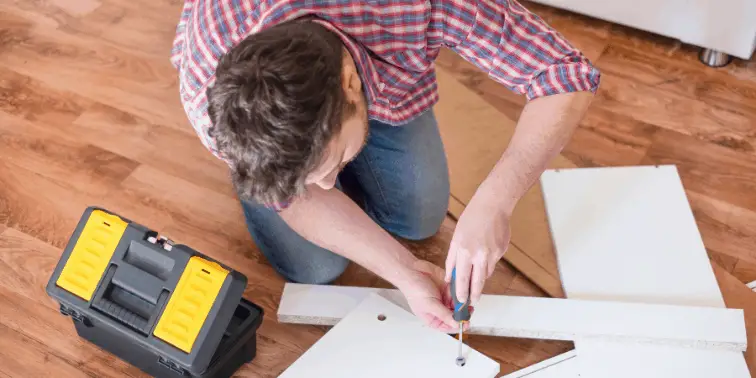 Fully assembled furniture

 takes up a lot of empty space in a moving van. To conserve space, take apart all your furniture pieces. Not only will this clear up space, but it will also help you evenly distribute weight along with the moving van.
Helpful Tips
Here are some pro tips to help you distribute weight more effectively (and save your back while you're at it!):
Take the drawers out of all cabinets and dressers, especially filing cabinets
Take apart your bed frame.
Remove cushions from your couch (use for padding for other items while packing).
Make sure you keep a small toolset in your overnight bag or pack it last in the moving van so that you have a means of setting up the furniture when you arrive.
Loading the Van
1. Heaviest Items and Appliances First
When you are prepared to start packing the moving van, start with the heaviest items first. You do not want to put in heavy items (heavy furniture and/or heavy boxes) last as they can smash more delicate items with their weight.
Placing heavier items first also helps with weight distribution. Place heavy items on the walls of the moving van and the half of the moving van closer to the cab.
Likewise, pack your large bulky items first so that you can find space for them.
2. Long Items Vertically
Move your long items like couches, headboards, and tables (and table legs) in next. Place them vertically against the walls of the moving van so that they take up less space.
Wrap and pad your furniture before if you are worried about scratches or damage. (You probably should be worried about scratches and damage) Especially true for wooden furniture.
Placing your furniture horizontally in the moving van will take up too much space so, avoid that as much as possible.
Ensure you place furniture with drawers facing the truck wall so the drawers will not open and close during transit.
Mattresses make great padding for other items, so place them in the moving van early on. However, box springs should be covered with moving blankets because of their hard edges.
3. Secure Breakable Items
While you should have already carefully packed your fragile items such as mirrors and picture frames, give yourself peace of mind by securing your fragile boxes between heavier items so that they do not shift.
Use your mattress, couch pillows, or extra blankets as another buffer for your fragile items.
4. Pack Moving Boxes
Once all your big, heavy, and fragile items have been packed in the moving van, start packing in the moving boxes.
Start with the heavy boxes on the bottom and stack like-size boxes on top of one another according to weight. Lighter boxes and smaller boxes should end up on top.
Stuff strange-sized boxes in leftover crevices made by furniture.
Evenly Distribute Weight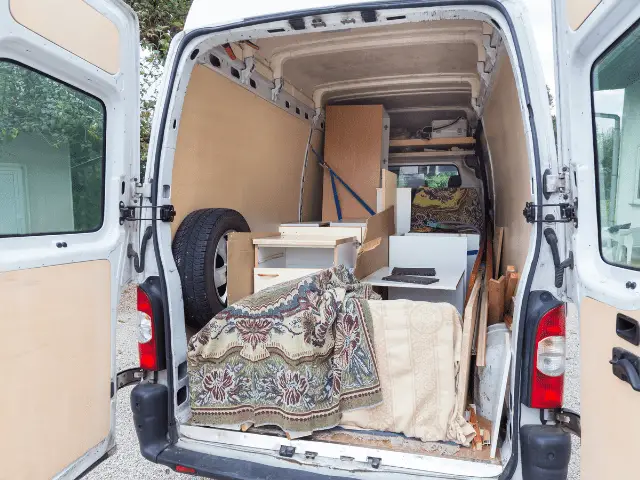 Your goal in packing a moving van is, yes, to pack up all your stuff, but to also ensure the weight is evenly distributed. This will prevent too much shifting during transportation and will make the moving van much easier and safer to drive. Improper weight distribution could result in the moving van dragging in the back.
Place heavy items around the walls and towards the cab, medium items on top of heavier items, and light items on top and towards the entrance of the van.
When you've packed everything up, check the cab and the house to see if you have missed anything. Then close your moving van door. You did it! You're ready for your new start.
Final Thoughts
Packing a moving van is very similar to how to pack a moving truck. The main difference is, that there is less overall space in a van compared to a moving truck
But, if you don't have a lot of stuff to move and you can maximize the amount of space a van provides, it can be a much better option than a moving truck rental.