Is December a bad month to move?
There are several reasons to believe it might be, such as all the holidays, parties, and so on. And what about moving from and/or to a cold climate?
Still, December is not necessarily a bad time to move, especially if your personal or family circumstances favor it. In fact, there are several benefits.
But before deciding about moving in December, consider what else is on your plate.
For example, will you have vacation time this month? How long will your kids be on school break? Do you have guests, parties, or holiday travel to prepare for? And, if you live in a cold climate, how comfortable will you be moving in winter weather?
If all your circumstances seem right for moving at this busy and possibly snowy, icy, and slushy time of year, though, keep reading. We'll share some pointers about moving in December the right way—including precautions to consider.
Benefits of Moving in Winter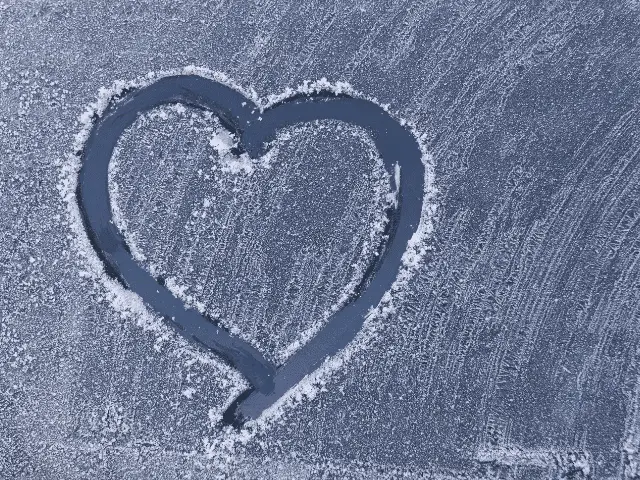 Whether you're looking for professional movers or a DIY moving truck rental, you should know that most moving-related businesses remain open year-round. What's more, they aren't as busy as in warmer months and often offer discounts and might even be willing to bargain with you.
Not only is your winter move likely to cost less, but the movers probably will be faster and more efficient when they don't need to juggle as many customers. Also, remember that if you use professional movers, they can save you the stress of loading a moving truck and, even more, tackling wet or slippery roads. 
You also won't need to worry as much about scheduling your move as you would in warmer, more popular moving months, and you won't have to deal with the summer heat. Another bonus for some? Housing often is more affordable in winter—depending on the market, of course.
Still, winter moves do have some drawbacks. So prepare yourself—and be sure to confirm the scheduled date and time with the moving or truck company in advance. One recommendation: try not to move on an actual holiday, even if you're doing your own move. You might not be able to get help if needed—especially on the road.
Preparing for a December Move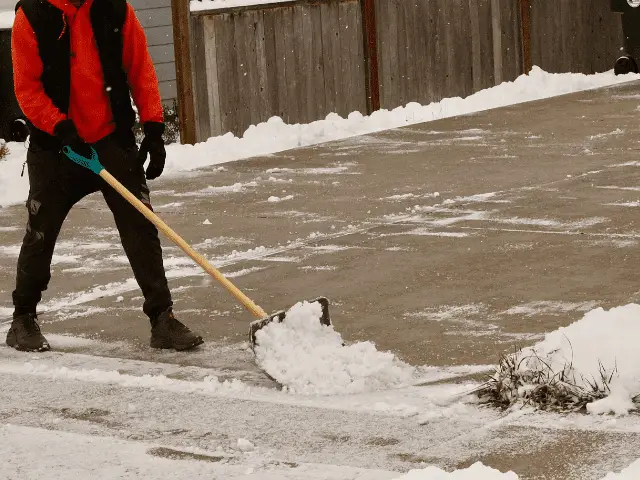 How does preparing for a December move differ from packing during warmer months? Two words say it all: "temperature and water." People preparing to move in winter surely are aware of the cold temperatures.
But do they remember how those temperatures create snow and turn it to ice if not removed? Otherwise, it could make moving much more challenging.
For example, have you shoveled all the sidewalks?
You probably did the front walk and driveway, but what about side walkways or the patio? Anyone loading a moving truck might need these areas to access specific entrances and exits better.
And have you checked for a snow mound left by the municipal plow? It could block the truck's curb access.
Another thing people sometimes forget during the rush to load the truck is ensuring the comfort and convenience of everyone involved in the move. Turn off the heat while the doors are open, but try to have some warm drinks, like coffee, cider, or hot chocolate. And be sure to bundle up yourself and your family.
Protecting the home's interior from the elements also means preventing slip and fall injuries on the part of those doing the loading, not to mention it could ruin wood floors and furniture.
So be sure to cover vulnerable items and areas with tarps or mats and mop up water as needed. Also, have lots of absorbent towels or blankets on hand.
Loading a Moving Truck in December
If you don't already have several plastic bins, consider investing in some. Even the heaviest cardboard doesn't stand up to cold, wet weather. And if someone needs a lifting break, they might set a carton on the ground for a moment. So use these bins for clothing, linens, books, medications, and other items that could stain or be destroyed completely.
Any electronics should also go in plastic bins or other waterproof containers, and when packing them, be sure to use thermal blankets or similar insulating materials.
Also, did you know that common household products like dishes and glassware, fragile, are even more so in cold weather? So the same packing process would be appropriate for them too.
Driving in Winter Weather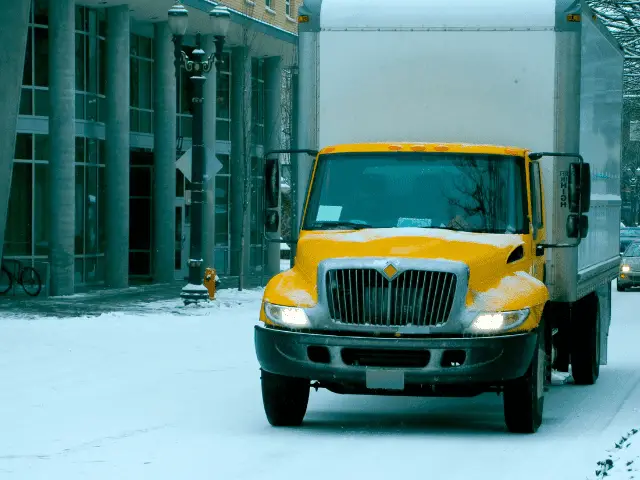 Whether you're driving a moving truck yourself or just your personal vehicle, December roads can be treacherous—often, when you least expect it. However, if you attempt the drive on your own, there are certain precautions to take, including:
Try to have a driving buddy with you.
Check the weather report before leaving and postpone the trip if it looks iffy, and find out whether tire chains are required anywhere on your route.
Be sure to have tools in the vehicle to clear snow from the windows.
Pack for warmth and unexpected delays. Be sure to have warm blankets, food and drinks, and any medication you might need.
Also, carry emergency gear, like road flares, a first aid kit, a flashlight, and, of course, a mobile phone.
Make sure you have a full gas tank starting out and drive slowly and carefully.
If the rental truck uses diesel fuel, be sure you know how to handle that type of truck in cold weather.
You can postpone your move if you're not already on the road, but what if you are—with all your belongings?
Unless you're a professional truck driver or have superior eyesight and reflexes, why not use professional movers? Not only do they know how to drive on winter roads, but they also know when not to—and will let you know when they need to reschedule.
Yes, it will end up costing you more money, but when it comes to your safety (and the safety of others on the road around you), the extra money spent is worth it.
Unloading and Unboxing
Your stuff has arrived at your new home. But don't unload the truck yet!
Cover the floor beforehand.
Ideally, you will have a sufficient supply of tarps or plastic sheeting (preferably reused) to cover areas where items on the truck will be placed until you're ready to unpack them. By the way, do that as soon as possible so you can make a timely damage claim if necessary.
Smart movers start with inventory lists and clearly labeled boxes. These should be organized by room and in order of necessity (e.g., kitchen before den). Doing this can save time and frustration. It can also help you identify anything that might have been left on the truck while you still have access to it.
Don't forget to check the bottoms of cardboard boxes for wetness before lifting them—the last thing you want is for the contents to fall on the floor! If they are wet, remove all the items from the top while checking for any water damage.
A Successful Move and Arrival!
When it comes to moving in December, "judgment" is the word of the day. You can save money and even time.
But it is December, and, like any cold-weather month, there will be things needing extra care and attention.
One that is too often overlooked is helping those who are helping you move. If they're friends or family, the least that you can do is feed them! If they're pro movers, plan ahead and ask how you might help them.
When the move is over, and you've at least checked that all the boxes and other items have arrived, take a deep breath and drink some warm winter cheer.
You did it, and it happened in December!