Aurora, Illinois is located just about 40 miles west of Chicago, making it a great fit for someone who wants the big city access without the everyday hustle and bustle. It is the second-largest city in Illinois behind the Windy City with a population of over 180,000, and its city limits reach four counties: Kane, DuPage, Will, and Kendall.
If you are considering moving to "A City Second to None," read on for some highlights and helpful tips.
Aurora Weather
Aurora experiences typical Chicagoland weather, receiving about 40 inches of precipitation annually. The average high temperature in July is 84 degrees, and the average low temperature in January is 17 degrees. It does periodically receive heavy snow, blizzards, and tornado warnings thanks to its flat Midwestern terrain and proximity to the Great Lakes.
Transportation
While many Aurora residents rely on personal vehicles, the city is a regional transportation hub and has been historically home to various train systems. The Metra commuter rail system has two stops in the city of Aurora, and various bus lines make stops at the Aurora Transportation Center. Amtrak trains stop just ten minutes away in Naperville.
Located just outside city limits is the Aurora Municipal Airport, an alternative to the much larger and busier airports of Midway and O'Hare.
Things to Do in Aurora
Aurora is home to plenty of things to do for the entire family. Here are some of our top picks:
Chicago Premium Outlets: This open-air outlet mall is home to over 160 stores with a range of offerings and price points. There are plenty of food options and ample parking.
Paramount Theater: A stunning performance venue that welcomes all kinds of shows, musicals, stand-up acts, and more. A full bar, non-alcoholic beverages, and snacks are available for purchase within the theater. If you are an architecture or history buff, the theater is on the National Register of Historic Places.
Phillips Park Zoo: Open to the public for over 100 years and free to enter, the Phillips Park Zoo is open year-round and makes a great educational visit for all ages.
SciTech Hands On Museum: Located downtown, this historic building is home to over 200 interactive science and technology exhibits. While it is best suited for elementary school and middle school children, adults can learn a thing or two as well!
Hollywood Casino Aurora: This 53,000-square-foot casino features all kinds of live table games, a buffet, and a sports bar.
Aurora University Athletics: The Division III Spartans field 22 different collegiate athletic teams including football, men's and women's basketball, and women's volleyball.
Aurora Regional Fire Museum: These educational, interactive children's exhibits are located inside the city's old Central Fire Station. Its main exhibit traces the tools and technology used by firefighters through the decades.
Cantigny Park: located just a short drive away in Wheaton, Illinois, this 500-acre public park features large gardens, two museums, a 27-hole golf course, a playground, hiking paths, and restaurants. Entertainment opportunities such as festivals and war reenactments frequently make stops.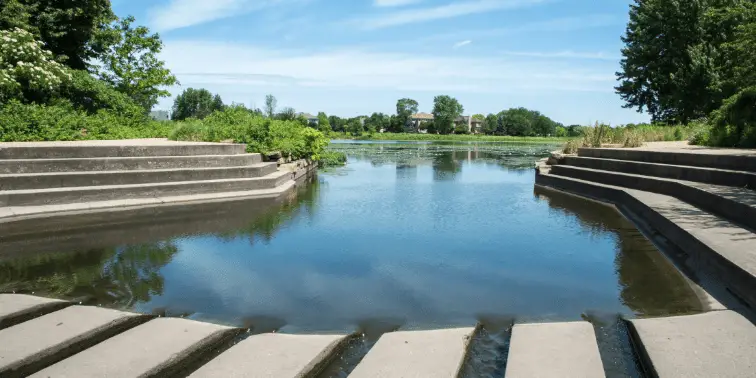 Waubonsie Creek Trail – A winding 3.2 mile trail that features amazing views of Lake Waubonsie and is a popular walking and biking destination in warm weather.
Summer food and music festival Downtown Alive is held on select weekends during the summer, and Blues on the Fox is held on Father's Day weekend for fans of blues music.
The bordering city of Naperville offers plenty of shopping and dining opportunities in its bustling downtown, and the city of Chicago is just an hour's car or train ride away.
Car Registration and Driver's License
If you are new to the state of Illinois, you will need to switch your car's registration, license plates, and driver's license to reflect your new address. To do this, visit an Illinois Secretary of State facility in person with all necessary paperwork, identification documents, and a form of payment.
Many locations take appointments online, but regardless be prepared to spend a few hours there. You can also register to vote and update your organ donor status while processing your new materials.
Make sure you request a REAL ID when changing over your driver's license so that you can use it as a form of identification in the airport.
The major highway in Aurora is I-88, which is a toll road. If you do not have an electronic toll transponder from another state (like EZPass or Sun Pass), consider signing up for an I-Pass. Most toll plazas in Illinois are fully automated so if you do not have a transponder, you will be mailed a bill for the toll charges.
Economy and Demographics
Aurora has a rich tradition of manufacturing. Today, some of the top employers in the city are hospitals, public schools, the city itself, Caterpillar, Hollywood Casino Aurora, and MetLife.
Illinois has the second-highest sales and property taxes in the country, with sales tax ranging from 6.25% to 11% depending on local rates. It also has a flat income tax rate of 4.95%.
Demographic fast facts:
26% of city residents over the age of 25 have a bachelor's degree.
There are approximately 66,000 housing units in the city, of which 46% have children under the age of 18.
Aurora is home to over 40 public schools.
The median household income in the city is $63,967.
Pop Culture References
The 1992 movie Wayne's World is set in Aurora, but only small sections were filmed on location.
The McCormick Museum, located within Cantigny Park, makes a brief appearance in the 1992 film A League of Their Own.