Moving to another state can be exciting and stressful, both at the same time. From considering moving options and packing belongings, to doing paperwork and making new friends, moving can be a roller coaster ride.
If you're planning to move to the beautiful town of Colorado Springs, you're at the right place. We've listed down everything you need to know before moving to Colorado Springs.
Colorado is the 'Olympic City of USA'. It is the most populated city of El Paso County, Colorado. It is located slightly east and 61 miles (98 kilometers) south of Denver. Colorado Springs is located at the base of one of the most iconic American mountains, Pikes Peak.
Colorado Springs consistently obtains high rankings, including No. 1 Best Big City in Money magazine's "Best Places to Live". No. 1 on Outside Magazine's list of America's Best Cities, and No. 2 on U.S. News' list of most desirable cities.
Here is what it's like to live in this beautiful state.
Weather In Colorado Springs
Because Colorado Springs is set in the high-altitude Rocky Mountains, the summers are hot but windy. Winters are mild, with snowfall concentrated primarily in the downtown area.
Although January has always had the coolest current average high temperature in Colorado Springs, December has been recorded the coldest winter in recent years. However, from October to March/April, the area is subjected to the periodic spring snowstorm, which brings moist, heavy snow.
Job Market in Colorado Springs
As the business has gotten better globally, the economy in Colorado Springs has improved as well. Coloradans can choose from a variety of work possibilities. Colorado's minimum wage rate increased from $12 to $12.56 per hour in January 2022.
According to a survey by Business Economic Outlook, Colorado Springs may offer 73,900 jobs in 2022, giving residents even more incentive to relocate.
The highest paying job roles in Colorado include Chief Executives in private or public organizations, Engineers in IT industries, Obstetrics and Gynecology Doctors, Oral and Maxillofacial Surgeons, and Psychiatrists.
Housing Prices in Colorado Springs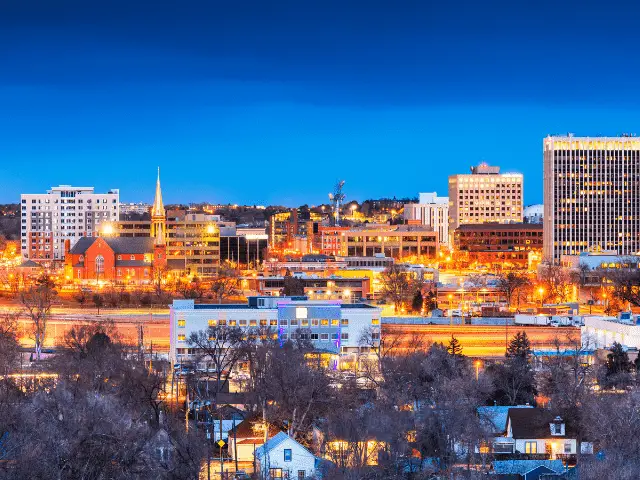 Colorado Springs is the capital of El Paso County, one of the nation's fastest-growing counties. Homebuyers face a competitive market as a result of population increase and a limited number of properties for sale.
Housing costs in Colorado Springs are higher than median housing prices in the states, and they will continue to rise because of the great demand for housing in this town.
According to Realtor.com, the median sold home price is 466.5k in Colorado Springs. That's some huge amount and it is believed to keep rising in upcoming years. Although owning a home is part of the American dream, if you want to move to Colorado, you might want to consider renting – at least in the meantime.
A 2020 report suggests that it is a lot cheaper to live on rent in 53% of Colorado Counties than to buy your own home. It might cost you $1,495 per month to get a two-bedroom rental apartment.
According to Payscale.com, Colorado Spring's estimated yearly pay is around $68,000. This could indicate that you can pay most of your expenses, but there isn't much left over for household spending.
To comfortably afford all of the requirements of life in Colorado, it is recommended that you earn at least $8,000-9,000 per month. People who are looking for a less expensive alternative to the pricier Denver area are heading to Colorado Springs.
How Is the Community Like?
Colorado is the 7th most friendly state according to the survey done by Big Seven Travel.
Coloradans are very welcoming. People often stop to say hi to someone they know at their local beer shop or grocery store, despite the distance. The city wishes to maintain the small-town atmosphere.
Top Attractions in Colorado Springs
As the city is situated on the mountainous plain, the city's ground is 6,000 feet above sea level.
Many Olympians and residents take satisfaction in training on these high altitudes. Colorado Springs is the motherland of the U.S. Olympic and Paralympic Training Centers and the U.S. Olympic and Paralympic Museum.
It is the best place to live for hiking and mountain enthusiasts and gives them a golden chance to train. There are several trails available at Red Rock Canyon Open Space, as well as at North Cheyenne Canon Park, and Palmer Park.
In summers, when the climate is hot and humid, locals (and tourists) like to visit the Garden of Gods. It also has the visitor's nature center and museum adjacent to it. People like to visit those red mountains at different times during the day to experience how these sandstones bask in the sunlight.
Many exhibitions are celebrated at The Colorado Springs Pioneers Museum which is free to attend and the best opportunity to learn about the town's history.
Colorado College offers a platform for local theatre performers to exhibit their talent at the Colorado Springs Fine Arts Center which also hosts live music performances for entertainment.
Kids love it at Cheyenne Mountain Zoo. Seeing the wildlife so closely and enjoying feeding with their hands, from giraffes to elephants it is home to a variety of species.
Food and Nightlife in Colorado Springs
In Colorado Springs, you'll be able to get the perfect flavor for your taste buds. There's something for everyone here, from high-end refinement and luxury to casual outdoor farm-to-table suppers, wood-fired pizza, and casual sidewalk cafes.
During the summer, casual and family eateries all over town will open their doors and layout tables and chairs for diners to enjoy.
In the winter, warm yourself by the fireplaces in many of the city's foreign and special restaurants.
Gardens of The Market and Café: A popular food market with patisserie and dairy counter, as well as a cool, antique bistro with creative menus.
Coati: Offbeat, industrial-style lounge with worldwide street food, coffee, and beverages on sale.
The Green Line Grill: Burgers, hot dogs, and fries are served at this vintage café with checkerboard floors and a snack shack.
King's Chef Diner: Breakfasts and burgers are on the menu at this goofy castle-themed café.
Shuga's: In a slick, boho lounge, you'll find exotic food, as well as inventive cocktails and coffee.
Crave Real Burgers-Colorado Springs: Tasty burgers, sandwiches, and shakes with a variety of topping options and innovative combinations.
The nightlife in downtown Colorado Springs has a distinct flavor and a terrific appeal. A good range of wineries, cideries, and distilleries can be found across the region, all of which are dedicated to the craft of locally produced beverages. Below are some best options for you.
Pub Dog: Bring your dog for some playtime, and while he gets to know his new friends, kick back with a homemade drink and a pub lunch.
Bourbon Brothers Smokehouse & Tavern: This place offers incredible grilled meats and fantastic bourbon. Come in, relax, and appreciate delectable meals and impeccable pours.
Axe And The Oak Distillery And Whisky House: Whiskey made to celebrate. Gold medal liquor and award-winning bourbon served.
Zodiac Venue: Music, Live Art, Friends, and Drinks Every day from 2 to 7 p.m., there is a Happy Hour.
Shame & Regret: It offers the best cocktail bars and beers with some of their secret recipes.
Tejon Street is your go-to option if you want to go shopping after your dinner or just enjoy the nightlife. Tejon Street tour can be just the solution for everything.  It does, however, provide an insight into the local liquor culture as well as an opportunity to meet local musical artists. From Oskar Blues Grill & Brew to Colorado Craft, Tony's, Red Martini, Jack Quinn's Irish Pub, Rendezvous, and District Elleven, there are plenty of options.
School Districts and Neighborhood
Knowing the best schools in Colorado is essential if you're relocating to Colorado Springs with your children. To get admitted to high school or college Math and English proficiency tests are used to evaluate students.
There are 51 public elementary, middle, and high schools in Colorado Springs. Out of which 29 high schools are among the Best High Schools rankings in U.S. News and World Reports.
Some of the best elementary, middle, and high school districts are Academy 20, Cheyenne Mountain 12, Adams 12 Five Star Schools, Alamosa School District, and many more.
If you're moving to Colorado, one of the most common questions you'll have is which neighborhood to live in. Would you rather live on the hillside with igneous rock in your yard or a flat lawn with lush greenery? Is it more important for you to be near or far from schools? Well below are some affordable options for you so keep scrolling down.
–Cumberland Green is popular among the area's huge military community because of its proximity, affordability, and new-development attributes. The average cost of housing is $116 per square foot.
–Meridian Ranch, located on the outskirts of town in Falcon, has its distinct modest vibe that people adore. Every year, it grows in popularity. It also has some of the nicest amenities in the city. The average house costs $118 per square foot.
–Mesa Ridge has Cross Creek Regional Park, a 60-acre park with a pond, a BMX bike track, a terrific playground, gorgeous trails, and plenty of open space. The average price per square foot for a home is $118.
–The Glen at Widefield is extremely popular for local military people, as it is conveniently located near all of the area's major military bases. There are also a lot of fantastic new building alternatives in this area. This place costs $122 per square foot to buy a home.
–Old Colorado City, because this section of town is older and it's simpler to obtain affordable accommodation, many newcomers rush to the west side of town to take advantage of the beautiful residences and scenic views.
–Southeast, this end of town gives a rather rustic and old vibe. Looks like more of what Colorado was like in the 50s and 60s. This region, like many of the more operated areas, is on the rise, with new companies and development projects adding to the area's appeal. Though it may not be as attractive as the Cheyenne neighborhood, this side of town has plenty of affordable housing, wonderful restaurants, and convenient access to shopping.
Fun Facts About Colorado Springs
Colorado Springs is well known for its unique scenic beauty and outdoor activities. It is located on Colorado's Front Range. Pikes Peak, Garden of the Gods, and the United States Olympic and Paralympic Training Center are all located here.
Here are some fun facts about Colorado Springs.
Engineer and Inventor, Nikola Tesla built a secret experimental lab back in 1899 in Colorado Springs although its exact location is still unknown., so it is called 'Lost Laboratory' today.
There is an annual film festival in Colorado Springs called Rocky Mountains Womens' Film Festival. There is the screening of 2-3 movies per day with rooftop outdoor screenings and film discussions. In 2020, The festival continued for nine days and showcased 35 films from 39 states.
Cheyenne Mountain Zoo has the largest herd of Giraffes from every zoo on the continent. Reticulated giraffes, sometimes known as Somali giraffes, are found in the wild in roughly 8,500 numbers around the world, predominantly in Somalia, Kenya, and Ethiopia.
'America The Beautiful' everyone who grew up in the states has listened to at least one or two lines from this famous song. It is said that the writer Katherine Lee Bates wrote it during ascending to Pikes Peak for the summit.