Storage units are a helpful way to store items in between a move. Unfortunately, recent storage unit horror stories can instill fear in storing your items in a storage unit. A common story is valuables being stolen, vanish without a trace, followed by insurance companies refusing to pay.
We're here to tell you that while storage unit theft does happen, there are ways to make robbery risk very low. So low, in fact, that your things will be just as safe if not safer than inside your home.
There are also ways to protect yourself in the event your unit does get broken into.
The Most Common Storage Unit Break-in
Before deciding on a storage unit and considering specific safety precautions, let's review the most common type of storage unit break-in.
Units usually are not broken into by outsiders or suspicious-looking characters. The most common break-in comes from other customers or thieves dressed up as customers.
These robbers will rent a storage unit or pretend they are renting a storage unit. This often means they know the access code to the facility. They do not raise red flags in security systems because they look like they belong there. They also might know where the video cameras are located on-premises. Very often, even with 24-hour security, thieves will come in unnoticed.
So, what can you do?
The first and most important consideration is your storage unit. Not all facilities are created equal. Some storage facilities may make a display of security but may not, in fact, be very safe. The best security for your unit is multiple levels of protection.
Before deciding on a storage unit, here are some things to ask and do.
Ask if the facility has password-protected access.
Ask if the facility has 24-hour cameras.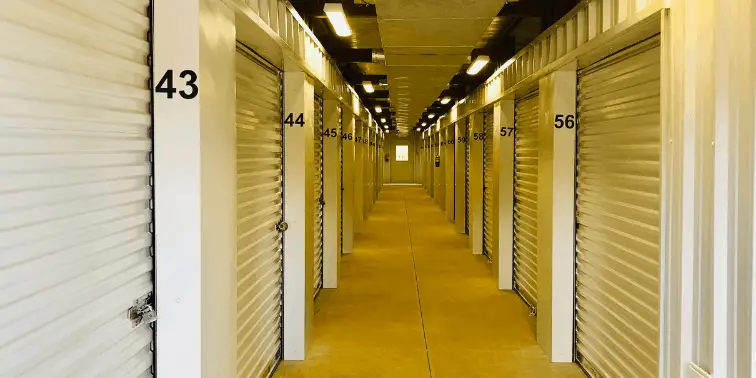 Look for a well-maintained property. There should be no broken fences or failing lights. The property should be properly enclosed. There should be evidence of a well-staffed and well-resourced facility. You don't want a keypad breaking down, for example, and no one being there to fix it.
Ask about lighting inside and outside of the unit.
Ask if there is an access control system.
Visit the facility when it is dark to check if it is well-lit. There should be no dark areas on the premises. Some motion detected interior lighting is a good idea as well.
Ask the staff what preventive measures they are taking to prevent theft. Remember, a secure facility is the best line of defense and worth maybe a few more dollars. You're paying for your items to be stored safely, after all. Otherwise, what's the point.
Ask about employee protocol. Do employees have keys to your unit? You should be the only one with access to your unit. Do employees check to make sure storage units are properly locked? This can be helpful if, for whatever reason, you forget one day.
Visit the property during the day and at night a few times. Do this before deciding on a facility. You may find that the facility is not all it was chalked up to be.
If you're really concerned, remember that indoor storage is generally the most secure way to store your things.
Other individual unit protections to look for
Protected access. It's cool if the facility has keypad protected access, but what's even cooler is if your individual door has a unique code to open. Unfortunately, locks and bolts are not always enough.
Individual door alarms. These alarms will go off and notify the security or the storage unit owner if anyone unauthorized enters your unit.
Wireless alarm technologies. To avoid tampering.
Proper lighting inside and outside of your unit and throughout the facility.
Visible security cameras at your unit and throughout the facility.
Things you can do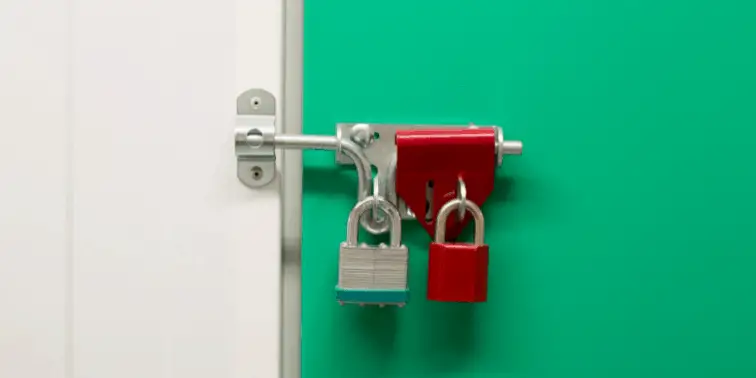 Purchase the strongest lock available. Although thieves can use bolt cutters, don't make it easy for them.
Visit your unit as much as possible. Visit at least once a month.
Do not place valuables within easy access of opening the storage unit. Place them behind other items and not easily visible.
Do not store super valuable items in your storage unit if possible.
Pick an indoor unit for the best level of protection.
Keep an inventory of everything in your storage unit.
Take photos of expensive items and keep receipts for insurance claims.
Purchase storage insurance. (more on that below)
Insurance
Not every storage unit requires you to buy your own storage insurance. Whether it is a requirement or not, you should always purchase insurance.
Many people are shocked to learn a little too late that storage units are not responsible for break-ins. If you have anything of value or that would be expensive to replace, it is important to ensure it.
Most insurances are relatively affordable at around $10/month. Check for deductibles when picking a plan.
You can check with the storage unit and your homeowner's policy to see if they provide complimentary insurance for storage, but most don't. Check the homeowner's or renters insurance policy for a section that explicitly says its covers storage units. If it doesn't, you'll need to purchase a second one for your storage items.
If you are purchasing this plan, you'll probably need an estimate of the total face value of all your stored belongings.
What not to put in your storage unit
Even if you have followed all the above recommendations, some things do not ever belong in a storage unit. Here is just a shortlist.
Cash. Cash is not covered under insurance. It's also an effortless item to steal.
Fine jewelry. Expensive jewelry is often not covered. It's also often an easier item to steal. Make it difficult for the thieves!
Important documents. If you must store important documentation, keep it at a facility designed specifically for sensitive papers.
Anything not covered by insurance. Check what is covered by your insurance for putting anything in your storage unit.