Moving can be expensive and one of those expenses is having to dump a bunch of gas into your moving truck as you're heading to your new home.
If you're trying to figure out the fuel cost in your budget and don't want to look up the MPG of every moving truck, then divide the total miles… carry the 1… more math… you're in the right place!
This is precisely why we built the Moving Truck Gas Cost Calculator.
Simply enter how long your trip is from your current home to your new home, which truck you're renting and the current cost of gas.
If you're not sure about the distance of your move, you can go to Google Maps

, put in your current city and then click to get directions to your new city. Voila!
About The Gas Cost Calculator
Moving Truck Fuel Mileage
As U-Haul states themselves on their website:
The miles per gallon calculations are estimations for ideal driving circumstances. Many conditions can affect this number, including driving with a load, road grades, weather conditions and vehicle speed.
Basically, there are a ton of factors that can, and will, affect the actual gas mileage from each individual rental truck.
We took each moving truck company at their word and included their listed "moving truck estimate" MPG on each truck.
Because of all the factors that can affect fuel mileage and the different ways each company lists their "estimated" MPG, we don't really recommend using this calculator as a comparison tool between the different companies.
For example, U-Haul gives the estimated MPG as an average, Budget gives a range (we gave them the upper end of their range in the calculator) and Penske lists their MPG as "up to…".
At the end of the day, all the moving trucks we looked up are going to give you about 10 – 12 MPG.
Moving Truck Estimated MPG
Company
Truck Size
Gas Type
Est MPG
U-Haul
10′
Regular
12
U-Haul
15′
Regular
10
U-Haul
17′
Regular
10
U-Haul
20′
Regular
10
U-Haul
26′
Regular
10
Budget
12′
Regular
8 – 14
Budget
16′
Regular
6 – 10
Budget
26′
Diesel
8 – 10
Penske
12′
Regular
12
Penske
16′
Regular
12
Penske
22′
Diesel
13
Penske
26′
Diesel
13
Why Do Some of the Bigger Moving Trucks Get Better Gas Mileage?
If you've looked at the chart above and noticed that some of the bigger rental trucks get better gas mileage than some of the smaller trucks, you're not alone.
It was one of the first things that caught my eye while doing the research for this article.
I thought it had to be some type of typo until I stumbled upon the answer. Some of the bigger trucks, like the Penske 22 and 26-foot trucks, use diesel fuel as opposed to regular unleaded gasoline. This is where the improved gas mileage comes into play.
This brings up another point though – when you are entering the price of gas into the Moving Truck Gas Cost Calculator, make sure you know whether you're going to be using diesel or regular unleaded gasoline.
The current national averages for diesel and regular are 35 cents different. (Diesel is currently 35 cents higher)
Gas Prices
As most of us are pretty aware, the cost of gas can be drastically different in different parts of the country, state – heck, many times in the same town!
If you have a particularly long-distance road trip, your gas price can vary quite a bit over the course of your trip.
If you're trying to save money, keep in mind that gas is usually cheaper outside of big cities because property cost is typically higher in a large city. However, gas can also be higher in areas where there is little competition.
To get an idea of what gas prices look like across your entire move, AAA updates the current national average

as well as the regional average gas price in each region across the country.
Moving Truck Gas Cost FAQ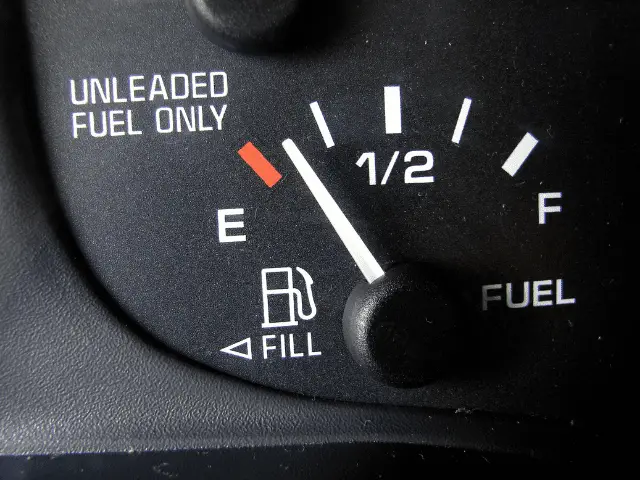 Which Moving Trucks Get the Best Gas Mileage?
To be honest, I think it's really hard to say. The highest miles per gallon number I saw when looking at U-Haul, Budget and Penske was Budget's 12′ truck which listed 14 at the high end of the truck's estimated range.
However, U-Haul simply gives an average for all their trucks. Does this mean that the 12′ U-Haul truck that has an estimated average of 12 miles per gallon may have a 'range' of 10 to 14? Probably.
But, who really knows and every trip for each person is going to be different anyway.
They're really all about the same. At least close enough to where gas mileage shouldn't really be a deciding factor when it comes to saving money or which truck you end up renting.
How many miles per gallon does a moving truck get?
How many miles per gallon a moving truck will get will be dependent on a host of factors.
Most moving trucks are estimated, at least by the companies themselves, to get around 10 to 12 miles per gallon. However, depending upon how much load the truck is carrying, the route and the driving speed, the actual miles per gallon could vary.
What kind of gas does a U-Haul truck take?
To have an accurate Uhaul gas estimate you need to know what kind of gas a U-Haul truck rental takes. All U-Haul trucks use regular unleaded gasoline, even their large 20′ and 26′ trucks.
This may be a bit of a surprise considering other moving truck rental companies like Budget and Penske use diesel for their trucks over 20′ long.
Should You Fill Your Tank Before Dropping Off Or Let Them Do It?
Before you finish signing the paperwork and getting the keys to your sweet new ride, you'll probably be asked if you want to fill the truck back up before dropping it off or if you would like them to do it.
This is not the moving truck company doing you a solid.
They will charge you for the price of gas when they fill it up and the price they'll charge you is usually much, much higher than the actual cost of gas.
Of course, this is to cover their time, but I would highly suggest filling the truck up yourself on your way to drop off the truck and save yourself a few bucks.
Final Thoughts
I've been on a move before where we literally had to use the money from our coin bank to pay for the gas for the trip. So, I know just how much the cost of gas for your moving truck can affect your moving budget.
If you're looking into a box truck rental, I hope that this Moving Truck Gas Cost Calculator and the additional info I was able to gather up helped make your moving process just a little bit better!