Few possessions in most houses are more highly regarded than the TV. It's the centerpiece of the living room. It's where we gather around for everything from Super Bowl parties to Movie Night.
It's also one of the biggest challenges to move safely. Knowing how to pack a TV for your move is extremely important to make sure that prized possession gets to your new living room safely and securely.
The most important part of packing a TV for moving is what you pack the TV in. Spend the money to get a proper box to transport your flat screen tv. It's absolutely worth every penny.
However, if you're moving on a super tight budget and trying to save money everywhere you can (been there, done that), I do have a few tips that you can try as well.
Let's start with the simplest (well, sort of) solution.
This article contains affiliate links. If you buy something through these links I may earn a commission. Thanks.
How to Pack a TV For Moving
---
Use the Original TV Box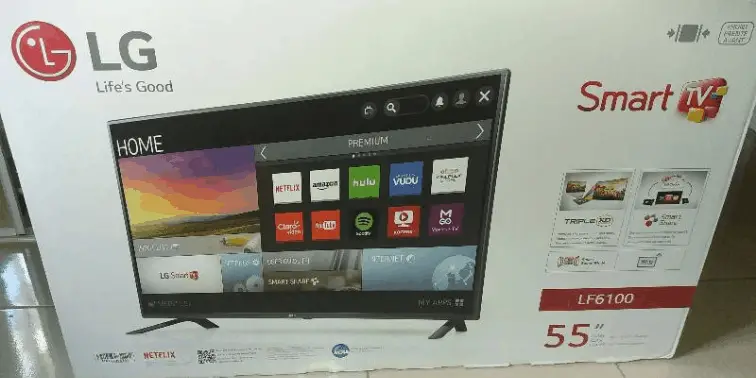 If you're me and you tend to always hold on to things, then all of your hoardings, er, savings will certainly pay off here. If you still have the original box that your flat screen tv came in, then it's time to pull it out and put that thing to use.
Re-package your tv back into the box and you're all set.
Pro Tip: Don't forget to remove the power cord before trying to place your television screen in the box. The power cord will either make the tv not fit properly or you may damage it trying to force it into the box.
Now just make sure that you place it in the truck in a place it won't fall or get smashed in between heavy objects.
Use a TV Moving Box
If you're like most people, you threw the original box out the same day your tv went on the wall.
Without the original packaging, your next best option is to buy a box that is designed to move a tv. Yes, they make boxes specifically for TVs.
FYI: If you plan to hire professional movers, know that most moving companies will require you to pack your TVs into TV Moving Boxes.
You can pick one of these boxes up at a Lowe's or a Home Depot. They're made of really thick cardboard and do a tremendous job of protecting your tv during the move. These boxes are comprised of two different pieces. The tv sits into one half and the other slides over the top.
Before you get too excited, it's not all good news.
These TV Moving Boxes aren't exactly cheap.
TV Moving Box Comparison Chart
Brand
Size
Cost (as of 5/25/21)
Check Most Recent Price
Home Depot
Medium (Up to 40″ TV)
$16.98
Check Price
Home Depot
Large (Up to 70″ TV)
$24.98
Check Price
Home Depot
Extra Large (Up to 80″ TV)
$34.98
Check Price
Lowe's
Large (Up to 70″ TV)
$24.98
Check Price
Bankers Box (via Amazon)
Medium (Up to 40″ TV)
$29.74 (pack of 4)
Check Price
Bankers Box (via Amazon)
Large (Up to 55″ TV)
$46.39 (pack of 4)
Check Price
I know in the grand scheme of things 20 or 25 bucks isn't a ton of money, but somehow it feels like a lot just for a box. Especially when all the other boxes you'll be picking up are about 4 or 5 bucks apiece.
Having said all that, I do highly recommend spending the money and getting one.
We have two of them that we bought a couple of moves back that we've saved and reused each time. These boxes are durable enough that they'll last you forever.
Once you secure your flat screen tv in the box, use bubble wrap or other packing material like packing paper (or even t-shirts can work if you're trying to save cash) to remove any empty space within the box. Empty space will allow your tv to shift during the move and shifting can cause damage.
Utilize your Personal Vehicle
Here is a trick that we have used on multiple moves.
Obviously, the overwhelming majority of everything you pack is going to end up on the moving truck. However, we try to be very strategic with the room we have in our personal vehicles.
For instance, the box of fine china that my grandmother gave us always goes in the trunk of my car. It's the safest, most secure location for the move. Things that are fragile, especially oddly shaped things, are always good nominees to go in a personal vehicle.
We've used the back seat of my car multiple times to transport our flat screen TVs. A couple of TVs in the backseat protected with blankets and bubble wrap are about as safe a place as you can wish for.
I don't have to worry about them sliding into something else or having something falling over on top of them.
Plus, they are easily accessible when you arrive at your new home and all you want to do is sit on the floor, order some pizza and watch a movie on your tv that's on the floor leaning up against the wall.
Pack the TV in the Cab
If you're driving your own moving truck, put that space up in the cab with you to work.
In most moving trucks, there is a nice little space behind the seats that is almost perfect for a TV. If you don't have a TV Box, wrap the TV in moving blankets and set it carefully behind the seats. Make sure that you fill the space enough so that the TV won't shift forward and backward every time you hit the brakes.
Just make sure if you stop and spend the night somewhere to remove the TV from the cab so it doesn't entice anyone to break into your truck.
Place it on a Couch
Ok, now we're entering the area where you don't have a box to put your TV in, you don't want to spend the money on a TV box and placing it in your car isn't a possibility.
Now what?
Don't worry, we've been there too. Some of our early moves took place when we weren't exactly making much money and moves needed to be executed on a shoestring budget.
For those early moves, we used our couch to protect our tv and had a lot of success with this technique.
Simply place your tv upright on the couch (cushions will be removed and utilized for padding elsewhere) with the screen facing the couch so that the screen is protected by the soft padding on the upright portion of the couch.
Now, use a bungee cord or tie-down rope to secure your flat screen tv in place.
Run the cords down underneath the couch, around the back and then secure them behind the tv. This will keep the tv from tipping off the couch which could be disastrous.
As I said, we've moved TVs like this multiple times and have never had an issue. The main downside to this technique is that it makes a good bit of vertical space in the truck unusable.
What I mean by that, is while this is going to make your tv safe, it eliminates the ability to stack boxes or whatever else on top of the couch. We've had a few moves where almost every square inch of the truck is filled. (You can fill up a moving truck a heck of a lot faster than you think)
However, if you're able to give away a little bit of space, this can be a great option.
Don't Forget the TV Stand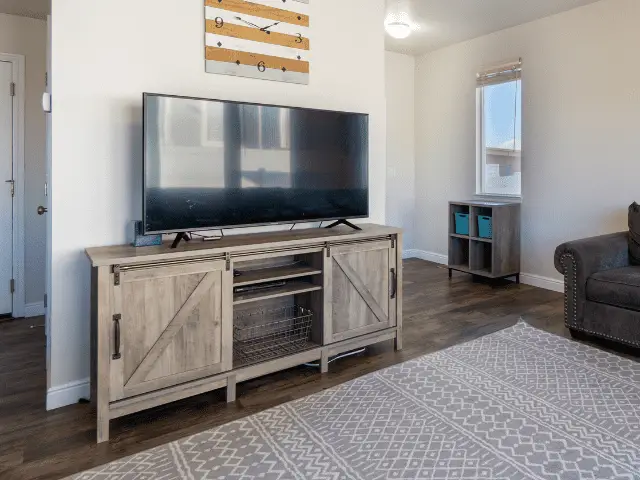 If you have your flat screen tv on a wall mount, then you'll likely be able to fit that into a separate box. However, if you have a TV Stand, that may take some additional planning on its own.
Once you remove your tv correctly from the stand, see if your tv stand can be broken down into separate pieces. Our stand has an upright mount beam that can be removed from the base. It also has two glass shelves that we remove and pack separately as well.
Always remember, while it is a bit more work, breaking things down into separate pieces will save room on the moving truck and give you items a better chance of not being damaged.
Final Thoughts On How To Pack a TV For Moving
Almost nothing you own possesses the combination of being expensive, big and fragile quite like a large TV. So, knowing how to pack a TV for moving is something that will come in really handy when it's moving day.
Hopefully, some of the tips in this article will help you get your TV into your new house crack and scratch-free and you'll be watching Netflix in no time!