How many necklaces do you own? Is it a few or dozens? Do you have different necklace sizes and shape in your collection? Are some more dear to you than others? And how will you ever manage to pack your necklaces for moving when the time comes?
As I see it, there are about as many types of necklaces as there are recommended ways to pack them. So, of course, it shouldn't be a surprise that different necklace types often need special packing techniques.
When it comes to necklaces, you might have to devise some original ways to prepare them for your move. In this article I'm going to teach you all the different techniques that I've used. I'll discuss the different types of necklaces and the best ways to pack each for moving.
Necklace Attributes
When packing necklaces for a move, you must consider the attributes of each. For example, which necklaces require special care, and why? How does necklace length impact how well it travels? And are there precautions to take with certain necklace materials?
Necklace Materials
Most necklace chains are made from precious metals, gold and silver (sometimes platinum) or versatile, durable, and budget-friendly stainless steel. Sometimes necklaces have attractive fabric cords instead of chains. And necklace pendants and charms can consist of everything from gemstones to porcelain to Lucite (high-grade plastic).
Necklace Lengths
Necklace length is an essential consideration for buying. It's also something to think about when packing your necklaces for moving. The following is a guide to necklace lengths and the memorable names they have been given.
Collar – 12-14″
Choker – 14-16″
Princess – 16-18″
Matinee – 20-22″
Opera – 30-36″
Rope – 36″ +
You will see in the following paragraphs that a necklace's length can make quite a difference. The statement a thin chain makes can be subtle at the neckline yet bold when a pendant hanging from it dangles below the waistline.
Small, Delicate Necklace Chains
Small chain necklaces are made from very fine links and are often worn as a single loop at or close to the throat. Most are in the 14-18" range, but some are longer. Lengthier chains are just as thin as shorter ones, so you can double or triple them in loops around the neck. Be careful with these when moving. Long chains with tiny links not only tangle; they develop knots or break.
Here are some techniques to prevent such a scenario:
Packing Technique 1: Drinking Straws
Most drinking straws are 8" long—a length that should accommodate most small-link necklaces. But if you have a shorter chain that can't be clasped after threading it through the straw, you can always cut the straw. Likewise, if your necklace is particularly long, you can always thread it through the straw two or three times.
When packing the straws, lay them side-by-side in a box and wrap them together in paper or bubble wrap. If any have dangling pendants or charms, it's best to wrap those separately, keeping them attached to the chain. Of course, straws work for at-home jewelry box storage too.
Packing Technique 2: Laying Them Flat on Cling Wrap
This technique is easy for those who are good at aligning things. Simply lay plastic cling wrap on a flat surface and place a few necklaces of similar size and shape on top. Then, place an equal-sized sheet over the jewelry, being sure to align it with the bottom sheet. Then "seal" the two sheets with your fingers, roll them up, and place them in a box with other rolled jewelry.
Shorter Beaded Necklaces
You often see tiny beads called "seed beads" in Native American jewelry and other handmade crafts. The time and effort that goes into these pieces are palpable, and their appearance can enhance any setting—from an outfit to your home's interior décor. Still, these items are fragile, held together only by a thin thread. So be sure to pack them with care when moving.
Because the biggest risk of traveling with seed bead pieces is breakage, it's wise to pack them in a container that will prevent beads from spilling if a thread breaks. A small sealable container is an excellent choice, but even a sealed envelope will do in a pinch. The point is to salvage any stray beads so that a skilled craftsperson can (hopefully) restore the piece.
Elaborate Necklaces
We've called this category "elaborate" necklaces because they're fancy, unique, complex, and delicate. Among these are:
Bib necklaces: Generally choker-length, these are intricately woven into a literal collar, with beads and other pieces hanging just below the throat.
Lavaliere necklaces: These beauties feature a thin chain (typically princess or matinee) with a charm or pendant hanging from or attached at the center.
Festoon necklaces: Combining the bib and lavaliere necklace styles, festoons feature beads, stones, or charms dangling at fixed points along one or more necklace strands.
Packing Technique 1: Cling Wrap (see above)
Packing Technique 2: Clothes Hanger
Using twist ties, attach the necklace to a small or foldable hanger at enough points to anchor it. Then cover it with bubble wrap or corrugated cardboard and place it in a box.
Necklaces with Medium-to-Large Beads
Beads come in all sizes. Medium-sized beads often are strung pearls, sized at around ¼". Others in this size category include semi-precious stone or precious metal beads.
Medium and large-sized beads can be easier to manage than tiny ones. It's because they don't tangle much, although they do break sometimes. Still, larger beads are strung on a heavier string, and you will often find knots between the beads. However, they can break if they're made of fragile materials like porcelain, glass, or shell.
These necklaces sometimes have graduated beads, ranging from smaller near the clasp to more prominent at the center. "Gumball" beads have a uniform size of roughly half to one inch. Larger necklaces like these often run from 16-32″.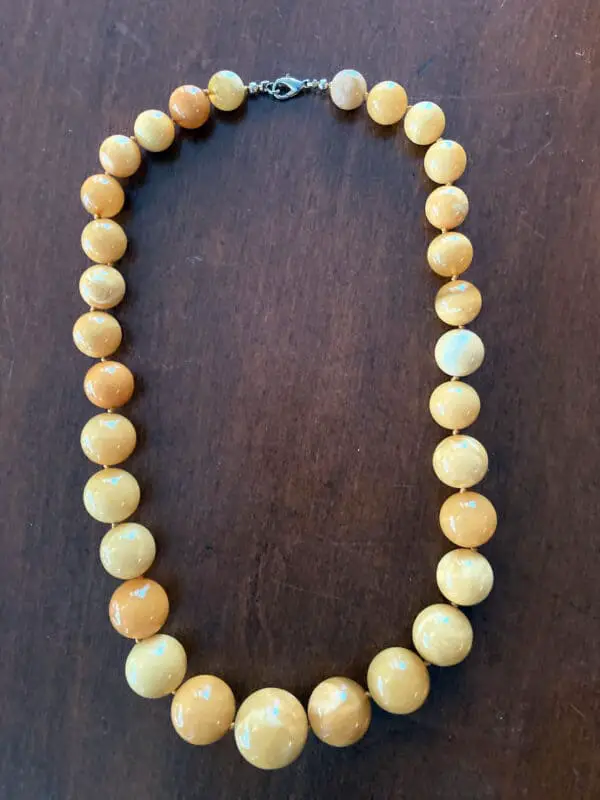 Packing Technique 1: Toilet Paper Rolls
As with the drinking straws, this larger-sized tube can keep bigger beads from becoming intertwined with other necklaces. Unlike the straws, the TP rolls probably won't be needed when not in transit, though. TP rolls make necklaces' chains easier to keep separated from other jewelry.
Packing Technique 2: Fabric Rolls
You can always buy jewelry rolls from online craft sites, but try making your own if you have some sewing talent. Also, try improvising a jewelry roll using a washcloth and closing it with rubber bands or ribbons.
Pendant and Charm Necklaces
Pendants and charms play similar roles when attached to necklaces: mainly, they are meant to dangle. Pendants also tend to be somewhat larger and move freely along the chain of a longer necklace—though if the necklace is short and thin, charms may serve the same purpose.
Packing techniques for pendant and charm necklaces depend on chain length and link size. So pack them as you would for the necklace sizes above. And don't forget to wrap the attached charm or pendant to protect it from scratches.
Artist's Necklaces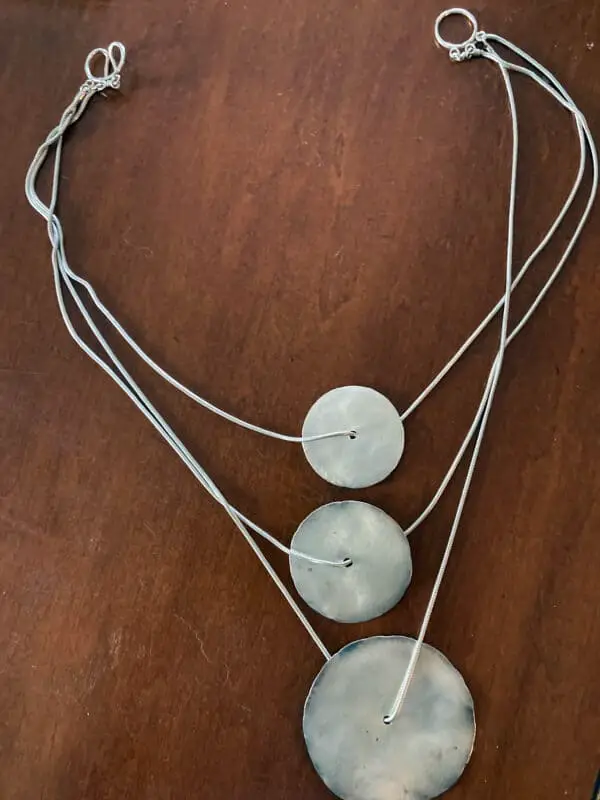 Let us not leave out the vast array of necklaces designed and made by jewelry artists. There's no single label to place on these pieces except to say that they're unique. You can purchase artist-made necklaces in art museum gift shops, or you can go directly to the artists themselves. Many will work with you to custom-design jewelry pieces for special occasions.
There are no prescribed ways to pack artistic necklaces for moving since most differ in striking ways and draw from various materials. Nevertheless, it would help if you wrapped these with great care for moving, even to the extent of buying specially lined bags or boxes to prevent tarnish, bending, scratching, and other temporary or permanent damage.
Still Wondering How to Pack Necklaces for Moving?
Sometimes, packing necklaces for moving is nothing more than a matter of instinct and intuition. Whether you have a necklace collection that you've just started on one with inherited pieces, you will discover brilliant ways to pack them. As you can tell from this article, you might already have some excellent packing materials around the house or at the dollar store.
What type of move are you planning? Is it one where your jewelry will share your car? Or will it be packed in boxes on a moving truck? If it's in the latter, remember that three to four layers of protection—from the plastic straw or paper envelope covering it to the moving box filled with buffering material. The more layers, the better.
You might not want to spend much time untangling necklaces when you reach your new place, but if the need should arise, work away at them yourself or take them to a nearby jewelry store.
That's it, in a nutshell. But, no, we don't recommend nutshells for packing your necklaces!