Not all of us have the luxury to move out in the summer or spring. Some of us might need to move out during the winter when the weather isn't so great.
In this case, it's best to hire professionals to do the moving part for you. However, if this isn't possible for whatever reason (which is usually money, we've been there), you need to plan out how you're going to do this task on your own.
Driving in the snow isn't fun for many of us. You have to be extra careful and fully prepared for the worse. And when driving a moving truck, you have to be more than extra careful to ensure your safety and others' safety as well.
In this article, we've gathered some essential tips for driving a moving truck in snow safely, so stick around.
Things to Do Before Hitting the Road
When it comes to driving a moving truck in the snow, prepping is key. This is important to ensure you have a safe moving trip. So, don't skip on this step.
Here are some things you need to prep beforehand:
Inspect the Truck
Before hitting the road, you should inspect your truck first and make sure that everything is in good condition. Check the tires and the fenders. Look for punctures in the cargo area. To add, don't forget to check the engine's oil and coolant levels.
Now, it's time to start up the truck to make sure that all the accessories are working well. By accessories, I mean the lights, horns, turn signals, and, of course, the heaters. You might be surprised, but a lot of rental trucks come with broken heaters.
Keep in mind that your rental truck company may not supply flares and reflective triangles. Make sure you get them yourself in case you break down on the road.
Check that your truck is stocked with spare tires, a tire iron, and a jack. And finally, check the truck's antifreeze and wiper fluids.
Pack Essential Items
Here's a list of things you should pack with you before hitting the road:
Ice scraper
Wiper fluid
Antifreeze
Basic toolkit
Flashlight and batteries
Sunglasses
First aid kit
Tire chains if you're driving through a snowy mountain region
And of course, you need to pack food, water, blankets, extra warm clothes, and good boots.
If you're driving across the country and the roads are bad, then you should also pack a shovel, tow straps, jumper cables, and a bag of sand.
Sand is going to be your best friend if you get stuck in a snowdrift and need traction. I know this all might seem a lot, but don't forget that you could also save someone else's day with these items.
How to Drive a Moving Truck in Snow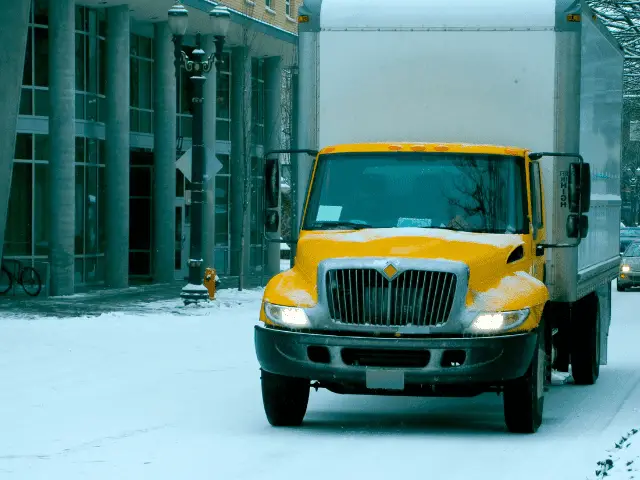 Here are some tips on how to drive a moving truck in the snow:
I know you've heard this a million times, but here we go again: lose any distractions and stay focused on only driving the truck. Don't text. Don't eat. Set your music before you start driving.
Drive slow, even slower than you normally drive your car. Make sure to follow the speed limit and be aware of split speed limits in some states. Also, keep in mind that trucks don't stop as fast as cars.
Don't tailgate any vehicle. Stopping in the snow takes longer for you (and longer in a big truck in general) as well as for the car in front of you. You should have ample distance between you and the car ahead.
Turn your truck slowly and take into account the extra length of the truck. Also, be aware of your surroundings so you won't damage any parked cars, trees, etc.
Parking and backing up with a moving truck can be difficult for some people. And it's a lot harder in snowy conditions. I recommend practicing before heading out if it's possible. Get used to using the driver's and passenger's side mirrors.
Wipe off any ice, fog, or frost from your lights and mirrors regularly.
Don't keep your tank emptier than half full as this can cause condensation in the fuel line causing it to freeze.
Keep an eye on black ice and any icy spots. If you have to go over it, then make sure to keep the steering wheel straight and don't hit the brakes. If your car is sliding, make a gentle turn with your steering wheel in the same direction.
If you're driving down a deep descent, don't pump the brakes. Instead, apply moderate and even pressure to your brakes. Also, leave plenty of space between you and the vehicle in front of you.
Always clean your moving truck from any snow or ice, especially the roof, to prevent accidents.
Final Tips
Here are some extra tips that are helpful whether you're moving on a sunny or snowy day:
Plan your route before heading out. Check the main road conditions and plan your route. Main roads will most likely be safer as they're usually treated and maintained.
Alert your family and friends before heading out so they can be ready to help you in case of emergencies.
If you have company on your moving trip, let them know of the tasks that you might need help with, like making them spot you while parking or backing.
Make sure to have your phone fully charged and bring a charger that is adaptable to the outlet you have in your moving truck. If you can bring an extra phone with a full battery, that would be advisable.
Lastly, choose the right truck size for you. Don't choose a larger size than what you need. The larger the truck, the harder the drive.
Final Words
The most important thing that will keep you safe is to stay calm and never panic. As long as you're fully prepared and driving carefully, you can maximize your chance of arriving safe and sound at your new home.
Don't hesitate to get off the road or call for help if you feel that the weather conditions are getting worse and that you can't do it.
Good luck!