Packing heavy furniture for a move can be a lot more stressful and physically intense than packing smaller items since furniture doesn't fit neatly in a cardboard box. Your bedroom dresser, including its dresser drawers and potential extra pieces like a mirror, is a little more intimidating than throwing books in a box.
However, once you know how to pack a dresser for moving, the process will be easier than you think.
To get started, you'll need:
Plastic bags
Moving blankets
Bubble wrap
Shrink wrap
Packing tape
A friend (or two)
(Make sure to check out our Moving Supplies Buying Guide

 to see everything we get for a move)
Empty The Drawers
Whether you use your dresser as it was intended, to store clothes

, or as extra storage space for other items, the first thing you'll need to do is take everything out before packing the dresser up. Empty the drawers and pack up the items appropriately.
Emptying the dresser drawers accomplishes two things. First, if there are any fragile items in the drawers that could potentially get damaged during the move, properly packing them in their own separate boxes can protect them from damage.
Second, dressers can be very heavy, especially if they are made of solid wood. Removing everything from the dresser drawers will help to lighten the load and make moving the dresser a bit easier.
If you come across things you know you'll never wear or use, consider getting rid of them now to save space as you continue to pack.
Any items on top of the dresser — like jewelry trees, picture frames, or knick-knacks — should also be wrapped up and packed in a safe way. When all that's left is the dresser itself, you can move on to tackling the next step.
Remove Extra Attachments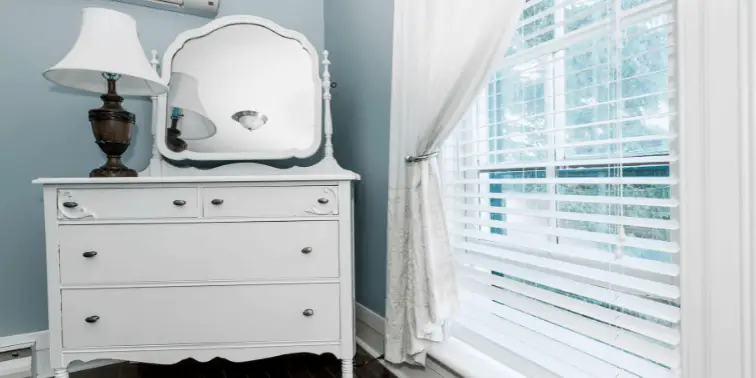 Some dressers have shelf, table, or mirror attachments

 on top or off to the side. If your dresser includes any of these, you'll need to disassemble them so that everything can be packed separately.
Put the screws, bolts, washers, etc. that you need to take out to remove the attachment in a Ziploc bag. If the assembly isn't intuitive, you can take photos or videos of the dresser first so that you'll be able to reassemble it easily. Label the bag and pack it somewhere secure, such as in a box with other hardware from disassembled items.
Don't try to move a dresser with a mirror as one piece. Take it apart and treat them as two separate items.
If you have a dresser mirror, protect the glass and wrap it up as you would any other mirror, picture frame, or similar item. If it has any other attachments, simply wrap them in moving blankets and bubble wrap, secured with packing tape. Depending on the size, you may decide to treat them as pieces of furniture in and of themselves or put them in a large box with packing material.
Should You Remove the Dresser Drawers?
The drawers are the one removable piece that should stay in the dresser. They can't be broken off (like a mirror) and don't increase the overall size of the dresser so packing them separately is an unnecessary hassle.
The only exception to this would be if the combined weight of the dresser and its drawers is so great that you can't move them safely, even with the help of another person. In this case, pack the drawers as you would the shelves.
We typically like to do a combination of the two. We'll remove all the drawers and take them out to the moving truck. This lightens the weight of the dresser and makes it easier to carry. Then once everything is in the truck, we'll replace the drawers and secure them with stretch wrap.
Of course, if you are hiring professional furniture movers then go ahead and just keep the drawers in. Experienced furniture movers will know how to handle the dresser even if it is a heavy dresser.
Secure Dresser Drawers With Shrink Wrap
Once you are ready to secure the dresser drawers in place, whether that's in your bedroom or on the rental truck, it's time to break out the stretch wrap.
First, depending on the structure of the drawer handles, you may want to wrap them in bubble wrap first to give them some extra protection.
Now grab your stretch wrap and take a couple of laps around your dresser. This is going to keep your drawers in place so they don't go flying out when you take that first hard right turn in the moving truck.
Next, snugly wrap the entire dresser in thick furniture blankets (aka moving blankets). If one of your furniture blankets cannot cover the sides, top, and bottom of the dresser, use multiple blankets. The blankets will serve to protect your dresser from any scratches, dings or knicks that can occur from bumping into other furniture items.
Finally, wrap the entire dresser several times, both around the sides and from top to bottom, with packing tape. This will help keep the furniture blankets in place. Make sure that the entire surface is covered by the blankets so that the tape doesn't make contact with the dresser itself.
Move the Dresser
If you do not have professional movers, make sure at least one or two strong friends are available to help you with a large, heavy furniture piece like a solid wood dresser. Clear a path from the dresser to the moving vehicle before getting started, and go slow. It's much better to get there with everything in one piece than to get there quickly!
Depending on the floor surface, there are a few tools you can use to move a dresser a bit easier.
My first recommendation is to use a furniture dolly. Furniture dollies will work on most surfaces except potentially thick carpets. Tilt the dresser to one side and have another person slide the furniture dolly underneath the dresser. Now you can roll your dresser to the moving truck. Just be mindful of flooring transitions from room to room.
If you have hardwood floors then you can also use furniture sliders. Furniture sliders stick to the bottom of the legs and will allow you to slide your heavy furniture across the floor. (They actually now make furniture sliders designed specifically for carpeted floors as well!)
Finally, you may want to use moving straps to make it easier to carry the dresser. Pick it up by squatting, not hinging at the waist, so that the load is supported by your legs instead of your back. If you have stairs to descend, have one person who is not carrying the dresser keep the path clear and direct those of you who are carrying it.
Final Notes
Even if it seems intimidating at first, moving a dresser is just like moving any other big item. As long as you wrap it carefully, protect any delicate components, and have a few friends (or professional movers) to help you get it loaded in the truck or trailer safely, your dresser will make it to your new home in the same condition you packed it in.
When in doubt, err on the side of using too much padding, having more help than you need, and going as slowly as possible.
Hopefully, this guide on how to pack a dresser for moving has given you the confidence to move a dresser like a pro!
Good Luck with your move!