It's been a while since I moved to Austin, TX, but there's one thing I'll never forget. When I crossed the state line coming from Arkansas, one of the first things I saw was a billboard that stated boldly, "Don't Mess with Texas." Before learning that the slogan actually referred to an anti-littering campaign, I took it very seriously and wondered if I should turn around.
Of course, it wasn't long before I realized how congenial Austinites would be. In fact, my first impression was when my new neighbor, an exotic dancer, helped me unload my entire car while telling me about her job. It wasn't long before I met other fascinating folks in my complex, and they took no time at all introducing me to the city and its points of pride.
No, I never messed with Texas–or Austin—and I grew to love the large and growing city and all it had to offer. I would spend the next five years there and have missed it for various reasons ever since.
Why Move to Austin, TX?
The quick and easy answer is, "Why not move to Austin, TX?" But the answer Austin residents surely prefer is the one that's slow and drawn out. It would take a lifetime and then some to experience Austin to its fullest, especially since its population and area grow by leaps and bounds annually.
But you can be sure you'll leave (if you ever do) with great memories.
Don't be fooled by Austin's temperate winters. Yes, I went out walking in shorts and a tee-shirt the day after Christmas. And I saw only a quarter-inch of snowfall in my five years there. There are ice storms, though, and natives place piles of sand at intersections, to stop them from slipping on the ice. Then, of course, the next day, it's likely to be in the seventies.
Summer can be brutal, though—especially August and September. So don't go outside without sun protection and a bottle of water. Most people stay in the air-conditioned indoors and are fine, but if you overtax your AC unit, you'd better have a 24-hour repair service on speed-dial. When my AC stopped working, I had to stay awake all night in the bathtub until help arrived.
Outdoor Recreation
Still, Austin's temperature is mellow about two-thirds of the year, and people swim and go boating year-round. Some swimming places you shouldn't miss are Barton Springs natural swimming pool in Zilker Park, close to Lady Bird Lake (formerly Town Lake) near downtown. There's also Deep Eddy, a huge 600,000-gallon municipal pool.
If fishing and boating interest you, visit Lake Travis, the municipal reservoir northeast of the city. It's technically a bend in the Colorado River and continues to several smaller bends, ultimately reaching super-large Buchanan Lake to the northwest. While Lake Travis has a suburban development on its shores, Buchanan has a lot of parkland and private properties.
The acreage of parkland in Austin and Travis County is colossal. Whatever sport you enjoy—whether trail hiking and biking or organized team sports—you'll find a beautiful place to enjoy your pastime.
The Music and Festival Scene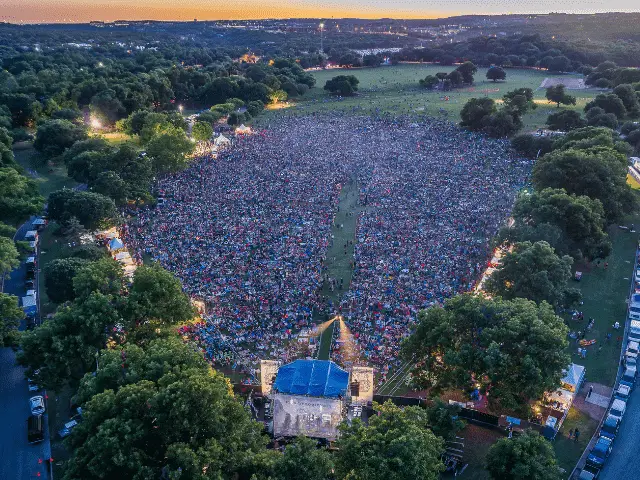 Austin is filled with music and has performance venues of all kinds, with most clustered downtown around South Congress and Sixth Street. On weekends (which typically include Wednesdays, Thursdays, and sometimes all seven days), you'll probably run across a famous name performer or a new local act that strikes your fancy.
When it comes to Austin Festivals, you won't need to look long or hard to find one at any time of the year. Probably the best known is the South by Southwest (SXSW) conference and festivals that take place over two weekends in mid-March. The Austin City Limits Music Festival, with 140+ acts, takes place in Zilker Park in early October. There are many other festivals.
Austin and Texas Politics
Austin is the state capital of Texas. And, as we all know, the state has been undergoing some political "fluctuation." Still, the political climate in Austin (though not the rest of Travis County) continues to be strongly liberal, with 71.4% of voters choosing Democrats in the 2020 presidential election and 26.4% voting Republican.
So if you're considering Austin as your new home and you lean to the left, you should be very comfortable in the city proper. If you lean right, be prepared for some friction in Austin—knowing that only about a quarter of residents will be in your camp. But most Travis County suburbs reflect a more balanced mix of party adherents.
UT
Austin is proudly home to the University of Texas at Austin ("UT"), which enrolls 51,000 students, from freshmen to those pursuing doctoral degrees. There are more educational programs there than most of us have even heard of.
Then there are the ubiquitous Longhorns, the university mascot, and the "tower," iconic indicators that you've found your way to the city's 437-acre campus. Of course, when referring to the Longhorns, I mean the campus students and employees as well as the popular sports teams—especially Longhorns football, played in Darrell K. Royal Memorial Stadium.
Besides being the main administration building and the highly visible center of campus, the 27-story UT "Tower" is steeped in a tragedy of the sort we still face today. On July 31, 1966, a deeply troubled ex-Marine climbed to the observation deck and began a shooting rampage, killing 14 people and injuring 30. Sadly, the top floor is no longer open to the public.
The UT-Austin campus has many other attractions—including the "B Building," where Austin City Limits is recorded, the vast Perry-Castañeda research library, the Texas Memorial Museum, the LBJ Presidential Library, the Bass Concert Hall, and much more.
There is more to see and do in Austin than we can discuss here, and a lot of it is free or cheap. After all, the city thrives on its ability to sustain "starving" college students and young tech entrepreneurs in their pursuits.
Eating in Austin
Whatever else you experience in Austin, you probably won't go hungry, even if you are down to your last few bucks. The city has eating establishments ranging from grocery stores to lots of small cafes and "greasy spoons" to top-rated gourmet restaurants. Take your pick!
Austin Restaurants
You won't be surprised to discover that Austin has barbecue places in nearly every part of the city. These include the longstanding Franklin Barbecue (with its endless line, the newer (and very tasty) La Barbecue, and the legendary County Line Barbecue. Also look for what appear to be hole-in-the-wall burger or taco joints and Austin's stunning array of inexpensive food trucks.
Most fade into the scenery. But pass them by and you'll regret it!
Yes, barbecue is the hometown flavor, Tex-Mex a close second. However, Austin distinguishes itself from the rest of Central Texas by its more cosmopolitan approach to dining. Look for every cuisine from Thai to Middle Eastern to vegan. If the restaurant isn't there in a year, you either missed a great experience or your instincts sent you to a better, more captivating place.
Gourmet Supermarkets
In Austin, dining at home can be a luxury, just like going to a restaurant—but without parking issues. There are specialty markets all over, and you can spend a whole day browsing around glamorous Central Market. You probably won't find ordinary groceries like toilet paper or Kraft Dinner there, but Central Market's parent supermarket, HEB, has locations throughout the city.
Austin is also home to the original Whole Foods Market, a true competitor for Central Market. Both feature fresh meat, seafood, and produce. Both have tantalizing pastries and baked goods. And each has its café for sampling daily specials and food from the large delis each boasts. There are distinct differences, though, so get to know both!
Austin Employment
Some people move to Austin hoping to find work; others come because of a position they accepted. Most come willingly for the sunshine and laid-back lifestyle. But what kinds of employers tend to draw the most talent? Below is the Austin Chamber of Commerce table listing the top employers.
Greater Austin Companies Employing 6,000+
Source: https://www.austinchamber.com/economic-development/austin-profile/major-employer
| | |
| --- | --- |
| Company | Description |
| Apple | Computer maker's tech dev, chip engineering & Americas Operations Center |
| Ascension Seton | Healthcare (Hdq.) |
| Austin Independent School District | Public education |
| City of Austin | Government |
| Dell Technologies | Computer technology solutions & equipment (Hdq.) |
| Federal Government | Government |
| IBM Corp. | Computer systems, hardware, software, & chip R&D |
| Round Rock Independent School District | Public education |
| Samsung Austin Semiconductor | Semiconductor chip mfg., R&D (Hdq.) |
| St. David's HealthCare Partnership | Healthcare (Hdq.) |
| State of Texas | Government |
| The University of Texas at Austin | Higher education, public |
Still, in a city that's always in touch with the latest trends, it's relatively easy to find a small business or innovative start-up looking to hire. In fact, finding a job might be easier than finding an affordable place to live in Austin. So, if you're low on cash, be prepared to make new friends and do some couch-surfing.
Practicalities for Moving to Austin, TX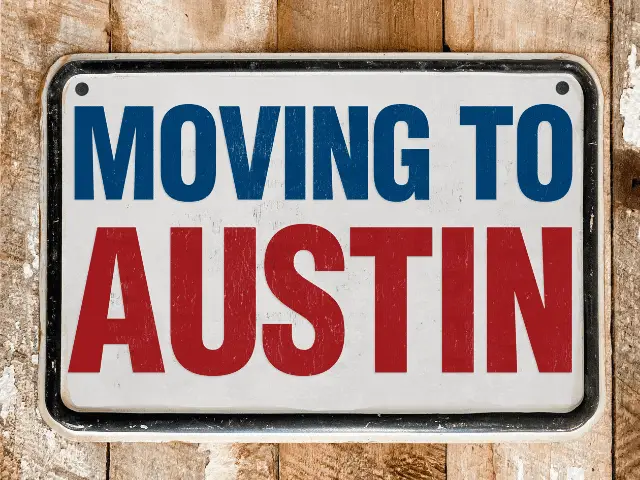 Austin is a fun place, that's for sure! Still, like any city, there will be things to know and understand, routine obligations, and tasks to attend to.
The first one is (probably) easy: If you've moved from out of state, you'll need to transfer your driver's license and register any motor vehicles. You can handle most on the Texas DMV website: https://www.txdmv.gov/. Other things can be trickier or more frustrating, like taxes.
Taxes in Austin
Of course, Texans must pay federal income tax, but Texas residents pay no personal state income tax (the state does impose various other taxes, though). The Texas Comptroller's website lists rates and additional information. Local Austin's taxes include city sales tax at 1%, plus a 1% transit tax.
Cost of Living in Austin
At 119.3/100%, Austin is nearly 20% higher than the U.S. average cost of living. The median home cost, at $551,200, is nearly double the national average. Still, groceries, utilities, and healthcare are all slightly below the national average. Is it worth it? A lot of happy residents think it is!
Don't Miss Austin's Renowned Bats!
No, we're not talking about the UT baseball team here. We mean the world-famous Mexican white-tailed bats living underneath the Congress Avenue Bridge. These bats take to the sky en masse at dusk between March and October when they migrate to and from Austin. It's a sight to behold! While stellar photos abound, they don't do the event justice.
Of course, the bats and the culture that has grown around them are just one of Austin's attractions—perhaps the most unique one. If you're moving to Austin, TX, you'll find there is a lot more to love, though—and it's growing practically every minute.
When I moved away in 1996, Austin's population was 755,000. Today, it's nearly a million. Of course, like any city, Austin has its problems, but they must be doing at least a few things right to be so popular!
About Our City Moving Guides
Being a college coach, you end up moving a lot and living in a lot of different places. Then, you work with and become friends with people who have also lived a lot of different places.
We've leaned into our own personal experiences and the experiences of other coaches to bring you unique city guides on what it's really like to live in that city from people who have actually moved to that city and lived there. In this case, Austin, Texas.