Not having spent much time in the Midwest, our arrival in the Milwaukee, WI area brought many surprises. We had come for a job in the Kenosha-Racine area immediately to the south and wound up spending much of our free time in Milwaukee. With a population of 587,721, there is a lot to see and do there.
When people from other parts of the country think about Wisconsin, cheese often comes to mind, as there is a lot of farmland in the central and western parts of the state. But we remember Milwaukee for the surrounding bodies of water, the industrial smokestacks, sausages, and residents' fierce loyalty to the local and nearby big-league sports teams.
And did we mention motorcycles? We'll tell you more, so keep reading!
The Lowdown on Milwaukee: Affordability, Taxes, Weather
Cost of Living in Milwaukee
Are you're thinking of moving to Milwaukee? If so, you'll find it affordable with the cost of living at about 85% of the U.S. figure and 94% for Wisconsin. In addition, Milwaukee's median home cost is $162,600, a fraction of what you would pay in other cities its size.
Milwaukee Taxes
The Wisconsin state tax rate is 5%. The effective property tax rate in Milwaukee County is 2.53%. Milwaukee's sales tax is 5.5%.
Milwaukee Weather
Let's face it: Southeastern Wisconsin has "two seasons," warm and often humid summers and cold, snowy winters. Oops! We meant very snowy winters. So come prepared to shovel or snow blow, and consider an AC unit to curb the summer heat and moisture.
Milwaukee Fun and Recreation
Sports
We know how much Wisconsin residents love the Green Bay Packers. Although the renowned Lambeau Field is two hours north, Milwaukeeans will drive there for a game without hesitation. Indeed, some will travel from across the state.
And if you don't care much about football, game days are great for shopping, movies, theatre, and other pastimes. So they won't be crowded!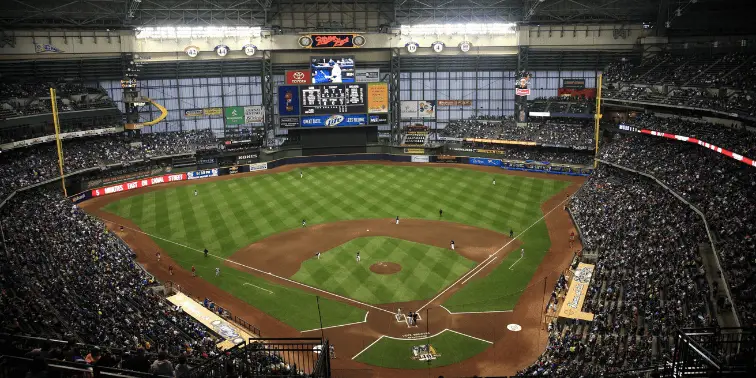 For our part, we are Brewers baseball fans. "Am-Fam Field" (formerly Milwaukee County Stadium) has all kinds of unique Milwaukee attractions, not least of which are the "sausage races" that feature a competition among the costumed "Brat," "Polish," "Italian," "Hot Dog," and "Chorizo." The races always happen before the bottom of the sixth inning.
Other professional sports teams include:
Don't forget the sports teams representing Milwaukee's many colleges and universities:
And these don't even count teams from the area's technical and community colleges and suburban colleges like:
Alverno College
Carroll University
Milwaukee Area Technical College
Mary University
Waukesha County Technical College
Cardinal Stritch University
Carthage College
The University of Wisconsin Parkside
Let's not get too caught up in sports, though, or we'll miss Milwaukee's other attractions, including its Lake Michigan beachfront. Milwaukee has three rivers: the Milwaukee, Menomonee, and Kinnickinnic, and large and small parks throughout the city. Wisconsin is also known for its lakes, with several an easy driving distance from the city proper.
The Milwaukee Arts Scene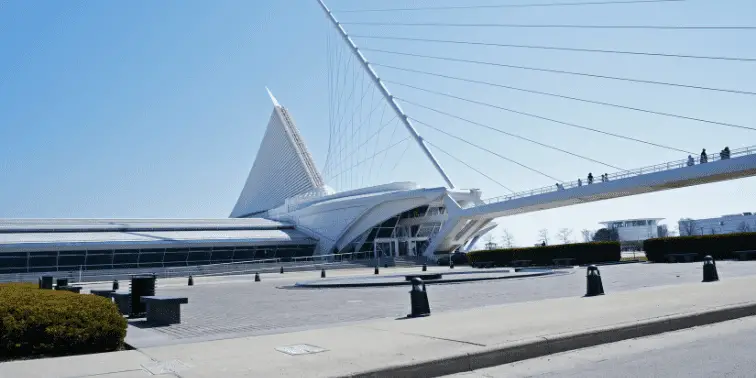 Most of the above higher education institutions also host performing arts events and visual arts exhibitions. So be sure to check their websites to see what's coming up. And don't leave out smaller schools like Alverno College and the University of Wisconsin Parkside, which have excellent arts programs and often invite guests—from unknowns to big-name performers.
Milwaukee's public venues, indoor and outdoor, include a symphony hall, the capacious Marcus Performing Arts Center, concert halls (including restored historical venues), art museums (including the gorgeous Milwaukee Art Museum overlooking Lake Michigan), and much more. Most are in or very near the downtown area, adjacent to excellent dining establishments.
Festivals Year-Round
Festivals are a tradition in Milwaukee, with Summerfest said to be the world's largest (and Milwaukee's most popular) music festival. But the festivals hardly stop there. With Milwaukee's extremely diverse cultural heritage, international (Polish, Irish, Italian, etc.) and other themed festivals (Pride Fest, Bronzeville Week, Christkindlmarket, etc.) go on year-round.
Milwaukee is also home to the Wisconsin State Fair, which takes place annually in August at State Fair Park. As the largest city in "America's Dairyland," Milwaukee puts on a great fair, with trademark creampuffs, corndogs, and always something new to try. And don't forget the midway and agriculture exhibits!
What Else Is There to Do in Milwaukee?
Milwaukee and the surrounding area have many other unique attractions and venues, including many that will surprise and impress you.
Zoos
These include the 190-acre Milwaukee County Zoo. We love seeing the elephants, giraffes, polar bears, and flamingos the most. But there are a lot more species than just those (1,800 to be specific), plus lots of zoo-themed attractions—all kid-friendly and highly appealing to adults as well. We visited this magnificent zoo several times during our years in the area.
The Racine Zoo (45 minutes south) is much smaller and specializes in otherwise healthy animals that are endangered or would not survive in the wild because of conditions or circumstances such as albinism, rejection by a mother, loss of habitat, etc.
Brewery Tours
Known globally for its brewing industry, Milwaukee offers several brewery tours and sampling sessions along with several historical and contemporary brewery-related activities. Several years ago, my brother and I went on the Lakefront Brewery tour and were impressed by the learning opportunity, especially the dining and tasting the various beers they offered.
Harley-Davidson Museum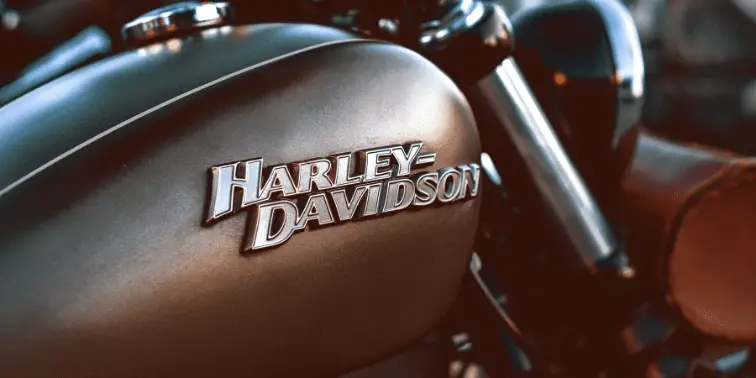 The iconic "Harley" or "Hog" has captured the hearts of women and men worldwide. But there's no place like its founding city, to experience its past (starting in 1903), present, and future. Not only does the city have some of the most successful Harley dealers, but it's also home to the famous Harley-Davidson Museum (in the historic Third Ward, south of downtown).
You'll find just about any Harley-related activity you can imagine on the 20-acre H-D Museum campus. Here are some examples:
Exhibits with narration and actual historical motorcycles.
Harley-themed dining and souvenirs.
Demo rides.
Concerts
Pub cruises.
Parkland and picnic spaces.
Event spaces.
Milwaukee Dining
 Milwaukee restaurants are pretty casual, by and large. But this doesn't stop them from offering some of the best food around. Yes, there's the staple Friday fish fry you'll find throughout the Midwest and elsewhere. You'll also find a lot of "meat and potatoes places in Milwaukee, many of them serving meals reminiscent of Central and Eastern Europe.
But there are also plenty of other fine dining and international restaurants. For a delightful lunch, we like the Milwaukee Art Museum café for its presentation and delicious food. And we are also fond of trying the various international restaurants in suburban strip malls. Tourists seldom go there, so the prices tend to be lower (ad the food is usually terrific).
Vegetarians and vegans will love Beans and Barley on the hip Lower East Side, as well as the Comet Café (which we haven't tried but gets good reviews). In addition, many restaurants offer plant-based food options, including Alem Ethiopian Village (downtown on E. Wisconsin) and the longstanding King and I Thai Cuisine on W. Kilbourn, just west of the river. 
In short, if you can't find a great place to eat in Milwaukee, you haven't tried hard enough!
Necessities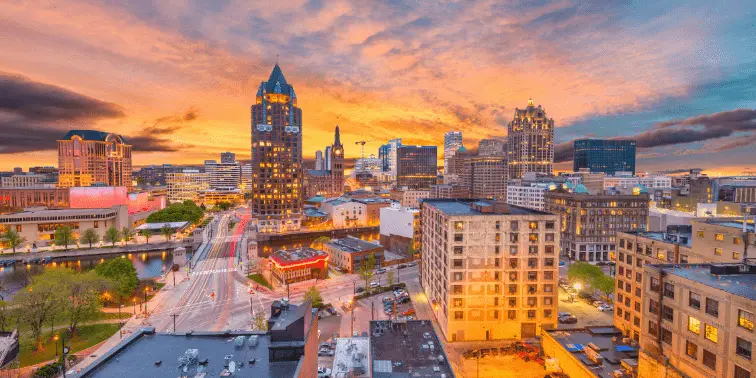 You can find answers to your nuts and bolts Milwaukee moving questions by visiting this site. We'll discuss more "want" or "need" to know below.
Coming and Going
Milwaukee Airport is both manageable and outstanding. Parking is straightforward, and directional signs make it easy to find a gate. It's filled with artwork and is the only airport we've seen with a secondhand bookstore. MKE is an easy drive from Milwaukee and its various suburbs, and it's close enough to Chicago to be a quieter alternative to O'Hare.
The city also has convenient downtown long-distance commercial bus and Amtrak terminals, and US Interstate 94 can take you to and from Chicago to Milwaukee to Minneapolis and beyond. And those traveling from the east can avoid the heavy Chicago traffic by crossing Lake Michigan on the Lake Express High-Speed Ferry.
If You're Sick or Injured
Two of Wisconsin's three top-ranked hospitals are in Milwaukee. So if you need anything from a finger splint in the ER to a complicated organ transplantation or neurosurgery procedure, living in the Milwaukee area will serve you well. Moreover, these hospitals have satellite clinics extending to the suburbs and exurbs—in one case, a satellite hospital in Kenosha, near Illinois.
Shopping
You will find eclectic shopping venues in Milwaukee's downtown and East Side, including Sendik's Food Market, a gourmet grocery store (locations throughout the metro area), and many other unique groceries. For additional shopping, look for these traditional and outlet malls:
And don't hesitate to look for great shopping opportunities in surrounding communities like Kenosha, Racine, Menomonee Falls, and Cedarburg. Even a day trip to Madison, the state capital, would be worth your while. Yes, you would need the entire day (or more) to take in its unique qualities.
Milwaukee, WI: Your New Home
As you can see, there's a lot to value and enjoy if you're thinking about moving to Milwaukee, WI. We've only scratched the surface here. Like any city its size, Milwaukee has its drawbacks, which you will notice soon enough. But you can't beat the city's amenities and convenience!
If you're moving to Milwaukee, WI, plan ahead if possible by working with a real estate agent to select the best neighborhood or suburb to meet your and your family's needs. With the city's comparatively low cost of living and home values and the many services available, you should feel comfortable after settling in.
Of course, it's always a good idea to say "hi" and introduce yourself to your new Milwaukee neighbors too!
About Our City Guides
Being a college coach, you end up moving a lot and living in a lot of different places. Then, you become friends with people who have also lived a lot of different places. We've leaned into our personal experiences and these relationships to try to bring you unique city guides on what it's really like to live in that city, in this case, Milwaukee, Wisconsin.