So you're moving to Pennsylvania? Great choice! The state comprises many different cultures, an array of natural settings, and your choice of urban, suburban, small town, and rural. In addition, Pennsylvania was one of the first 13 colonies and is one of only four U.S. states referred to as commonwealths, distinguishing it just a little from other states.
Let's begin by exploring Pennsylvania's different regions.
Pennsylvania's Cities and Regions
Pennsylvania covers a fairly broad area, especially when traveling east to west and vice versa. (And an expensive one if you're traveling via the main turnpike running east to west) And the eastern and southern thirds tend to be far more populated than the northwest quadrant.
Pennsylvania Cities and Their Surrounding Areas
The state's large population centers are Philadelphia (over 1.5 million residents) in the far southeast and Pittsburgh (just over 302,000) in the southwest quadrant. Most other cities are below 100,000, several below 50,000. The most abundant employment opportunities naturally accompany cities that are more populous and boast thriving economies.
According to Niche.com, a few of Pennsylvania's metro areas rank highly as "best places to live." Not surprisingly, the first is Philadelphia, with its populous and mainly affluent suburbs. Pittsburgh comes second, with a somewhat smaller metro sphere that reflects the city's much smaller population and industrial, blue-collar heritage.
The third city might surprise some people; it's State College (pop 41,808), near the state's center and home to renowned Penn State University. Harrisburg (the state capital, pop. 49,395) makes the next appearance, later in the list, with its suburbs, Camp Hill and Hershey. The latter is home to the famous chocolate candy and Penn State's humongous teaching hospital.
Other metro areas over 50,000 residents include:
Allentown (121,252)
Erie (93,928)
Reading (88,041),
Bethlehem (75,961)
Scranton (75,925—116,423 if considered part of Greater Scranton-Wilkes-Barre)
Lancaster (58,981)
Pennsylvania's Regions
Some Pennsylvania regions are historically steeped in heavy industry, like steel and coal mining.
It's especially true of the east-central part of the state, where anthracite (hard) coal is mined. Farther east are the steel manufacturing cities of Allentown and Bethlehem. And, of course, Pittsburgh is known for robber baron Andrew Carnegie and his historic steel company.
Coal mining has constituted a different (though equally dangerous) form of industrial employment, with the Pittsburgh area's bituminous vein as well as the deep mining of the anthracite region that stretches from Scranton to northeast of Harrisburg. The anthracite region is economically depressed yet has a fascinating coal mining past, with plenty of remnants.
There is an extensive agricultural region in the southeast and south-central part of the state and smaller farming areas scattered in other parts. Tourism is probably most popular in and around the larger cities and in the Pocono Mountains of the northeast corner.
Highlights from Different Regions
Of course, Philadelphia and Pittsburgh have many popular attractions related to their respective histories and settings, but they already have several helpful tourist websites. So we'll focus here on some of the more minor yet nonetheless worthwhile attractions in the state.
Mining Museums
Mining museums are located throughout the state, especially in the economically challenged anthracite region. The closed coal mines remain, and some enterprising residents have turned them into museums to reap some tourist dollars. They are a significant part of Pennsylvania history, so we think this is great!
You'll find the following museums (and probably a few more we don't know about):
If you're not claustrophobic, take one of the coal mine tours—you'll get the only real sense of what a coal miner's life entailed.
Transportation Museums
It's clear that lots of transportation enthusiasts of all kinds live in or visit Pennsylvania. Just look at all the museums!
Also, be sure to check out Philadelphia's Independence Seaport Museum when you visit the "Birthplace of America."
Art Museums
And now for something completely different: art museums. If you're at all interested in the visual arts and looking for something to see indoors year-round, you've found it here.
Note that nearly all of these are outside the cities of Philadelphia and Pittsburgh. They have way too many to list here, but they are well worth the time and cost!
Philadelphia, in particular, has an entire section of the city that holds the Museum of Art, a really good science museum and about a half dozen others that are all really good. It would take you a full week to take them all in.
Theme and Amusement Parks
Pennsylvania is home to more theme and amusement parks than we can count. So we've identified some of the more unique ones.
Hersheypark in Hershey (Harrisburg suburb) – Just as Disney World has its costumed cartoon characters running around the park, so too, Hersheypark has its costumed "candy bars." That's hardly all there is here, but you had better love chocolate!
Knoebel's Amusement Resort in Elysburg – This family-owned and operated amusement park, picnic grove, and campground opened in 1926 as America's largest free-admission park. There are lots of rides too, from kiddie rides to thrill rides. Take your pick!
Lakemont Park in Altoona – Opened in 1894, this amusement park owns the world's oldest surviving roller coaster (now a National Historic Landmark). This remarkable park blends natural settings with rides and other attractions.
Before visiting any museums or other attractions, be sure to look them up online to see if they're still operating and not closed for the season.
Famous Central PA Restaurants (a sampling)
This list represents a mix of personal favorites and places we haven't tried yet but would love to:
I remember driving around Central PA with my grandmother when she suddenly exclaimed, "Look! Someone has opened a restaurant on their porch!" We're pretty sure the Board of Health did some investigating, but this is the sort of "down-home uniqueness" you'll find in Pennsylvania's lesser-known pockets.
Things to Know When Moving to Pennsylvania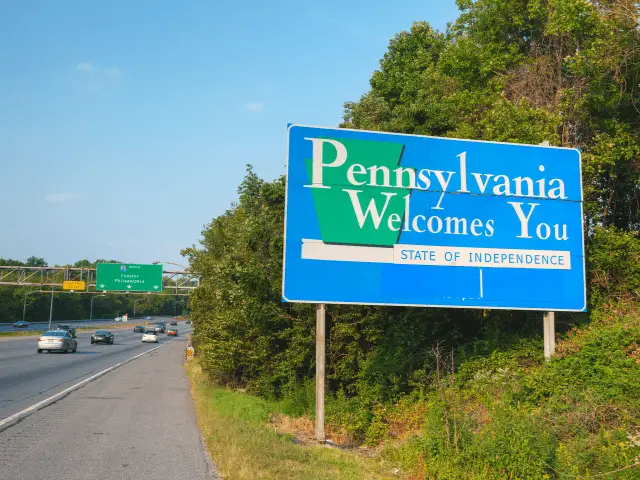 As with any place, if you are not familiar with Pennsylvania, you might need some help learning the ropes. This section provides practical advice (plus a little comic relief).
Pennsylvania is a busy crossroads for the Northeast. Several interstate highways serve Pennsylvania: 1-70, I-76, I-78, I-79, I-80, I-81, I-83, I-84, I-86, I-90, I-95, and I-99. Interstates that are expressways include I-176, I-276, I-376, I-476, I-676. In addition, I-279, I-579, I-180, I-380, I-283, and I-295 serve metro areas. Then there are the numerous U.S., state, and county roads.
Pennsylvania Laws
Pennsylvania has some unique laws, a few of which seem rather strange—like the following:
It is illegal to discharge a firearm at a wedding.
You may not sing in the bathtub.
No more than 16 women may live together under one roof (lest it be considered a brothel).
You may not catch a fish with your bare hands.
The state runs all wine and liquor stores.
Most of these are archaic, but they're also still on the books. And the last is definitely still enforced.
Not all Pennsylvania laws are as weird as these, however. Like other states, Pennsylvania has specified certain details applying to more general legislation. FindLaw offers most of the following legal "need to know" advice for newcomers and visitors to the state:
Pennsylvania State Taxes
Pennsylvania has a flat income tax rate of 3.07%, the lowest of all the states with a flat tax. Pennsylvania municipalities collect income taxes independently. They're called a "local earned income tax." Small cities collect a tax of no more than 2% (in many places, the rate is just 1%), but larger cities generally collect more.
Concluding Thoughts About The Keystone State
Wherever you end up living in the State of Pennsylvania, you'll find a lot to see and do. We'll bet a lot of it surprises you, especially if you're moving from another part of the country.
We've scarcely dealt with your reasons for moving to Pennsylvania or where to reside when you get there. But we'll leave that to your (and possibly your new employer's) needs and preferences.
Still, we hope that we've left you with fun and exciting information about living in and moving to Pennsylvania. And remember that, in the highly improbable event that you become bored living there, know that there are five adjacent states, plus the nation's capital, within a day's drive at most.
But we'll bet you'll only leave the state for pleasure, not necessity!