Rochester, New York? It seems people either love or hate it. But when we moved here over five years ago, we took to it immediately. Yes, we live in a beautiful suburb that borders Lake Ontario. But I love the City proper, with its old buildings, giant waterfalls, restaurants, museums, massive public library, and late-19th-early 20th-century charm.
As of 2021, Rochester is New York's third-largest city, following NYC and Buffalo. I won't lie, though; as of 2020, much of the county's population of 759,443 lived in the suburbs, leaving much of the City impoverished and noticeably segregated. Still, the City is where you'll find most of the museums, festivals, and of course, the scenic riverway.
There are no "best places to live" in or around Rochester. Everyone has their preference. You see gorgeous restored older homes on the City's East Side, newer high-end homes in the outer suburbs. And as you travel south, you approach the lavish residences in Finger Lakes towns and cities like Canandaigua, Phelps, and Geneva.
Rochester and Monroe County Taxes and Cost of Living
At a rate of 8.82%, New York is the sixth-highest income tax state in the nation, and Monroe County (i.e., Rochester and most of its suburbs) placed second in the US for property taxes compared to home values. Monroe County's sales tax rate is currently at 8%, doubling New York's base rate.
Even so, and even in a seller's market, home values in Monroe County are moderate compared to other US and New York metro areas, with the 2020 median home sale price at a comparatively moderate $165,000. Moreover, Rochester's overall position on the cost of living index is 78.4 (well below the national figure of 100 and the state's 120.5).
Practical Matters and Conveniences
If you're moving from out of state and need to transfer your driver's license and/or register a vehicle, you can find DMV offices throughout Rochester and the rest of the county. If you're trying to find a good doctor, check out one of the two major healthcare systems: Strong Memorial Hospital (affiliated with the University of Rochester) and Rochester Regional Health.
For food, look for various farm markets, independent grocery stores, natural food outlets, and international specialty stores. Wegmans is the place to go if you need everyday groceries since the beloved supermarket chain began in Rochester and has multiple stores. Buffalo-based Tops is their local competition.
Rochester and Monroe County Events and Festivals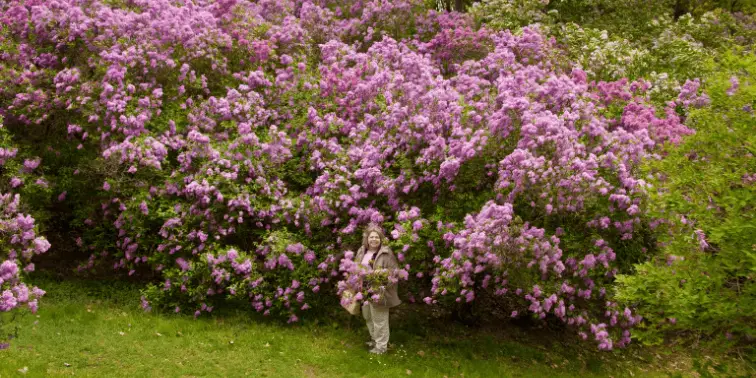 There is always a festival, exhibit, performance, or another event in the Rochester area. Major annual festivals include:
And there are changing events and exhibits year-round at art galleries, museums, concert halls, theaters, and other venues throughout the City. You'll find some of these at the area's several higher education institutions.
Rochester Area Colleges and Universities
If you're looking for an excellent post-secondary education, the Rochester area is a great place to be. The largest and perhaps best-known schools are the University of Rochester (UR) and the Rochester Institute of Technology (RIT). The expansive Monroe Community College (MCC) is just south of the City in the Town of Brighton, with a branch downtown.
The Village and Town of Pittsford, east of the City, is home to Nazareth College and St. John Fisher. To the west are Roberts Wesleyan in the Village of Spencerport and SUNY College at Brockport in the Village of Brockport. And SUNY College at Geneseo is a short drive south. You'll find even more colleges spread throughout the Finger Lakes region.
Rochester Things to Do
High Falls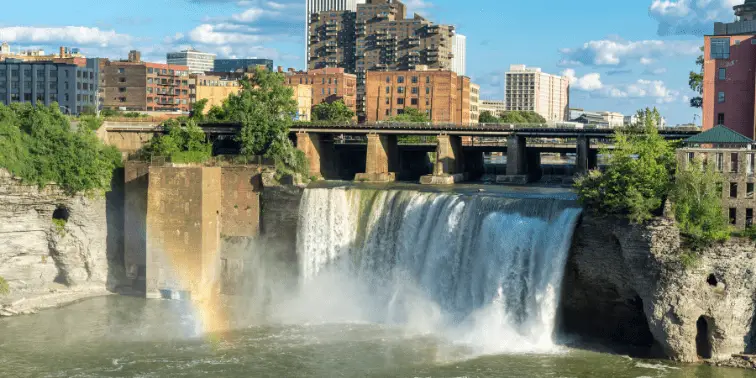 We love to hike and take our dogs on trail walks and the Genesee Riverway Trail was our favorite when we lived in Rochester. It's a 20+ mile trail that cuts through downtown going from the Erie Canal to Lake Superior.
The highlight of the trail, in our opinion, is High Falls. There is so much history in that area, the Genesee Brewery is close by (another must visit) and falls are just amazing.
Genesee Brewing Company
The Genesee Brewing Company is one of the oldest and largest continually operating breweries in the US and the oldest in New York. They have a brew house attached to the brewery where you can take in an amazing view of High Falls, sample beers and eat.
Highly recommend both the Scotch Ale and the Cream Ale!
The Strong Museum of Play
The museam boasts an extensive collection of toys, games, interactive displays and exhibits, and various events delighting children of all ages throughout the year. Learn about how the "Museum of Fascination" became the Strong Museum of Play.
Rochester Places to Eat
Rochester's "trademark dish" is the hangover-crushing late-night/early-morning meal affectionately called "the garbage plate." You can find this longstanding masterpiece at the iconic Nick Tahou Hots on W. Main St. If you're not that hungry (or trashed), you'll find more moderate (but equally appetite-appeasing) meals.
Other well-regarded dining includes the enticing Atlas Eats on North Clinton in Irondequoit and the traditional Italian Pasta Villa on East Ridge Rd. (Irondequoit). Then, there's Salena's local Mexican on Goodman Ave. in the Neighborhood of the Arts, Jines on Park Ave., and many more, including Asian, seafood, Middle Eastern, traditional American, and a lot more.
More Fun Facts About Rochester
Most of the following are things you probably need to have lived in Rochester to know. But now that you do, you'll understand better why so many people love living here!
Would you believe that Rochester once had its own subway system? Yes, there was 

a subway serving passengers

 from 1927 through 1956. It isn't long but seems remarkable, nonetheless. Nearby Buffalo actually still has a functional subway system, with a central line and light rail extensions. Many Rochester residents hope a restored subway will be in this City's future as well.

Rochester is surrounded and transected by lakes and waterways of all kinds. There are the Finger Lakes to the southeast and Lake Ontario to the north. Then, the Erie Canal runs east and west, and the Genesee River runs south to north and into Lake Ontario. Even Irondequoit Bay, which separates the towns of Irondequoit and Webster, sees lots of recreational boat traffic.
Incumbent Lovely Anne Warren is Rochester's first woman and second African American mayor. Warren made history in 2010 when elected as the youngest President of the Rochester City Council. She was sworn in as mayor on January 1, 2014.
As one of America's snowiest cities, Rochester gets hit with a median annual average of three inches!
If you move to Rochester, NY, you'll find a lot more fun facts like these. Ask a long-time resident, and you will learn some surprising and "fun" facts!
Why Move to Rochester, NY?
It's hard to imagine anyone lacking something to do in Rochester and Monroe County, but if you're genuinely at a loss, Buffalo and Niagara Falls are only about an hour's drive to the west. Of course, we already mentioned the Finger Lakes region, known for its wineries and scenery.
Even with New York City's many attractions, Western NY is easily accessible via its two international airports (Rochester and Buffalo). And don't forget that very affordable cost of living we mentioned above. So the money you would spend on a few hours in another city (like "the Big Apple") could sustain you for a a week or more in Rochester, NY.
About Our City Guides
Being a college coach, you end up moving a lot and living in a lot of different places. Then, you become friends with people who have also lived a lot of different places. We've leaned into our personal experiences and these relationships to try to bring you unique city guides on what it's really like to live in that city, in this case, Rochester, NY.