West Virginia is one of those states that you have either lived in or know nothing about! It is a hidden gem that has rolling hills, beautiful valleys, and a vintage vibe.
In many areas of West Virginia, the residents don't rely on the internet and their mobile phones to pass time. Some places can barely even get a signal.
The people of rural West Virginia live more off of their land and gather themselves around their families to achieve happiness.
But, there are cities throughout the state that have broken into modern times, and below we are going to talk a little about both sides of West Virginia.
Cost Of Living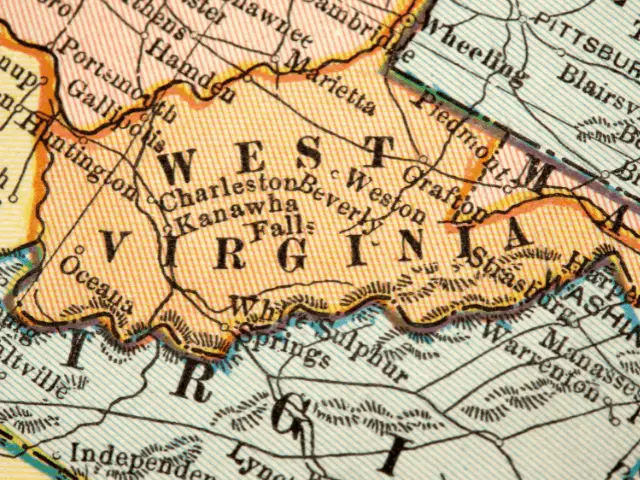 West Virginia is one of the most affordable states to live in America. The cost of living is relatively cheap, but this also depends on where you live in the state.
Larger cities like Morgantown or Charleston will cost more because they offer more amenities. A one-bedroom apartment in one of these cities will cost between $600 and $900, while a one-bedroom apartment in a smaller city like Benwood may only cost $400 to $600.
Areas further out from traditional cities will most likely not have apartments for rent. These areas are remote and mostly used for hunting and farming. Some small towns in West Virginia only have 10 people living in them, and usually, they are family!
With cheap rent and sales tax of only 6%, West Virginia is a great place for someone who is retired or works from home. If you plan on finding a job in West Virginia to support yourself, keep in mind that it doesn't have a booming job market and this may be harder than in other states.
How Is The Weather?
West Virginia has your traditional four seasons when it comes to weather. A rainy spring that averages at about 50 degrees leads to a warm and muggy summer that usually tops off in the mid-80s. The fall is absolutely gorgeous as the temperatures cool and the leaves change colors on the trees, once they fall off you know that winter has arrived.
Winter is full of snowy days and sometimes freezing rain, with random warmer days that help melt off the snow.
West Virginia has a little bit of everything when it comes to temperatures throughout the year, which makes it nice for someone who enjoys a change every few months!
Best Places To Live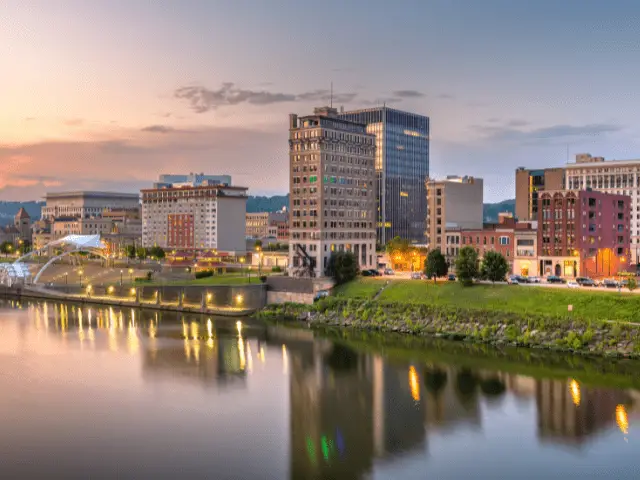 Living in West Virginia has a lot of variables. If you are looking for the best place to live, you must consider these variables to determine what the word best means to you.
If you are looking for the best city, then I would recommend Morgantown. Morgantown is home of West Virginia University and has many things to offer such as parks, restaurants, and shopping centers. You are in a city environment, but surrounded by small town living.
Other cities that are also highly recommended are:
Charleston
Huntington
Wheeling
Parkersburg
Fairmont
If you are looking for the best rural area, then I would recommend Middlebourne. Middlebourne is small, quaint and only has about 800 residents. There is not much to do in terms of amenities, but you do have the option of eating at the local Sub Express or Pizza shop.
Other rural towns that are also highly recommended are:
Fayetteville
Sutton
Dunbar
Harpers Ferry
New Martinsville
Things To Do In West Virginia
Growing up in West Virginia allowed me to explore being a kid doing things such as swimming in the creek, fishing in the Ohio River, and exploring the woods and train tracks. But as adults, you may be more interested in going to places that have plumbing and offer a different type of experience.
Below are the top recommendations for things to do across the state of West Virginia.
The Greenbrier
The Greenbrier

is located in White Sulpher Springs. The Greenbrier is a one of a kind resort. It offers historic suites, events, indoor and outdoor activities, a spa, delicious food, and even a casino! But the coolest part of the experience is visiting the bunker! The bunker is carved out of a mountain and was an emergency fallout shelter from the Cold War!
Wheeling Island Casino and Racetrack
The Wheeling Island Casino and Racetrack

is located on Wheeling Island. This casino/racetrack combo has an attached hotel for out of town guests and offers both table gaming and slot machines. Enjoy their delicious buffet, while having a drink at the bar.
Snowshoe Mountain Resort
Snowshoe Mountain Resort

is located in Snowshoe. Snowshoe offers a year round experience, from skiing in the winter to hiking in the summer months. Enjoy the many activities and events, stay in the lodge, and dine in at their restaurant.
Clay Center
The Clay Center

is located in Charleston. The Clay Center is a musuem, planetarium, and theater all in one! With all it has to offer, you will find something to interest everyone in the family.
West Virginia State Museum
West Virginia State Museum

is located in Charleston. This museum is a historical masterpiece that was founded in 1890! With such a rich history and magnificent collection of information, this museum is surely a place to visit!
Raven Rock
Raven Rock

is located in Masontown. If you enjoy a nice hike you will love Raven Rock. The beautiful overlook is hidden, so be sure to check a map before venturing out. Always be very careful as some areas can be steep!
West Virginia Botanical Garden
The West Virginia Botanical Garden

is located in Morgantown. Wander around and search the nine gardens filled with butterflies, wildflowers, mossy logs, and many other natural elements.
Seneca Caverns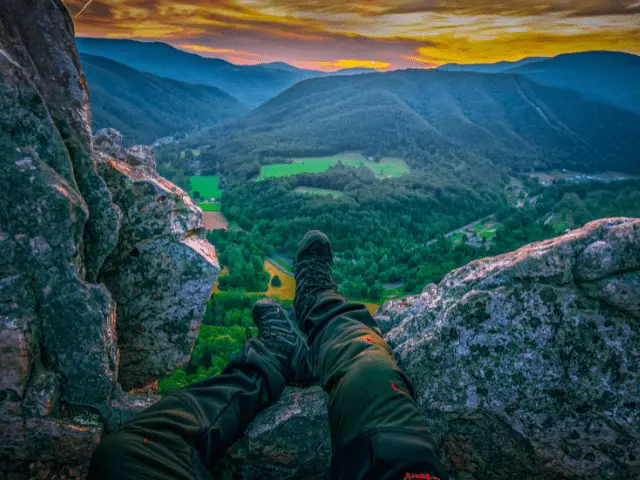 Seneca Caverns

are located in Riverton. These caverns are a fun activity to do with your family. Search the caverns for gems and learn the history of how these caverns were formed!
Mothman Museum and Monument
The Mothman Museum and Monument

is located in Point Pleasant. If you have ever seen the blockbuster hit The Mothman Prophecies, then you may be familiar with what this place is all about! The museum and monument is dedicated to the Mothman. Believe in him, or not, it is definitely a cool place to explore!
Festivals and Events
Festivals and events give people something to look forward to and enjoy. West Virginia has a few festivals that really excites its citizens and makes them come out in the masses!
Cabin Fever Craft Beer Festival
The Cabin Fever Craft Beer Festival

takes place in Morgantown. This event is held during the winter to help ease you out of hibernation. This beer festival only serves beer made in West Virginia!
Feast of Ramson
The Feast of Ramson

takes place in Richwood. It is a culinary event that has been taking place for 83 years! They serve a delicious meal inspired by ramps, and play live music.
FestivALL
FestivALL

takes place in Charleston. It is an event that is mix of music, theater, dance, and visual art.
West Virginia State Fair
The West Virginia State Fair

takes place in Lewisburg. It is a fun filled event that has live music, delicious food, rides, games, and even a horse show!
WizardFest
WizardFest

takes place in Huntington and as you may have guessed, is a wizard themed festival! Come to WizardFest dressed as your favorite wizard or Cosplay and enjoy a night of trivia, drinks, dancing, and quidditch!
DMV
Every state is different when it comes to getting your driver's license, car registration, and the guidelines for car ownership. In West Virginia you must visit the local DMV to complete any updates regarding your license, identification, title or car registration. There are 24 DMV locations across West Virginia, you can find each location here

.
Remember to visit the closest DMV within 30 days of moving to the state of West Virginia to be sure you are up to date on all transfers, titles, and registrations.
Taxes
West Virginia's tax department is located in the city Charleston. You must file all taxes accordingly if you reside in the state of West Virginia. The West Virginia tax website can be found here

. Their website has any forms you need for person and business taxes, as well as all up to date information regarding filing your taxes, refunds, and payment plans.
My Final Thoughts
West Virginia is a unique place to live. The cities are not the biggest, but they have plenty of nightlife, restaurants, and activities to keep you busy. If city life is not what you are seeking, then West Virginia may be more your vibe. There are many rural areas with tons of hidden gems. Creeks, valleys, mountains, and ravines are plentiful and the sounds of nature are soothing to the soul.
I recommend West Virginia for anyone who is looking to try something completely new. Even as a temporary move, it can help you get back to the simple things in life and find a different perspective on who you are.