Moving has reached that point for you. Possibly the most difficult phase of moving. That is the packaging and labeling stage.
But, before you run and hide, we're here to tell you that there are ways to make labeling your moving boxes a breeze. And yes, you are going to have to label them. You're not getting out of labeling your boxes, sorry.
In fact, proper labeling of your moving boxes might be the most important thing you do during the entire moving process. Well done labeling will save you hours and hours of time and save you a ton of frustration during the unpacking process.
Systems like color-coding and number coding, combining methods, and stickers can speed up the labeling process and make it fun.
But, if you are still on the fence about developing a system for labeling, here is why you need a labeling system for your move.
Why you need a labeling system
Labeling systems save time.
This is a fairly obvious fact, but it can be easy to forget. You may be impatient as you develop a labeling system for your moving boxes since it takes time to create a method that works for you and then implement it. But stay focused on the time you will save in the long run.
Labeling systems make unpacking easy.
All that time you spent developing a system and labeling your boxes will pay off when it is time to unpack. All the boxes will be in the right place, and you will know which boxes you need to open first.
Labeling systems mean you can get help with moving in and unpacking.
If you are hiring professional movers, or even simply enlisting the help of friends or family, properly labeling the boxes means that you don't need to be there when they help you. Movers will put your boxes exactly where they need to go in your new house. Saving you time.
Labeling systems will ensure your fragile items arrive in one piece.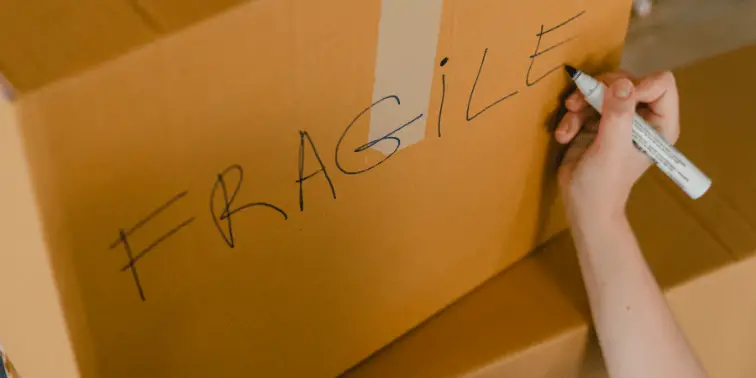 It goes without saying that proper labels will prevent fragile items from breaking. Properly labeling a box will ensure everyone who comes in contact with it will handle it with care.
Labeling systems will help you understand what you wrote down.
So, you're probably planning to write something on the box, but not having a system or plan for labeling could result in your labeling efforts becoming a waste of time. Labels can smudge, rip off, or get lost. You might have used a shorthand that originally made sense, but now you have no idea what you meant.
Labeling systems take the guesswork out of moving.
You have a lot to think about when moving. Make it as easy as possible for your brain by clearly and consistently labeling your boxes.
How to Develop a Labeling System
Now that we've realized that labeling systems are an essential part of the moving equation, here are some tips for developing your own labeling system that will save you time in the long run.
Materials
High-quality markers. You need more than one marker. It should be high-quality, with dark colors, permanent ink, and waterproof, and smudge-free.
Clear packing tape.
Colored stickers or tape.
Pen and paper and/or excel spreadsheet.
Different Labeling Systems
There is no right or wrong way to label a box but combining a few different methods is generally beneficial. As long as you clearly and consistently label your boxes, you're coming a long way to making moving easier. But here are the systems that we like.
Marker color-coding. Have a different color marker correspond to other rooms in the house. For example, blue refers to all bathroom items, and orange refers to all kitchen items.
Tape Color-coding. Buy multi-colored tape to use similar to the markers. The tape will have the color stick out so you can quickly move the box to the right room without even having to read.
Stickers. Using professional or other types of stickers to label what room each box goes to can be a fun way to label boxes. Just make sure that the stickers won't fall off.
Number system. Each box is designated a different number. Next, write down the numbers and contents inside on a spreadsheet or in a notebook with pen and paper.
Even if you choose one (or a few) of the labeling systems above, it is still HIGHLY recommended that you write at least the basic information on every individual box. That way, if you lose a master list, your computer crashes, or someone else is in charge of moving the boxes into the final destination, there are at least basic labels on the box that can't go anywhere.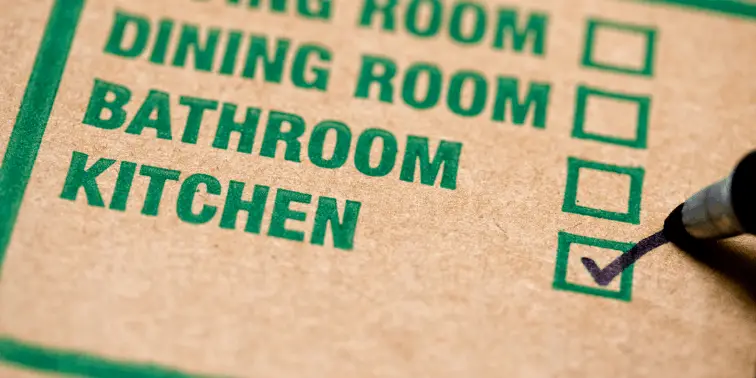 Every box label needs to have:
What room the box goes into in your new home.
All the contents of each box.
Fragile or Handle with Care or This Side Up.
Do Not Move boxes. Even if you are moving everything yourself, label it so you don't forget.
Pack Last boxes. Marking it as such will save you the hassle of trying to remember.
Priority. Writing High or Medium or Low on your boxes will help you figure out which boxes to unpack first in your new home. You'll know without looking it up to unpack high-priority boxes first.
Other Labeling Tips
Do NOT label a box before packing it. You won't know exactly what will fit into a box until you pack it.
Label the box immediately after packing it. Trust us, you will forget what is inside.
Label at least two sides of the box. On top and on one or two sides, so that it is easy to see what is in each box. Make sure labels like FRAGILE are on every side as well. It's best to label boxes on all sides if possible.
Do not only label the top of the box. You won't be able to see the labels if the boxes are stacked.
Place a clear piece of packing tape over labels and stickers so that labels do not fall off, smudge, or tear during transport.
If you're using used boxes, tape a new label over the top of the old labels to avoid getting confused.
Final Thoughts on Labeling Moving Boxes
At this point you might be thinking, "Is all this really necessary?"
Yes.
Take it from someone who have lost items for months or had to go out and rebuy items because they couldn't find the box that it was packed in. As much as you may think that you'll remember what you packed in what box, you won't.
You will pack dozens and dozens of boxes for a move. On top of that, many times you're also coordinating a new job as well. It can be a lot. Labeling can make one of these processes much, much smoother. It's totally worth it.