Moving can be an expensive endeavor. Even if it's just a short distance, renting a moving van or using PODS can easily overextend your moving budget.
If you're considering using your car to move your things, you are going to have to carefully plan your move: what you absolutely need and how you are going these things.
Whether or not you are going to use other moving vehicles, packing your car for moving is a great way to maximize the space you already have and to save money.
Here are some of our tips on how to effectively pack a car for moving, including where to start and how to safely pack your vehicle.
Before you Pack the Car
Purge
Before you pack up your car, decide what you need. Get rid of anything you don't use anymore, especially if your car is the only moving vehicle you have. Don't buy anything new before the move. You don't have space for extra stuff.
Sort
Sort through the items that you are going to pack in your car. Do they need to be packed in a box? Or can they be packed in a bag? Is it heavy or light? Breakable or sturdy? You can plan what items will go on the bottom in this step and decide what packaging materials will be needed.
To utilize the limited space of a car, you are going to need to sort and plan your stuff carefully.
If you are using a U-Haul or PODs as well, sort through what things you want in the car and what things can go with everything else.
Decide what you absolutely need to pack in your car. These are your non-negotiables. Your car can fill up quickly and you want to prioritize the most important items.
Here is a few examples of stuff you may want to keep in your car and move yourself, especially if you're hiring movers or using PODS:
Use Bags Instead of Boxes
The best way to pack your things in a car is in bags. Use any bags that you can get your hands on. Large garbage bags, small grocery bags, ziplock bags, anything will do! Using a wide variety of bags will also give you more options of where you can squeeze items into.
If some of your items need to be in boxes, use small boxes whenever possible.
Vacuum Storage Bags
For clothes, linens, and other materials you can pack them in vacuum storage bags to maximize space. Vacuum bags are available at a number of stores, in-person or online, and are an excellent travel and moving hack. Once the vacuum bag is completely stuffed, seal, and use a vacuum in the hole provided to suck up excess air. You will be amazed at how your stuff shrinks when it's vacuum-sealed.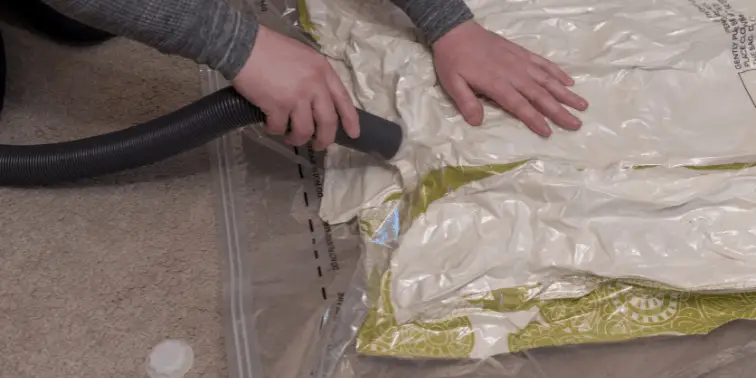 Vacuum-sealed bags often are odd-shaped and heavier than they look. Keep that in mind when planning your car-packing strategy.
How to Pack the Car
Essential Items
Start by packing your car with non-negotiable items to ensure that they do not get left behind.
If some essential items are especially light, delicate, or must be easily accessible, don't pack them first. Consider keeping the passenger seat empty so that there is space at the end of the packing process for these items.
Heavy Items and Boxes
When you're packing your car, you want to make sure that heavy items are at the bottom of the car so that they do not crush your lighter and more fragile things.
Evenly space out the heavy items so one side of the car is not heavier than the other.
Valuables
If you have expensive items that you're packing in your car, consider packing them so that people cannot read the label from outside your vehicle. Stuff them under the seats, below other boxes, or cover them in a blanket.
Odd shaped items
Your odd-shaped items (think lamps) and small bags are great to stuff into the extra crevices in your vehicle once the large and heavy items have been packed in.
Extra space
There is always more space for your stuff! Here are some spots in your car you can fill with extra items to make sure that every square inch of the vehicle is put to use.
Under the front seats
Footwells of passenger seats
Inside and around the spare tire
Lower the back seats for more space
Things to keep in mind
Keep car balanced. When you're packing your car, make sure that heavy items are evenly distributed on all sides of the car. Place heavier items on the edges of the car space and work your way inward. An uneven car can cause problems when driving.
Your car will use more gas. When planning and budgeting for the trip, keep in mind that a heavily packed car will use more gas during your move.
Keep windows clear. Make sure that you are not impeding your vision when you're driving. Keep back windows and side windows clear when possible.
Make sure you can get at the spare tire. While packing things around the spare tire is a great way to utilize space, make sure that you can still get your spare tire out without unpacking the entire car. You don't want to have to search for the spare tire in the dark if something happens.
Label everything. Label all packages, boxes, and bags. This will help you pack the vehicle safely and will ensure that lighter items don't get crushed. It will also make your life a lot easier when it becomes time to unpack.
Use an overhead carrier. If you really need more space, consider getting a roof rack to carry more items. This can be an expensive addition but it may be worth it if you just need a little bit more space.