Some of us are naturally organized. If you're not one of those people, you may be wondering the best way how to pack bedding when moving. Bedding is one of the easiest things to pack, but there's more than one way to do it. I have done this a few times, and I've learned a few things that have helped improve my moving process along the way.
The best way to pack bedding when moving is to save it for last. There are also a few other things you should know about packing bedding including the best way to pack comforters, how to organize your bedding, and what to do with pillows.
Before you start packing all your bedding, read through all the tips below. This will save you some aggravation when you begin packing for your big move. Your bedding should be one of the last things you pack, so make sure you haven't boxed everything up yet. Keep reading for the best tips on how to pack bedding when moving.
Before You Pack Your Bedding You Should Know:
You should pack bedding last
When you pack for a move, most people go room by room. When it comes to bedding, you want to save it for last. Bedding can be used for padding breakables (like a TV if you don't have a box) and furniture. If it's all boxed up, you will have to unpack it all in order to use it.
Not only that but it usually takes a few days to pack everything in your house. You might end up sleeping on the floor for a few days with no blankets.
Trust me, that's no fun!
Use plastic bags to pack comforters
It's very hard to find boxes large enough to properly store a comforter. It's easier to pack fluffy comforters in a plastic bag. For smaller throw blankets or sheets, you can store them in a box. Larger items will fit better in a 64-gallon trash bag.
If you really need to maximize space you can try using vacuum sealed bags. This will insanely reduce the size of your blankets and comforters and you'll be able to fit them in almost anywhere.
Dresser drawers are great for packing pillows
If you have moved as many times as I have, you know how difficult it is to move dresser drawers that are packed with clothes. Some people prefer to keep all their clothes in their dresser drawers when moving. But, if you've ever tried to haul a dresser drawer full of clothes up a flight of stairs, you know how tricky (and heavy!) that is.
Instead of packing clothes in your bedroom drawers, use that space for lighter items like pillows. When moving, you want to make the most of the space you have. Pillows allow you to utilize the space without weighing down your dresser.
Use bedsheets to wrap bedroom decor
You should always organize your rooms as you pack. This way when you unpack your belongings it doesn't take forever to find things. Keep your bedroom items together and label them. You can use your bedsheets and pillowcases to wrap items like artwork and decor that belong in the bedroom.
When arriving at your new home, all your bedroom items will be together. It may take you a few weeks to unpack everything, so the more organized your boxes are the easier it will be to find things.
My 5 Best Tips on How to Pack Bedding When Moving
I have moved almost a dozen times and I have learned a few tricks along the way. Even if you think you have a solid plan, you learn tips each time you move. These are some of the most useful tips on how to pack bedding when moving.
Compress your bedding
If you have a lot of bedding, or bedding you don't want to use as padding, try to compress it. If you don't have the budget for a fancy vacuum seal storage bag that's okay. I have a really easy hack for you.
Place your bedding in a large plastic trash bag, preferably a thicker plastic bag that doesn't flex. Pull the drawstrings tight, leaving just enough space for a vacuum. Use your vacuum's hose to vacuum out all the air.
Label your bedding
If you are using dark plastic bags for everything, it will be hard to sort out what's what when you start unpacking. Use ordinary masking tape to label your bags. Each bag should be clearly labeled. Be specific when you make your labels. For example, don't just write bedspread. Label it with a description like Johnny's comforter or blue striped comforter. This way you know what's in each bag.
Consider using moving blankets
I love using my own bedding when moving, but you don't want to use all of your bedding for padding. If you have bedding that you really love, you don't want it to get damaged during a move. It's very easy to snag a blanket or for your bedding to get dirty. Make decisions on which bedding you really care about. Pack those in storage bags, and use your older bedding for padding.
Consider picking up moving blankets instead. They are relatively inexpensive and can be used over and over again. If you don't want to buy your own, you can rent them from most moving rental truck companies.
Donate bedding you don't need
One of the best tips for making moving easier is to donate or throw anything you don't use anymore. Before you pack up every blanket and pillow you own, think about which ones are just taking up space. If you have blankets that are rarely used, donate them. Bedding takes up a lot of space. If you don't need every blanket and comforter in your home consider donating some of them instead of packing them.
Get rid of old pillows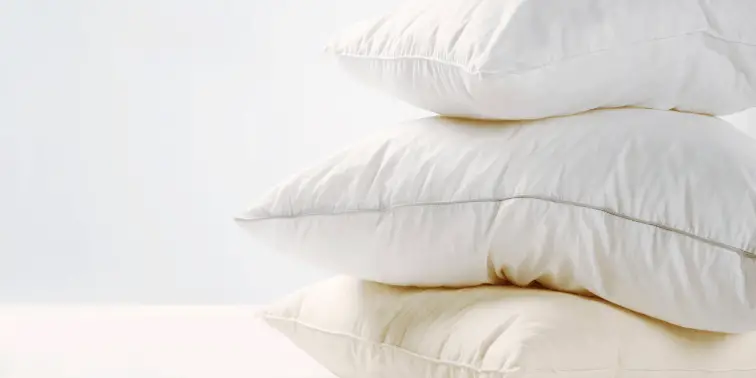 This is also a good time to get rid of old pillows. Most sleep experts recommend replacing your pillows every two years. However, I know I'm guilty of holding onto pillows for way longer. Over time pillows wear down. If you have old pillows, moving time is a great time to replace them.
Final Thoughts on Packing Bedding
While everyone has their own way of packing when moving to a new home, these are some of the best tips I have come up with over the years. Bedding is actually the one thing I don't mind packing. I hope you have found these tips useful. Enjoy your big move!