If you're planning to move soon, you're probably curious about the best way to pack your dress shirts, and that's where this guide comes in handy!
In today's article, we'll show you how to pack dress shirts for moving using a variety of methods as well as all the necessary tips to do it efficiently.
Let's dive right in!
This article contains affiliate links. If you buy something using these links I may earn a commission. Thanks!
Best Methods to Pack Dress Shirts for Moving
Luckily, there's a variety of methods that you can use to pack your dress shirts while moving. Let's check them out!
1. Folding into Smaller Boxes
Since you're moving, you probably have a lot of boxes lying around. The best thing about this method is that it packs all the shirts properly folded and doesn't require buying additional packing boxes or bags.
Here's how to fold the dress properly:
Spread the shirt with its back facing upwards and arms open
Fold one side inwards so that it covers half of the torso
Fold the arm of the same side inwards again so that it aligns with the folded torso
Repeat the previous step on the other side, folding it inwards so that it covers the other half of the torso
Fold the side's arm inwards so that it aligns with its torso, forming a long rectangle shape
Fold the rectangle from the bottom up into thirds, so that you end up with a neatly folded square.
Flip it and pack it in a suitable size box
Repeat with other dress shirts and stack them above each other
Use tape to secure the box's lid
There are plenty of alternative methods that you can use to fold your dress shirts, such as folding them into two halves and rolling them up. This should also work perfectly if you're going to unpack immediately as you arrive.
2. Wardrobe Boxes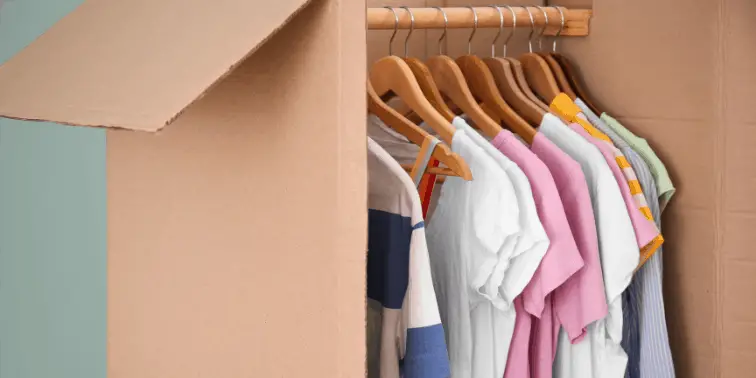 Wardrobe boxes are the best when it comes to moving dress shirts and other hanging clothes without wrinkling or folding them.
These boxes are spacious and offer a hanging rod for hangers. This means that you'll also keep your shirts in their hangers while packing.
While these boxes save effort and time, they can be a little pricey when compared to other packing boxes.
Also, they can take up a little more space in comparison, so they're not suitable if you're using a small vehicle for moving.
Finally, there will typically be some extra space at the bottom of the wardrobe box which makes it a great place to pack your shoes (especially if you don't have the original shoe boxes to put them in).
3. Trash Bags
This may sound a little weird but this method is surprisingly effective while packing dress shirts and other hanging garments!
Trash bags are extremely cheap and easy to find all the while being spacious enough to hold folded shirts. Durable options with a 55-gallon capacity

should be good enough for the job.
Additionally, they have a drawstring that you can tighten around the hanger hooks, making the shirts easy to carry and lay over other boxes while moving.
Simply pass all the hanging shirts inside the bag, then tighten the drawstring. After that, use a rubber band to secure the cluster of hanger hooks.
4. Travel Bags and Suitcases
Since you're moving, you're probably taking all your travel bags and suitcases. A good strategy here is to use them while traveling to make your life easier.
The ideal packing method will vary depending on the style and size of your bags. However, when it comes to shirts, it's always best to align them perfectly then add the rest of your clothes above to keep everything stabilized.
Pro Tip: Suitcases also work great for packing your books too.
5. Vacuum-Sealed Bags
Vacuum-sealed bags

are ideal if you want to save as much space as possible while traveling, making them ideal for packing if you're moving with a small vehicle.
The only drawback of this method is that it may end up wrinkling dress shirts, so you'll have an additional ironing duty once you unpack. A good workaround to limit the wrinkling here is to pack the shirts while rolled or folded.
6. Garment Bags
Lastly, you may opt for some garment bags while packing your dress shirts. This method is similar to the trash bags, except that these bags are specifically designed to hold hanging clothes.
These bags might be a little more expensive, but they're fancier and breathable, which maintains the shirts in tip-top condition, making them ideal for premium and expensive shirts.
Tips for Packing Dress Shirts
Now that you know more about the methods to pack a dress shirt properly, here are some additional tips that you need to keep in mind regarding the packing process:
Pack Your Dress Shirts Clean: It's always best to do the laundry before packing, as you'll be much busier during the unpacking with very little time to tend to your shirts.
Sort Out Your Dress Shirts Before Packing: You may find a lot of old shirts while packing, so make sure that you donate to sell any shirts that you don't use to lighten your load
Avoid Cramming Your Wrinkled Shirts into Travel Bags: Crumpling your shirts into a ball uses up a lot more space and may damage the fabrics.
Iron Your Shirts Before Packing: Since most of the previous methods will keep your shirts neatly packed, you might as well pack them wrinkle-free!
Wrap Up
There you have it! A simple guide that shows you how to properly pack your dress shirts for moving in various methods.
Remember to always start packing your shirts and clothes early, so you have enough time to sort them out and send them to dry cleaning before packing, especially if it'll take you a long time before unpacking.
If you found this guide helpful, you may also want to check out our guide on how to pack your entire closet for a move.