People move for different reasons, such as family, jobs, and housing. Even though it's exciting to live in a new environment, the process of moving can be exhausting, especially when you're doing it on your own.
Loading a moving truck is tricky as you don't want to ruin your furniture. But do you know that you can successfully do it without hiring movers?
Read on to know more about how to tie down furniture in a moving truck.
This article contains affiliate links. If you buy something using these links I may earn a commission. Thanks.
Step 1: Grab a Few Supplies
Poor packaging may attract dust and moisture that can damage your furniture. So, before loading your belongings, it's very important to properly pack them first.
We know that you need to prepare durable materials that are specially designed to protect your furniture pieces during transport, so we've already made a list for you.
Here are some things that you may use to secure your items.
Truck Ratchet Straps come in different designs that can be used to bind items in different sizes. They aren't only used to secure your furniture pieces during transit but are also good for tying down boxes, machines, and even vehicles.
They come in different sizes. Straps that are two inches wide have a load limit of 3,333 lbs. Three-inch-wide straps have a load limit of 5,000 lbs.
Finally, four-inch-wide straps have a load limit of 5,400 lbs.
They also come in various end-fittings, such as D-rings, J-hooks, flat hooks, e-track, and chain extensions.
Nylon ropes can be used as substitutes for ratchet straps. Compared to other types of ropes, nylon is more practical for tying down objects as it's strong but flexible.
Ropes can do it all if you know how to tie some knots. Plus, they are more affordable and easy to find. Choose a ¼-inch nylon rope because it's durable.
Step 2: Disassemble Your Furniture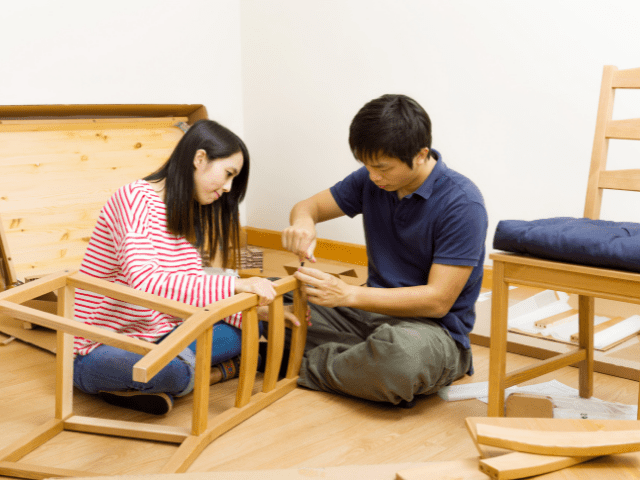 The first thing that you need to do is to decide on which furniture pieces need to be disassembled. To be sure, measure your biggest items to see if they will fit in the truck. Other smaller items might not need disassembling and can either be packed in boxes or stacked.
Keep a screwdriver set, a marker, and plenty of ziplock bags close to you. Depending on the type of furniture you'll be dismantling, you might also need a hammer, a wrench, and some pliers.
RELATED: Will Moving Companies Disassemble Your Furniture?
Disassemble one piece of furniture at a time and follow the instructions correctly. You may also write down your procedure if the item doesn't come with a manual.
Put screws and other smaller parts in ziplock bags then label them to avoid confusion. Then, keep all the bags with pieces that belong to the same piece of furniture together by taping or tying them. Making a list of the pieces is a good idea, too.
Step 3: Pack Your Items
Consider what types of furniture you'll be packing, how big they are, and what materials they're made of.
You may follow the examples below or combine various packaging materials if needed.
Desks and Tables
It's a good idea to disassemble your desk or table first. Make sure to remove the drawers from the main piece and empty them out. Then, wrap the bigger parts in moving blankets and wrapping sheets.
Cover any parts that are made of glass or other fragile materials with bubble wrap and wrapping paper.
And of course, adding a layer of cardboard will make it more secure.
Sofas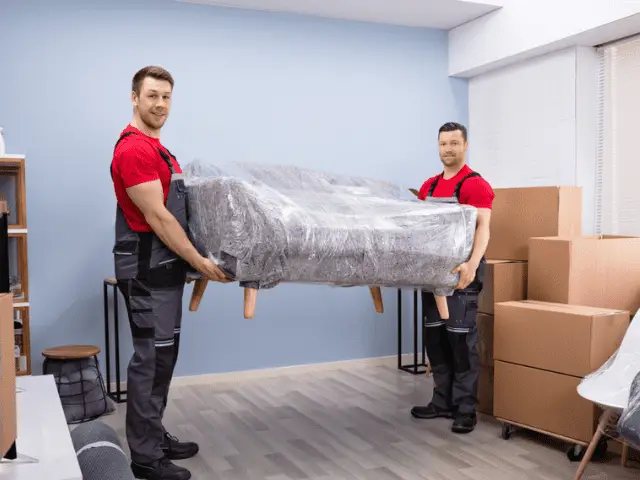 Lay some cardboard on the floor and carefully place your sofa on the surface. After that, fold the sides of the cardboard and secure it around the furniture with twine or tape.
Wrap the sofa with a dust cover and moving blankets.
Then, add a layer of wrapping sheets and secure it with an air-tight cover.
Beds
Make sure to separate the headboard from the bed frame and disassemble the latter if possible.
Pack your mattress, sheets, and pillows separately then wrap them with a dust cover. After that, secure any fragile parts with bubble wrap and use furniture pads for the bigger parts.
Cabinets and Wardrobes
Disassemble the cabinet if possible and empty all shelves and drawers. Then, cover smaller parts with wrapping paper and place them in a box.
Don't forget to wrap the fragile items with layers of cardboard, wrapping paper, bubble wrap, and moving blankets.
Step 4: Load Your Items Into the Moving Truck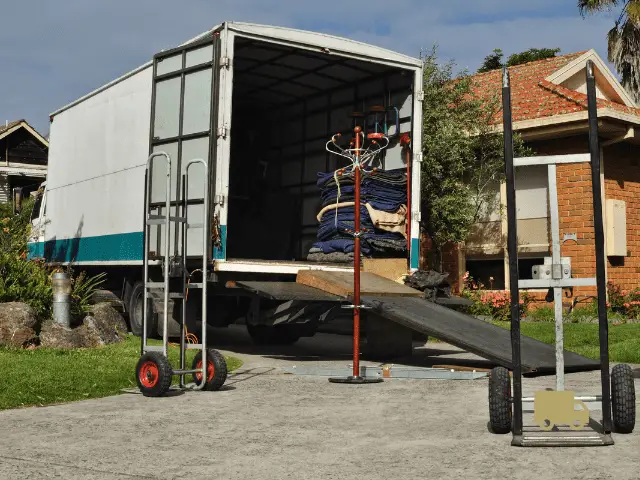 You can ask some family members or friends to help you with this process, especially when you have very heavy furniture pieces. For more convenience, use dollies or moving straps. (For even more convenience, hire professional movers if you have the budget for it!)
Organize the items according to their size and weight. Load the biggest furniture into the truck first and the smallest ones last. Also, remember to distribute the weight evenly by placing items of similar weight on both sides of the vehicle.
Step 5: Tie Your Furniture
You can tie down your furniture individually or in a row as long as you can keep them stable. It's also better if there's no space left for your items to rattle.
To secure furniture, start by placing your ratchet strap, or moving tie downs, across it. Then, hook the ends on both sides just slightly behind the front part of the furniture.
Next, adjust the strap length to secure your furniture piece in place. Remember not to put too much pressure to avoid damage.
When using a rope, it's better if you could learn how to tie some knots. You may try the following or search for more types.
Conclusion
To ensure the safety of your valuable items during transit, it's not enough to simply learn how to tie down furniture in a moving truck. Consider the other steps that you need to do.
Make the process convenient by gathering all the necessary tools and supplies in advance, disassembling bigger items if possible, and packing your belongings with care.
Depending on the type of furniture, you can choose between a ratchet strap or a nylon rope to secure it in place. Whatever tie-downs you use, the most important thing is that it can hold the item properly to prevent damage.
If you found this guide helpful, you may want to check out some of our other related guides like How To Efficiently Pack a Moving Truck and/or our Moving Truck Gas Cost Calculator. We've moved over a dozen times across 7 different states and share lots of tips we've picked up along the way!