You might wonder what moving blankets offer that can't be achieved by tarps, old sheets, corner guards, and other protection from the bumps and scratches often acquired during a move. In other words, you might be thinking, "what makes moving blankets so essential for most moves?"
After reading this, we expect you'll know why moving blankets are so important as well as how to use them.
Moving blankets (sometimes known as furniture pads) fill some unique niches. They are a moving essential, even though they have relatively few uses for anything beyond moving and closely related applications. Still, within this realm, moving blankets do several things—and they are not easily substituted by other items.
What Is a Moving Blanket?
Moving blankets are designed for absorbing shock and cushioning anything they might cover and protect. Most are made from heavy-duty cotton and/or polyester and filled with recycled fabric fibers. In addition, they are stitch-quilted for long-term use and durability. 
Non-woven ("textile") moving blankets are made from felt-like, non-woven fiber blend fabrics and are mainly for one-time use. Textile blankets are typically fused into a flattened piece—again meant for one-time use and then usually recycled.
How many moving blankets will you need? Use the following suggested numbers as a guide:
One Bedroom – 12 Blankets
Two Bedroom – 24 Blankets
Three Bedroom – 36 Blankets
Four Bedroom – 48 Blankets
Adjust quantities as necessary, based on the amount of furniture in each room. Try to have some extras available should you need them. You don't want to run out on moving day!
In addition to moving blankets, check out our complete Moving Supplies Buying Guide.
How to Use Moving Blankets Effectively
First, make sure you have enough moving blankets to cover all the furniture that will require them fully. Have a few extras on hand in case you underestimated the coverage area. Start by placing the blankets over the object, covering as much as possible.
Then, make sure the blankets fit the furniture or another item securely. Next, use a layer of stretch wrap, rubber moving bands, or heavy-duty tape (like duct tape) to keep the blanket from loosening or coming off. Some moving blankets have grommets on the edges, letting you tie them down. Finally, make sure both the top and bottom are anchored securely.
With all moving blankets secured, finish packing and get on the road. After arriving in the new home and placing the items in their intended locations, you can remove the furniture pads from what they were covering.
Why Moving Blankets Specifically?
Moving blankets are heavier than other coverings (like tarps) and drape well over large or bulky items. Regardless of their material, they are soft and unlikely to scratch. Their thick fabrics help prevent bumps or punctures, and most are easy to fold and store when not in use.
As we will discuss below, there are excellent reasons to purchase moving blankets, not only for moving but also for various household and outdoor uses. Even the more durable cotton moving blankets are relatively inexpensive, and the purposes they serve make it well worth the money.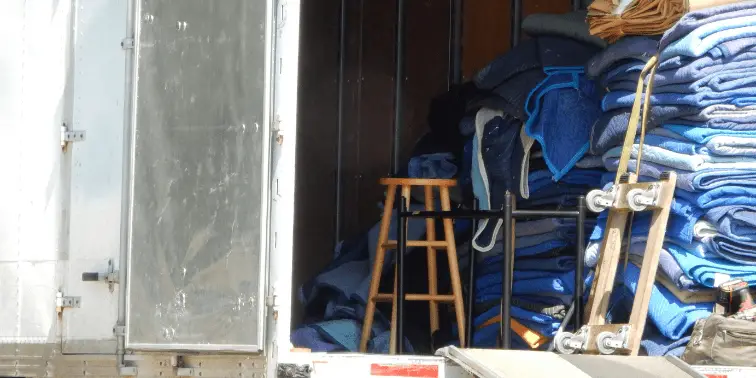 You can purchase moving blankets at most home supply mega-stores, like Lowe's and Home Depot. Walmart also stocks moving blankets. And you find them at retailers, including online, that specialize in moving supplies. Also, truck rental outlets will sometimes sell moving blankets. More often, though, they rent them to those leasing trucks or trailers for moving.
Borrowing moving blankets or renting them makes sense if you need a lot of them all at once, as you might for a cross-country household move. It's also convenient if you don't have much storage space. Still, having moving blankets on hand can serve multiple purposes, save effort, and solve problems—including some you might not have considered, as discussed below.
Non-Moving Uses for Moving Blankets
For example, having moving blankets on hand at home or in a vehicle is always a good idea. When you buy them, be sure to get the washable cotton kind so that you can use them again and again for various activities.
The following exemplify activities that could benefit from moving blankets (along with moving, of course):
Picnics and Other Ground Covering
If you enjoy a meal in the great outdoors, or perhaps a romantic evening near the water, moving blankets can protect you from the cool, damp ground. They can also serve as warm blankets in case of a chilly breeze.
Sound Insulation
Suppose you're in a band but live in an apartment or have people living nearby and don't want to get called about the noise. Then hanging moving blanks around the space might help muffle the sound, and maybe your neighbors won't mind so much.
Floor Protection
Rather than move a piece of heavy furniture across a bare floor and risk scratching it, why not set the pieces on top of moving blankets and slide them wherever they need to go (provided, of course, that it's across a single room and the entire floor is bare)?
Car Protection
Do you worry about having your vehicle parked outside when there's a sudden hail storm? Naturally, a humble moving blanket can't stop the storm or move your car. But it can protect the exterior from the tiny dents hail often leaves behind.
Pet Bedding
Do your pets sleep anywhere, except that beautiful bed you bought for them? Maybe they'll settle into a "broken-in" moving blanket. These blankets are suitable for home or the car!
Absorbing Spills
If you're tired of grocery bags falling over on the trip home, spilling liquid all over the car, give some thought to strategically placing moving blankets underneath the bags. Of course, you might lose out on some of the groceries you purchased, but at least you won't have to clean out the interior. And the moving blankets can just go in the laundry.
Emergency Warmth
Another reason to keep moving blankets in your car is if you get stranded in cold weather or attend an outdoor event in late fall. With a moving blanket handy, you'll have ready access to the warmth you need to be comfortable.
Fully Wrapped and Safe for the Trip
Now we've explained how to use moving blankets, along with other information such as where to buy them and what other ways you can use them. When moving heavy furniture and other heavy items, we believe that you should always use moving blankets. So it's good to have plenty of them ready to go.
And why not use moving blankets? After all, they're so easy to buy or rent and use to protect your possessions. And, as we explained, their many uses do not stop with moving. Let's see what comes next for moving blankets!