If you've ever moved, we'll bet you've seen some damage to your packed items when they arrive. Furniture is especially prone to moving damage. Its size and bulk make it vulnerable to scuffing and gouging when carried, and its surfaces could tear, scratch, or even break. So we'll explain here how to pack furniture for moving in the best ways possible.
When moving furniture, there are many variables to consider when packing it. They include such questions as:
Who is moving it? You? Professional movers? Friends with a pickup truck?
The individual pieces being moved: An antique mirror is hardly the same as a butcher block table.
Which packing materials are best suited for each item?
Will any items be in long-term storage during the move?
Whatever your situation, we advise you to pack your furniture for the worst damage that could occur. Although there are no guarantees, this way, you have the best shot at preventing harm to your furniture.
Packing Furniture
Whenever possible, box furniture for the trip. Lamp boxes (including floor lamps) aren't hard to find and should be used to fully protect these essential yet fragile items.
Another article of furniture that should go in a sturdy (preferably a specialized) box (with lots of padding surrounding it) is a mirror. We all know how fragile they are. And who wants seven years of bad luck?
Also, disassemble and box any furniture that can be disassembled and reassembled relatively easily. If you anticipate professional movers needing to reassemble these items, include the original assembly directions or recreate them if necessary.
When something is too big or awkward to box, as most furniture is, you'll need another plan. We recommend putting soft (e.g., foam rubber) bumpers on the corners or legs of larger pieces since they're the most likely to bump walls, doorframes, or other furniture.
If you have a sofa bed, be sure the fold-out parts are secured in place with straps or cords.
And be sure all unboxed furniture is entirely covered with moving blankets and properly tied down once in the moving truck. Of course, it never hurts to peer inside every so often, either, to see how your household items are protected. And if you've hired professional movers, don't hesitate to ask for adjustments; after all, you're paying them for this.
Using Professional Movers
Professional movers represent a wide array of experience and abilities. While some are seasoned professionals with years of experience, others might be day laborers hired the morning of loading the moving truck.
Be prepared for anyone, and be sure to communicate directly with the crew foreperson if you want to share the message with everyone on the job.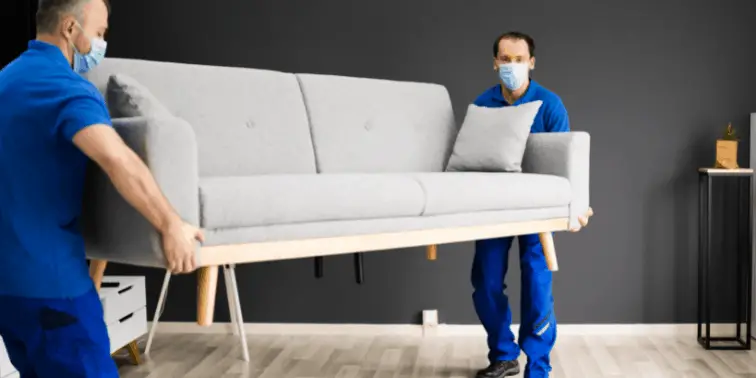 Most well-known moving companies do their best when loading the truck.
Still, there's little accountability—especially in a long-distance move, since entirely different crews load and unload the van. Damage claims are common, even for top moving companies. So take care when packing your furniture for a moving company. It's easier for them to compensate than to prevent damage.
In our experience, we've had 10x more things get broken and/or damaged when we've used professional movers versus doing it ourselves. Do your best to prepare items with padding and, when possible, pack items in your personal vehicle that you really highly value.
Obviously, that's not going to be possible with a couch, but smaller (especially fragile) items are worth keeping with you if you can.
DIY Moving
Like many, you might want to save money on your move and DIY by renting a moving truck or using a service like PODS or U-Pack. Good for you!
RELATED –> Can You Place PODS on Grass?
However, remember that you are not a professional mover, and no matter how careful you are, something still could be damaged. And rental companies don't compensate at all for damages to your personal property.
Consider shipping any fragile or valuable furniture with "white glove" service via freight instead of loading it yourself or putting it in the car. It will receive better care than it would even with professional movers. And you will enjoy peace of mind knowing it's in good hands.
Moving Locally
No matter how casual the local move might seem, you should pack your furniture just as carefully as if it were a cross-country journey. A cross-country trip is likely to be smoother than the stop-start traffic of a city.
Whether you're packing a pickup or a moving van, load the heaviest furniture first. It can support lighter items and prevent damage if pieces are jarred during travel. It can add efficiency too.
For example, one of the worst-kept secrets of moving is filling drawers with bagged clothing. The bags keep clothes sorted while the drawers are carried to and from the van.
Moving With Your Car
There isn't much large furniture that will fit in a car or a smaller SUV. Still, if you're only moving locally, there are many smaller items you can move one or two at a time. Make sure the car seat or cargo area is free of other objects that might damage the furniture, and place the padding where your items might bump into each other or the side of the vehicle.
Long-Term Storage
If you're doing a long-distance move, you might need to store your furniture while finding a new place to live. Furniture in a long-term storage facility is a lot like furniture packed in a moving van. But there are a few differences to note.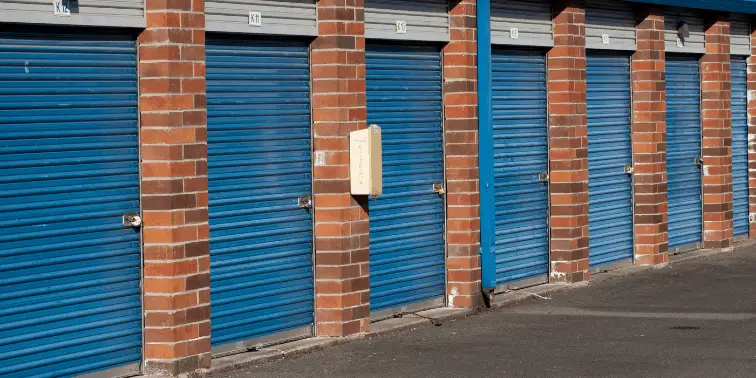 Dust and mold will collect on furniture being stored, especially when stored in a place that is not climate-controlled (e.g., a friend's basement or garage). So be sure it is covered from top to bottom. For fabric and wood items, use fabric sheets to prevent condensation and plastic for other things. Use desiccants to absorb any moisture (even cat litter will do).
Supplies for Proper Furniture Packing
When it's time to start packing for a move, it's always wise to stock up on the supplies you're sure to need. Begin by noting all the furniture items that will travel and make a shopping list of the materials you'll need to keep them safe on the journey.
The following are items most people invest in due to their especially protective properties.
Supplies for Wrapping and Protecting
Much of your furniture will be too large or awkward to box. So you will need to take extra measures to ensure they can sustain all the rubbing, bumping, and even dropping that might occur during the move.
Give attention to corners, edges, and vulnerable surfaces (e.g., fabric) and make sure everything not in a box is covered with moving blankets for the trip.
You will need:
Bubble wrap
Stretch wrap
Foam corner protectors
Moving blankets
Extra-large bags and/or drop cloths
Boxing Supplies
You should box whatever can be boxed, including all sizes of lamps, small tables or stools, mirrors, artwork, and most decorative items.
You will need:
Large-sized or specialty moving boxes (e.g., for lamps or mirrors)
Bubble wrap
Packing paper
Biodegradable packing peanuts
Tape
Constraining and Consolidating Furniture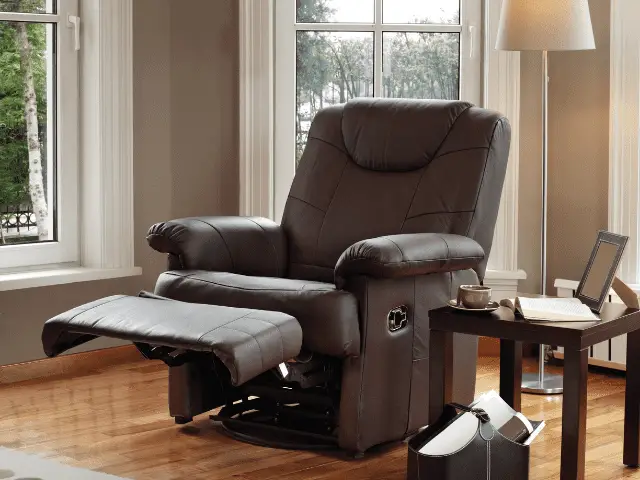 Some furniture items are awkward enough to break or become hazards to the movers and the other furniture.
Examples are unsecured fold-out sofa beds, reclining chairs, fireplace tools and any item with drawers or movable shelves. You would do well to use stretch wrap to consolidate separate but similar items (e.g., bookshelves).
You will need:
Tension straps or bungee cords
Stretch wrap
Labeling Supplies
Finally, when packing furniture for a move, be sure to label everything, indicating what's inside the boxes, which room things should be placed in if it's "handle with care," or "open first," and any other instructions.
If something needs assembly upon arrival, you should attach an envelope with instructions directly to the item.
You will need:
Felt-tip markers (some in red, others in black or blue)
Gummed labels
Envelopes
We also want to point out that you should strongly consider not packing any damaged items, especially if you have been putting off repairs. Instead, donate them to a local charity to save yourself the trouble and expense and help others in the process.
Wrapping It Up
Even moving blankets (one of our favorite furniture protection aids) really only help during the trip itself. It's the short hop between the truck and the residence where a lot of damage can occur.
But often, it's not noticed until much later. Fortunately, if it's not something you can't fix yourself, most larger communities have furniture restoration specialists available to help.
When all is said and done, even the best furniture packing can fail to keep your items intact during a move. But, then, furniture can be damaged even while it sits at home. Pets can ruin the upholstery. A vacuum cleaner can ding a table leg. And some surfaces just get scratched for no apparent reason.
So if you have to move something, do your best but don't stress.