PODS are excellent storage options, whether you are moving or remodeling. In fact, a specialized crew will deliver PODS to your site, ship to a new location, and even store them for you.
However, PODS cannot be left in all locations. Not only are there restrictions for the actual storage unit, your city or HOA may also have restrictions.
You do not need a paved driveway to use PODS. While a paved, level surface is the preferred spot, they have some wiggle room. For loading to be safe, you must set your POD on a relatively flat surface no matter what the material of the surface. Acceptable surfaces are grass, gravel, sand, brick, and soil.
How are PODS delivered?
The delivery truck uses an excellent system to lift, level, and place the POD. The PODZILLA is the perfect delivery system, but it comes with some significant clearance requirements.
You will want to clear a path 12 feet wide, 15 feet high, and 40 feet long. Additionally, the 40 feet can be a combination of your street and driveway/lawn. This length is for maneuverability.
Before scheduling your delivery, walk around the area and ensure the path is clear. Look up as well. Low-hanging branches, overhead wires, and roof overhangs are all potential obstructions. Any decoration or item you have on your lawn or driveway will also need to be removed. Remove anything that is possible.
If you do find obstructions or do not have the clearance, talk with your delivery crew before ordering. It is possible they will not deliver the moving POD rental to you.
Finally, don't forget to take into account how you are going to pack your POD container. Make sure the POD is facing the direction that will make packing the most convenient.
What surfaces can PODS be placed on?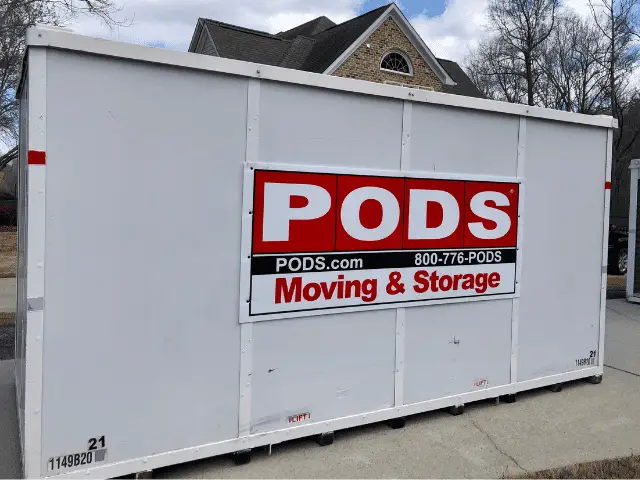 Paved Driveway
The ideal surface for your POD portable storage container is level and paved. As long as you have the clearance, your delivery crew should have no issue dropping your storage system off.
Gravel Driveway
While you can place PODS moving containers on a gravel driveway, there is a fee applied. Because the rocks can damage the storage unit, the delivery company charges a fee.
Incline
Small inclines are not an issue for PODS. You will likely not notice a slight slope in your driveway. Although, if your driveway has a steep grade, the delivery driver may reject the drop off.
Grass
As long as your lawn is relatively flat, PODZILLA will have no issue delivering on a grassy surface. When renovating, you may choose to place the unit on your lawn so that you have full access to your driveway and garage. Furthermore, a unit cannot be placed over a sprinkler system. The sprinkler head could damage the unit.
Can PODS be placed on City Streets?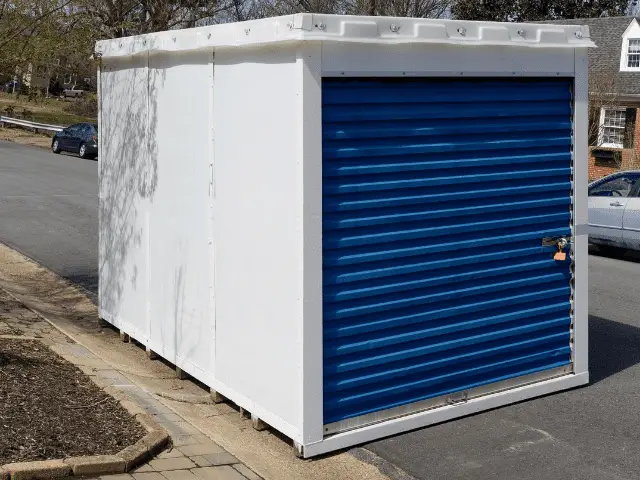 Some driveways and front lawns are too small for the clearances needed by both the storage unit and the PODZILLA. In this case, consider placing it on the street.
Be aware, you cannot place it on the street without permission. While you might park a car on the street with no issue, the same is not true for a storage unit.
It is very likely you will need to get permits for your POD, even if it will only be there for a short period. PODS will need copies of the permits before the delivery is performed.
Additionally, HOAs have rules about storage units visible to the street. If you live in a community, you will need to check the bylaws. While PODS will still deliver your unit, you might face finds from your HOA.
Will a POD Damage my Driveway or Lawn?
PODS

are not light. They are rigid boxes of metal and the more you put in them, the heavier you get.
That being said, it is possible for your storage unit to damage your driveway. However, the unit is designed with smooth, metal bottoms to minimize the potential damage.
When placed on a lawn, some damage may occur to your grass and soil. A POD blocks your lawn from receiving sun and water. If left for a long period of time, your lawn will die.
How long do I have to pack my POD?
PODS will make contracts for whatever length of use you need. This is one of the reasons a POD can be incredibly convenient when compared to using a moving truck.
The typical contract allows you 30 days to at your current address and 30 days at your new address with no additional fee.
In the event you are just renovating, monthly plans are available. Finally, PODS will even store your items whether or not you are moving. For current PODS storage cost, check out PODS.com

.
Will PODS place a unit near my apartment building?
The delivery team will deliver just about anywhere. An apartment parking lot is a simple spot to drop a unit off. However, your building manager and owner may have different ideas.
Check with the building manager before ordering a unit for your apartment.
Do PODS fit into a parking space?
Some units are the perfect size to fit into a parking space. You will need to keep the spaces on either side open for delivery and pickup so that the PODZILLA has space to maneuver.
Once they place the unit, you can use the neighboring spots with more than enough clearance.
Final Thoughts
PODS are probably the most popular moving container company and an excellent choice for storage no matter if you are moving or just renovating.
The transportation of your items and the unit is handled entirely by professionals. With a renovation, your items are safely tucked away. With a move or long-term storage need, you can even ask the company to store your items at a facility.
While placing your POD is flexible, there are some restrictions and concerns. There is a low chance any damage will occur to your driveway, but long-term placement on your lawn will kill your grass.
Inclines and gravel driveways are also tricky. A small slope will not be an issue at all, but steeper slopes may cause your driver to reject the delivery.
Before ordering, ensure you have proper clearances for the PODZILLA delivery system. Clear the way of any loose branches or other lawn items that may be in the way.
No matter what the situation is, always consult with the delivery and customer care team so that you know your options.