Congratulations, you've enlisted the help of a professional moving company. There are so many things to worry about when you're planning a move that hiring the experts will let you focus your energy on other essentials.
The unfortunate thing is, you probably only hired the moving company to move your items from one house to the other. You're still on the hook for packing, dang it!
For the most part, packing for a moving company is the same as packing a house without hiring movers. But because you're hiring outside help, you will want to sort, pack, label and organize your items more carefully. You also are going to need to prepare large appliances and furniture before they arrive.
Here are our tips for successfully packing for a moving company so that you can save time and relax when the moving day comes.
Sort
The first step to any move is sorting. Before you pack up all those items, figure out what items you're going to get rid of. Donate or throw them out before the movers come. You'll also need to decide what things you'll be bringing with you and packing them in your personal vehicle or suitcase if you're flying.
While you will continue to sort and purge as you pack, it's a good idea to have done some preliminary sorting before packing things in boxes.
Pack Properly
This should be a no-brainer, but make sure that you're packing things in the right boxes and labeling them correctly.
Heavy items should be in small boxes. Fragile items should be carefully wrapped, packed, and marked clearly as "Fragile" on all sides of the box. Label boxes as specifically as possible, including what's in the box and what room (Ex. Bedroom 2, Kitchen) it will be going to.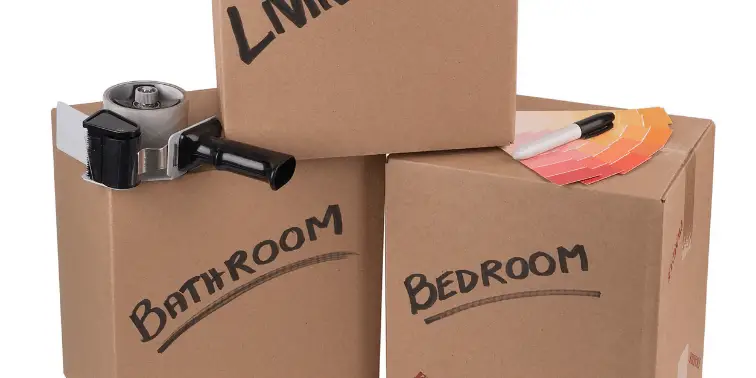 Packing things carefully will ensure that all your items get to your destination in one piece and that your movers won't hurt themselves!
Know What You Can't Pack
While movers will move almost everything, there are a few things that they won't move.
First of all, pack yourself or donate your plants because they are too fragile for a moving company to take them successfully.
Next, call the moving company in advance and ask them for a list of forbidden items. Generally, these items are things that are dangerous to pack in a moving vehicle like:
Matches
Nail polish remover
Gasoline
Paints and paint thinners
Lighter fluid
Propane cylinders
Oxygen bottles
Any flammable item or explosive
But call in advance to make sure you and your movers are on the same page.
Day pack
When you're packing for a moving company, you should also keep some items separate. You don't want your movers moving your valuables, important documents, or daily necessities. Have these items in a separate LABELED container. It might be a good idea to pack them in the car before the moving company arrives to make sure they don't get whisked away.
Here are some things that you probably want to keep separate.
Toiletries
A few changes of clothes
Prescription medication
Bottled water
Documents you may want to move yourself:
Lease or mortgage documents of your old and new address
Vehicle registration and auto insurance
Driver's licenses
Passports
Birth certificates and social security cards
Medical records
Other valuables, like:
Expensive jewelry
Electronics
Important/sentimental items
Label, Label, Label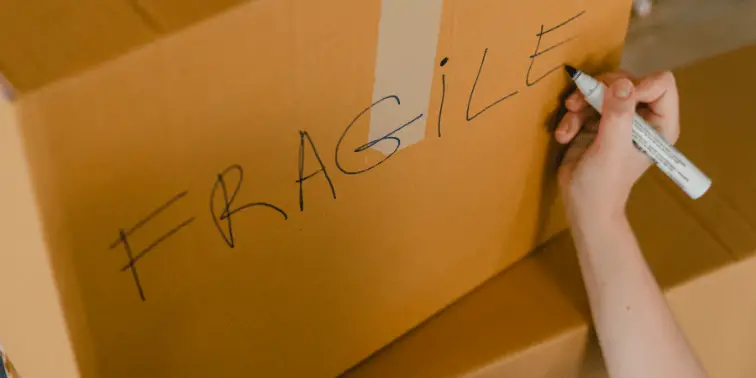 We already talked about this earlier under packing properly. But to reiterate, labeling is your best friend. It will make your life and the movers' lives easier. It will also mean that the movers have fewer questions when they come to load everything up.
Pack your Car First
An excellent way to keep your essential items out of the moving truck is to pack your car first. Put your valuables, important documents, electronics, and other items in your vehicle before the moving company arrives. To learn more about packing a car for moving, click here.
Organize
Once your boxes are all packed, organize your boxes by what room they will be going to in your new home. Hopefully, the movers will keep these items together on the moving truck. This system will make it easier and faster to unload once you've gotten to your destination.
Have a Designated "Don't Pack" Area
If you're not comfortable packing your car in advance or have a few items you haven't gotten rid of yet, have a designated area of your house for things that the movers won't be packing in the truck. Let the movers know on moving day where this area is and make sure the items there are labeled too.
It may help to have an entire room designated so that things don't get mixed up.
Unplug Appliances
Since you are only hiring movers to, well, move your items, you're in charge of making sure those items are 100% ready to pick up and go. That means that you need to unplug appliances, disassemble furniture, and uninstall light fixtures yourself before the moving company arrives.
Photographs
Before the moving company arrives, take photographs of all your boxes, appliances, and oversized items. Having your own photos will allow you to file for insurance or complain if anything gets damaged. Without images, though, you might not have much proof that something arrived in bad shape.
Having said that, we haven't personally had issues with moving companies fighting us against asking for reimbursement for damaged items, but we've heard horror stories from friends and colleagues.
Having pictures as proof of what your items looked like before the move is worth every second of the time it takes to take them. It's the same advice we give when you move into a new apartment to get your deposit back later on.
Everything packed
Remember, everything needs to be packed for moving day. You shouldn't be madly packing one room while the movers are in another room. Plan and have everything done before they arrive.
Kids and pets
While this isn't exactly packing, you will want to plan where your kids and pets will be on moving day. You'll need to be home when the movers are there, but kids and pets can make it difficult or even dangerous for movers. Arrange a babysitter or pet sitter in advance or drop them off at a friend's house to ensure a smooth moving day.