Pittsburgh, Pa is known as the steel city. If you live in the United States, then chances are, you have heard of Pittsburgh, Pennsylvania. Pittsburgh is most recognized for being the home of the Pittsburgh Steelers, which means if you watch football, you know about good ol' Heinz Field!
Pittsburgh is on the westernmost side of the state of Pennsylvania. It is surrounded by the Appalachian mountains to the east. Pittsburgh is unique because the Monongahela, the Ohio, and the Allegheny Rivers all meet in the city of Pittsburgh. Pittsburgh is a very eclectic city with many burroughs scattered throughout.
If you are interested in knowing more about what Pittsburgh has to offer, then be sure to read the rest of this article. We will discuss colleges, recreational facilities, sports teams, and other key things that call Pittsburgh home.
---
Cost Of Living
---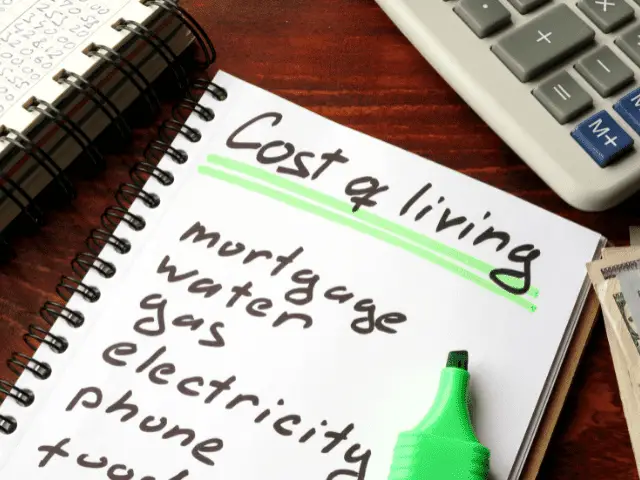 Pittsburgh can be quite expensive depending on where you live in the city. But, overall cost of living in Pittsburgh

comes out as average when you consider it as a whole. Transportation, groceries, and utility expenses are about 10% higher than the national average, with housing coming in at about 10% below the national average.
The average home price is Pittsburgh is $317,505

, and rent will cost on average about $1,000. Expect to pay around $222 per month in utilities and $70 per month for internet service.
To live comfortably as a single person you should bring in at least $2,500 per month to meet all your needs, with a little extra for dining out and recreational experiences.
---
Best Neighborhoods
---
Shadyside
Shadyside

has a population of just over 14,000 residents. This neighborhood is a mixture of shopping centers, art galleries, and salons. You can find almost any type of personality mixed throughout Shadyside. Artists, professionals, students, and people simply passing though can all be found here.
Oakland
Oakland

has a population of just over 8,000 residents. This neighborhood has parks, universities, museums, historic monuments, and many restaurants. Oakland has a rich and long history, and many beautiful sites to remind you of such. Enjoy this neighborhood and all of its beauty if you ever get the chance.
Squirrel Hill North
Squirrel Hill North

has a population of just over 11,000 residents. This neighborhood has extravagant homes and many parks to visit. The crime rate is lower than the rest of the city, and has a wide range of cultures and ethnicities. Squirrel Hill North is home the the late Mr. Rogers from the childrens show Mr. Rogers Neighborhood.
---
Weather
---
If you enjoy seasonal weather that includes mild summer months, cool autumn months, freezing winters, and an unpredictable springtime, then Pittsburgh weather is something that you will love.
Summer doesn't really start until June, and even then the weather isn't consistently warm. You can have a few weeks of warmth, then a cold front can come in and make your summer temperatures feel like spring.
The autumn months go from warm to cold within a few weeks, sometimes it can even snow! Winter is cold and snowy, with limited sun and a lot of precipitation from the Great Lakes which are just north of the city.
Springtime finally begins to break through around April, but don't be surprised if you wake up to a random snowstorm after a week of sun!
---
Things To Do
---
Anytime we move to a new city we want to know about where and what the city has to offer, especially entertainment. There are many things to do in Pittsburgh. Sports fans love the city because it is home to three professional sports teams! Thrill-seekers, music lovers, and science buffs won't be disappointed either. Read along as we talk about the many things to do in Pittsburgh.
Pittsburgh Steelers Football Games
Are you a fan of the NFL? If so, then you know that Pittsburgh is the home of the Pittsburgh Steelers

. The Pittsburgh Steelers play at Heinz Field which is located along the Ohio River in the city's Northshore neighborhood.
Enjoy watching an NFL football game or be delighted to watch one of the many concerts that they have at this massive stadium.
Pittsburgh Penguins Hockey Games
If football isn't your sport, then don't worry, Pittsburgh also is the home to the Pittsburgh Penguins

NHL team. If you don't already know, the NHL is the National Hockey League. The Pittsburgh Penguins are a well-known ice hockey team.
Pittsburgh Pirates Baseball Games
Pittsburgh is also home to the Pirates baseball team. The Pittsburgh Pirates

are a Major League Baseball team in the National League. They play at PNC Park on the city's north side.
The Carnegie Science Center
The Carnegie Science Center

is one of the coolest places to visit in Pittsburgh, especially if you love science. Enjoy the planetarium, the giant cinema, one of their lives shows, or explore all of the exhibits they have! You won't be disappointed!
Kennywood Theme Park
To all my thrill-seekers out there, Kennywood Theme Park

is calling your name! Kennywood has steel roller coasters, wooden roller coasters, and many other rides and games. Kennywood opened in 1899 and is recognized as a national landmark! Enjoy this park and it's 30 plus rides, and if you need something to cool you off, be sure to take a ride on the Pittsburgh Plunge!
Sandcastle Water Park
If the summer heat has you begging for something to cool you off, then Sandcastle Water Park

is just the right place to visit! Enjoy the wave pool, relax along the lazy river, or take a splash on one of the many water slides!
Carnegie Museum of Art
Art lovers will enjoy the Carnegie Museum of Art

. This art museum offers tours, programs, camps, and exhibits. You can enjoy the café or shop at the museum store. Get lost in the many pieces of art, and buy a souvenir to take home!
The Andy Warhol Museum
If you want more artsy places to visit, don't forget about the Andy Warhol Museum

. This museum was opened in 1994 and offers many exhibits and events for artists and art lovers.
Pittsburgh Zoo and Aquarium
If you love to see various species of wild and exotic animals, then the Pittsburgh Zoo and Aquarium

will be the perfect place to go. They have cheetahs, tigers, lions, elephants, and so much more! Enjoy one of the many events, classes, or hands on experiences!
---
Festivals And Events
---
If you enjoy festivals or annual events where people gather together to enjoy a common interest, then you will want to check out the following things that take place each summer in Pittsburgh.
Westmoreland Arts & Heritage Festival
The Westmoreland Arts & Heritage Festival

is a large festival that brings in over 100,000 people each year. Enjoy visual art, performances, delicious foods from around the world, and many fine arts and crafts.
The Three Rivers Art Festival
The Three Rivers Art Festival

is another art festival that takes place during the summer. Enjoy art and live music for 10 days at this event. The best part about this festival is that is it free to the public!
Pride on the Shore
Pride on the Shore

is a one night music event with famous headliners and other lgbtq+ activists and allies.
---
Colleges & Universities
---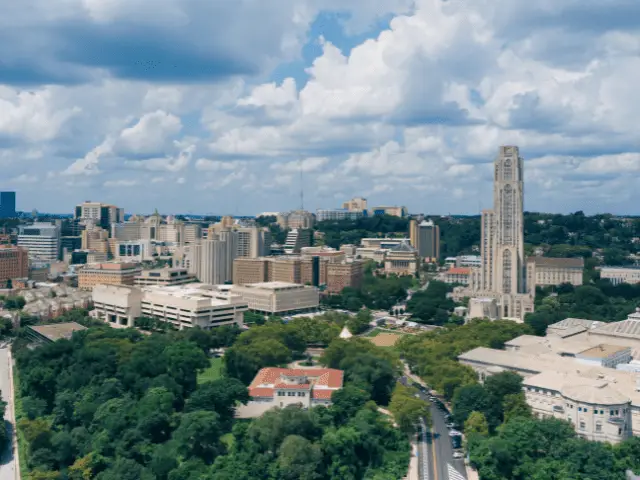 Many people move to Pittsburgh for a new job or career, but you may also be interested in moving there for educational purposes. Pittsburgh has many colleges and universities, many of which are unique!
Carnegie Mellon University
Carnegie Mellon University

is a private research university that was founded in 1900. It is a prestigious university that is known be innovation and stellar problem solving. Famous alumni include Andy Warhol, George Ramero, Ted Danson, and Joe Mangeneillo.
The University of Pittsburgh
The University of Pittsburgh

is a public university that was founded in 1787. The University of Pittsburgh is known for helping aid in discovering the polio vaccine and organ transplants. They have a great outreach program and help with their community but setting up donations, rental payments, and food pantries. Famous alumni include Fred Rogers and Ben Cardin.
Duquesne University
Duquesne University

is a private research university which was founded in 1878. Duquesne is a catholic university with 189 academic programs including law, nursing, and education. Famous alumni include singer Bobby Vinton.
Chatham University
Chatham University

was founded in 1869 and is a top ranked private university. Up until 2015, Chatham was an all women university. They now enroll men, which has been a mixture of surprise and anger from past alumni.
The Pittsburgh Institute of Mortuary Science
The Pittsburgh Institute of Mortuary Science

is a unique school that offers a one of a kind experience to learn the art of mortuary science. Each class has less than 20 students so you receive a hands on experience.
---
Taxes
---
Tax information for the city of Pittsburgh can be found here

. Learn about state, city, parking, and real estate taxes to make sure you are up to date.
License
If you plan on bringing your car or driving in Pittsburgh, it is good to have the proper knowledge on how to register your car and switch over your license.
To find all the information associated with driving, car registration, and getting an updated license click here

. This website will guide you to find all the necessary information needed when moving to Pittsburgh.
---
Still Looking For Where to Move?
---
If you're not sure if Pittsburgh is for you after reading through this guide, we also have an overall guide for the state of Pennsylvania that will give you a better look at other places to live in the state.