Wheeling is a small city located in the northern panhandle of West Virginia. It rests along the Ohio River and flows into the Appalachian Mountains. It isn't as widely known city like Huntington or Morgantown, but it is equally as full of history as its sister cities.
Moving to new places can be a rush of excitement, especially if you know very little about the new location. There are many cities that are very well known that you may have moved to, but you already knew what to expect from learning about them on television, in movies, or in some other type of media.
If you are moving to Wheeling, the odds are that you aren't very familiar with all of what it truly has to offer. Continue reading below as I tell you about life in Wheeling, fun things to do, where to live, and the cost of living there!
---
Neighborhoods
---
Wheeling is full of upper-class neighborhoods as well as lower-class areas scattered throughout. Here we will compare the best and worst areas to live in Wheeling.
Top Rated:
Elm Grove
Elm Grove is a small neighborhood located in Wheeling, it is the home to the oldest stone bridge in West Virginia and also one of the best Chinese restaurants in the area! Homes in Elm Grove have an average cost of $149,000 for a 3 bedroom 2 bathroom.
Triadelphia
Triadelphia is a small neighborhood in Wheeling that is home to only 811 residents. Enjoy shopping at the Highlands or hang out at one of the local creeks for a barbecue or rafting experience.
Woodsdale
Woodsdale is recognized as a historical district in the city of Wheeling. With less than 1,000 contributing residences this small town is a beautiful places to raise a family. Close to shopping centers and many restaurants, you won't be disappointed.
Lowest Rated
Wheeling Island
Wheeling Island is a small island that is about 3 miles long that sits on the Ohio River. It has a higher than average crime rate due to the influx of drugs in the area. While it does have some wonderful restaurants and even a casino, it should be explored with caution.
East Wheeling
East Wheeling is one of the oldest neighborhood in Wheeling. Built in 1834, this historic neighborhood is a small area no larger than 80 acres. While it does have charm and plenty of history, this area is known for crime sprees such as shootings and armed robberies.
North Park
North Park sits atop a mountain road in Wheeling, it is a long stretch of single family homes and a large subsidized apartment complex. This complex unfortunately throughout the years has been encompassed with the import of drugs and gun violence. Because of these unfortunate circumstances is is one of the least safe areas in Wheeling.
Related –> If you're moving yourself to Wheeling, there is a good chance you'll be driving through mountains to get there. Make sure you're prepared to drive a moving truck through the mountains before you take off.
---
Cost Of Living
---
The cost of living in Wheeling is about 27% lower than the national average. There are many low income neighborhoods scattered throughout Wheeling as well as premier locations as well. The average home price sits just above $105,000 which is a steal compared to the national average of $290,000.
Be prepared to pay for utilities such as gas, electric, and water as well as other miscellaneous costs.
---
Weather
---
The weather in Wheeling varies from season to season. Because it sits along the Ohio River and is a few hundred miles south of Lake Erie there is plenty of precipitation year-round.
Summers are warm and sunny with the occasional thunderstorms or sun shower. The summer heat begins by mid-May and really ramps up by the end of June. September begins warm but ends with the crisp cool Autumn air coming in.
The fall is full of cool temperatures, usually above freezing, but the occasional snowflake may make its way in. The leaves turn beautiful shades of red, yellow, and orange and slowly drift away from the trees. When the stems are bare you know that winter has arrived.
Winter can be cold and snowy, but not cold enough for the Ohio River to freeze all the way through. There are enough warm days to keep the water flowing.
Spring begins in March but sometimes waits until April depending on the year. Overall the weather offers many transitions from one season to the next, each offering its own beauty.
---
Things To Do
---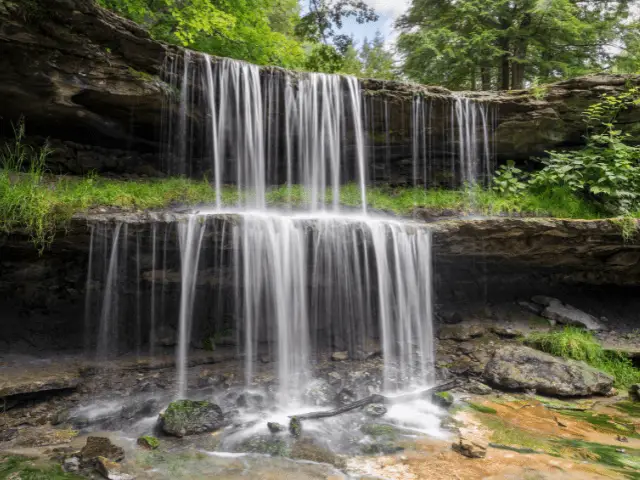 Wheeling has more activities than meets the eye. Some of the activities are in neighboring towns or cities, but most are within a 15-minute drive from the city.
Wheeling Island Casino & Racetrack
The Wheeling Island Casino & Racetrack

is the go-to place for people who like to gamble. They offer table games such as poker and roulette, as well as slot machines for those who like something a little more solitary.
They also have greyhound racing that you can bet on every Wednesday through Sunday. One thing I love about their racetrack is that they allow you to adopt the retired greyhounds. This option is a plus because many places put them down. To learn more about adopting a retired greyhound you can check out their website here.
Highlands Shopping Center
The Highlands Shopping Center

is a go-to for many Wheeling residents. It offers everything you need in one general area and also has many restaurants, bars, and entertainment services.
Built-in 2004 for the locals to have a place to shop, they added a Cabelas to the shopping center. It was the only Cabelas in the area, the next one being 5 hours away. Eventually, the area was built up over the next few years with new things being added each year.
Oglebay Park
Oglebay Park

is by far one of my favorite places in the world. Yes, this may sound a bit like a reach, but I'm telling you, it is one of the most beautiful places you will ever encounter.
Oglebay Park sits in the Appalachian mountains and offers many unique year-round attractions. They have an impressive golf course, two wonderful museums, a zoo, a gorgeous flower garden, live music events, and much more! Every visit gives you new things to experience!
Grandview Park
Another breathtaking park to visit is Grandview Park

. While this park is not directly in Wheeling, it is only a 15-minute drive down the river to this magical place.
Enjoy looking down at the Ohio River from high above Grandview Park. Take a swim at the pool, climb up the rock wall, or even zip line down the mountain. This picturesque park will not disappoint!
Wheeling Nailers
If sports are more your passion, head over to WesBanco Arena for a Wheeling Nailers

game. The Wheeling Nailers are an ECHL ice hockey team that began in 1992.
Their home turf of WesBanco Arena also offers many concerts, exhibits, and other fun events when the Nailers aren't playing!
Heritage Port on the Wheeling Riverfront
Heritage Port

on the Wheeling Riverfront sits right next to WesBanco Arena. It was opened in 2002 as a place to enjoy gatherings and the scenic beauty of the Ohio River. Enjoy strolling down the Heritage Port and have a glimpse of all the wildlife that gather each day.
The Palace of Gold
The Palace of Gold

is by far one of the most extraordinary places you will ever visit. It is completely hidden and not very well known unless, of course, you are a local. Located a few miles down the river in Moundsville, this monumental place has been named as one of the top 30 most beautiful places in America.
The Palace of gold was started as a home for Srila Prabhupada, a man known for his spirituality and abundant mind. He wanted the home to be able to writing his books and have a peaceful and clear mind. Eventually the palace became more than just a home, and emerged into what is now the prayer palace for many Krishna's.
The Capitol Theatre
The Capitol Theatre

is a truly historic place, built in 1928, this theatre has held many concerts and events over the last century. Enjoy the Wheeling Symphony Orchestra or one of the many events out on by Jamboree USA at this one of a kind place.
---
Festivals and Events in Wheeling
---
Festivals and events are a big part of the culture in what is considered the Ohio Valley. Wheeling is home to most of the well-known festivals because it is the largest city in the area and has the room for such large events. Below are some of the most popular festivals in Wheeling.
Undo's Upper Ohio Valley Italian Heritage Festival
The Italian Festival

is one of the most well known festivals in the Wheeling area, this summer festival has vendors from all over selling delicious Italian foods such as spaghetti, sausages, and even desserts. There is always a variety of live performances and many things for sale as you walk around and explore this annual festival!
The Grecian Festival
The Grecian Festival

is held each summer in the heart of Wheeling. This festival has a wonderful variety of Greek cuisines available to purchase, everything from gyros, to kabobs, and baklava can be bought at this foodie festival. You won't be disappointed with the entertainment as they have live performances that include dancers and singers each night!
The Wheeling Chili Cook-Off
If you want to enjoy an event that pairs various styles of chili, classic cars, and live music then the Wheeling Chili Cook-Off

is the perfect event for you! This annual one night event takes place each summer and the best part is that there is no entry fee!
The Festival of Lights
The Festival of Lights is something I think every person should experience at least once in their lifetime. If you love winter, and all things related to the holiday season, you will enjoy this amazing event.
The Festival of Lights is a tour of lights that you experience from your car. It is – miles of festive lights that you drive through and look at. You can even book a night at their lodge to get a behind the scenes look at the lights and a delicious dinner buffet experience! Find out more about the full Festival of Lights experience here

.
The Ohio Valley Pride Festival
The Ohio Valley Pride Festival

is a recent festival that was started in 2017. With the growing LGBT community and need for representation, this festival was a fresh addition to the summer line up in Wheeling. Enjoy great food, music, and performances at this annual festival!
---
Driver's License, Taxes, Etc
---
License
Every state has different rules when it comes to getting your identification card, driver's license, car registration, and any other needs to legally own a car. In Wheeling, West Virginia you will need visit the local DMV to be compliant for any updates to your drivers license, identification card, title, or registration. The closest DMV to Wheeling is located in Moundsville, you can find out more about this location here

.
There are 23 other DMV locations in West Virginia, you can learn more about each location here

.
When moving to Wheeling from out of state be sure to visit the closest DMV within 30 days of moving to be sure you are up to date on all transfers, titles, and registrations. After 30 days you will be out of the legal window of coverage.
Taxes
The tax department for West Virginia is located in the city of Charleston. To be compliant you will need to file taxes if you live in the state of West Virginia. The West Virginia tax website can be found here

.
This website has all forms that you need for personal taxes such as income and property taxes, business taxes, and all of the up to date information for filing your taxes, receiving refunds, and options for payment plans.
For local tax filings for Ohio County you can find more information here

.
Final Thoughts
Wheeling West Virginia is a unique place to live, it offers a small glimpse of city life, while also having scenic areas with ample amounts of serene locations. There are plenty of places to explore in the area and many events that take place year round. Wheeling has a way to capture your heart and never let it go if you give it a chance.
If you want to explore both sides of life, Wheeling is a great place to live.
If you want a more broad picture of moving to West Virginia in general, we have a Guide for moving to West Virginia you should definitely check out!