Are you moving and need to find a way to safely pack your glass tabletop? Then, you've come to the right place!
This post is all about how to prepare for the big day. We'll share with you a few tips on what to do and what not to do.
Glass tabletops are heavy and awkward to pack, regardless of their size or shape. They're also extremely fragile (not to mention expensive) and can easily shatter into a million pieces.
However, with some know-how, you can learn how to pack a glass tabletop to guarantee it gets to your new home in one piece.
Let's get started.
How to Pack a Glass Table Top in 5 Easy Steps
The most important part of any move is to be prepared. Knowing what materials you'll need and what to do beforehand can save you time, energy, and a whole lot of heartache.
Read ahead to learn how to pack a glass tabletop in five easy steps.
Step 1: Gather Your Materials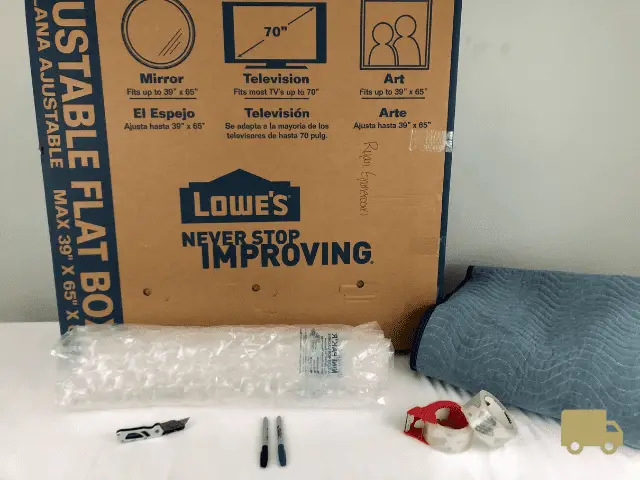 The first thing you have to do is gather all the materials you need to pack your glass tabletop. Having everything on hand saves you the hassle of running back and forth trying to find whatever it is you forgot.
You can find all the materials at your local hardware store, moving retailers, or online. You may even have some stuff leftover from home projects or previous moves.
Because we move so much, we try to keep as much of our moving supplies as possible after a move which is why you see "Ryan's Gameroom" on the TV Box. We've gotten our money's worth from that thing!
Take stock of what you have at home and what you need to buy. Then, make a list and get whatever's missing, such as:
Shipping or packing tape
Utility knife
Bubble wrap
Cardboard sheets, a packing or picture box
Black marker
Moving blankets (optional)
Step 2: Wrap the Glass Table Top In Bubble Wrap
First and foremost, get yourself a helper. I do not recommend trying to move around a glass table top by yourself. They're heavy and very awkward to move by yourself. You definitely don't want to break (or hurt yourself) before you even get it to the truck.
Lay a couple of bubble wrap sheets on the floor. Then, gently place the glass tabletop over the sheets.
Cover up the glass top, making sure the two sheets overlap. Also, check to make sure that the entire tabletop is covered and that no edges are showing.
Step 3: Tape the Bubble Wrap in Place
Using packing tape, wrap the bubble wrap tightly. It's important to avoid leaving space around the glass. Having room for the tabletop to shift or slide may damage it during transit.
Start by cutting several pieces of tape and have them beside you ready to use. Next, hold the overlapping bubble wrap with one hand.
Then, with the other hand, take the pieces of tape one by one and place them where the two sheets cross over. Finally, wrap the tape twice around the entire tabletop. Make sure you pull tight so that everything stays firmly in place.
Some people, myself included, prefer to add more protection by using moving blankets. Just like with the bubble wrap, make sure the blankets overlap. If you can use two blankets on top of each other, all the better!
Step 4: Slide It In a Cardboard Box
Measure the dimensions of the wrapped glass. Next, place it in a specially designed picture box. This is the same type of box that is used for big screen TVs and large mirrors.
You want to choose a box with measurements as close to the tabletop as possible. Even a difference of a few inches can risk damaging the glass.
If you don't have any boxes like this and are on a really tight budget (these boxes can be a bit pricey which is another reason why we continue to re-use ours) another alternative is to get some cardboard sheets and make your own box! Fold the cardboard over the wrapped glass.
Then, using the utility knife, cut off any excess. Finally, secure everything in place with the packing tape.
Don't forget to write 'Fragile' with a black marker on both sides of the box.
Step 5: Secure It In the Moving Truck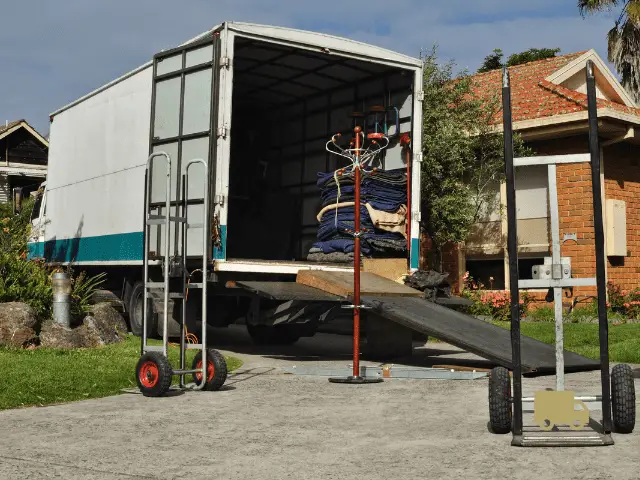 Avoid laying your tabletop flat in the truck or van. Any slight bump in the road can cause it to crack. Plus, you risk something falling on it, which means no more tabletop!
Instead, place it lengthwise on its side, preferably with heavier items in front of it. I like to leave just enough room between the side of the truck and something very heavy, like a dresser, that you know is not going to move or slide during the move.
Slide your table top in between the side of the truck and dresser. If it's a tall dresser you may have enough room to slide another item like a big screen TV on top in the same space. Flat screen TVs are super light now and now you've filled the entire space. Great job!
Finally, secure it with tie-downs so it doesn't slide out. Just don't strap it in too tight that it causes the glass to crack.
A Final Note
There you have it! Our guide to how to pack a glass tabletop in five easy steps! As always, it pays off when you're prepared.
Take your time and make sure you have all the right materials. You'll find it's the best way to save yourself a lot of aggravation, money, and time!
Happy packing!