Most people know that there's always something going on in the nation's capital. It ranks eighth out of the U.S. cities most visited by foreigners, and plenty of Americans too—for everything from business to school trips to political demonstrations.
Washington is a beautiful city, with spring cherry blossoms, the Potomac River, the buildings and monuments, and more.
Still, Washington, DC has some distinct drawbacks too. Housing is expensive, and long commutes to the suburbs and exurbs can be harrowing. And, like any larger city, Washington (2019 pop. 692,683) has its share of traffic, high prices for food and other necessities, and tragic homelessness. Yes, Washington is also known for a high crime rate averaging 60 per 1,000 residents or 559 per square mile.
Decisions, decisions! Should you consider moving to Washington, DC? In this article, we'll discuss the city's many benefits and negative aspects so you can make the best decision for your circumstances.
Key Facts About Washington, DC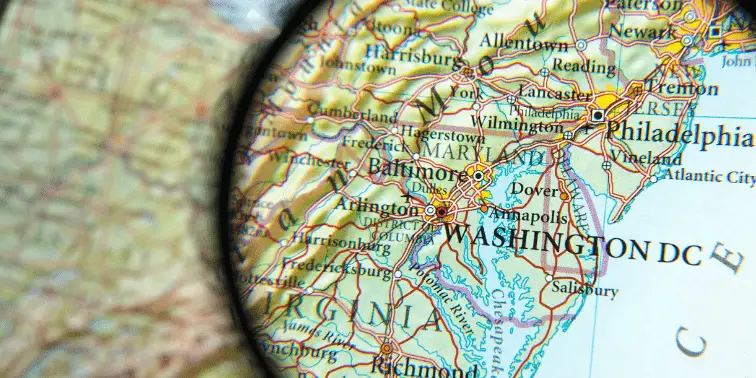 While living in DC, I worked at a backpack and lightweight luggage store that needed an accountant to prepare other employees' paychecks and tax-filing documents. Those who worked there came from two states and the District (as was the case with me).
Employers in the District of Columbia deal with a plethora of taxing situations since their tax-paying workers reside in states as far away as Pennsylvania and West Virginia, not to mention the many who commute from neighboring Maryland and Virginia. We're not even talking about federal government employers and employees either. That's a whole separate article!
Taxes
But what about the District itself? What are its tax rates for residents? For personal taxes, the District has five tax brackets:
4% on the first $10,000 of taxable income.
6% on taxable income between $10,001 and $40,000.
7% on taxable income between $40,001 and $60,000
8.5% on taxable income between $60,001 and $350,000.
8.95% on taxable income of $350,001 and above.
For real property taxes, the rate is the amount of tax on each $100 of the property's assessed value. And the general consumer sales tax in the District of Columbia is 5.75%.
Cost of Living
The nation's capital has a cost of living ranked at 150.1% of the national average. Housing is at a whopping 240.8%. And the median home price in the District is $672,400, roughly twice the national average. That these figures fall within the context of a city with a 13.5% poverty rate should not be surprising. Still, Washington (and its surroundings) have a steep housing demand.
Finding a Place to Live
Washington's median home value is currently at $698,833 (in the District). Many of the suburbs cost more. So if you're moving to Washington straight out of college or a first job, you might want to rent an apartment while you save for a costly mortgage. In fact, many Washington families remain in apartments or rental houses for many years.
When starting your housing search, especially if the city is unfamiliar, find a buyer's agent to help you identify the safer neighborhoods and any "hidden gem" rentals you might find there. For example, the average rent for a 1-bedroom apartment in Washington DC is $2,450 per month, $3,462 for two bedrooms. If it's just you, think about renting a studio apartment.
If you're looking for a suitable apartment in the District, the Cleveland Park and Woodley Park areas would be good choices, especially being close to public transit stops. With help from a real estate agent, you can find comparable low-cost areas for apartment living in Washington, DC. Consider a roommate, too, if you need help making ends meet.
If you are going to be renting, make sure you plan ahead for how to get your full deposit back when it's time to move out.
Of course, if you are more advanced in your career, have a family, and/or have accumulated some savings, you might be happier living in one of Washington's suburbs.
Travel to and from Washington
If you want to travel in or out of Washington, other than by car (and avoid the crowded Beltway), you have several long-distance travel possibilities.
Train and Bus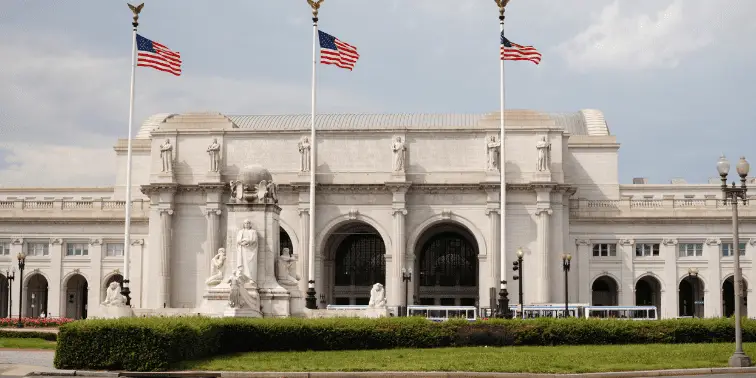 Whatever your reason for traveling, you really should see Washington's historic Union Station, which is located just east of Capitol Hill and north of the Mall. Built during 1907-1908, this magnificent edifice has kept virtually every aspect of its original charm. Today, it serves trains and intercity buses and, until recently, had a concourse filled with shops and restaurants.
Air
Three airports serve the Greater Washington area: Ronald Reagan National Airport (across the Potomac and closest to the city), Dulles International Airport (farther southwest in Virginia), and Baltimore-Washington Marshall International Airport (in south-suburban Baltimore).
We think Reagan National has the most unique amenities of the three, and it's definitely the easiest to reach from most parts of the district.
Moving Truck
Don't forget the transportation you'll use when moving to Washington, DC: the ubiquitous moving truck. Use a commercial interstate moving company or DIY with a rental truck. DC's traffic, circuitous roads and traffic circles, and parking challenges can be tricky. Unless you know the city well, you might want to go with the pros.
Travel in the City and Suburbs
Washington, DC has an extensive public transit network that runs above and below ground. It ensures that personal vehicle use is diminished as much as possible within the city, and suburban commuters can relax in comfort on trains extending well into Maryland and Virginia.
You can get just about anywhere using the Metro subway system, most often combined with buses or personal vehicles using commuter lots. Except for the occasional oversight (once, I almost sat on a seat with a pile of vomit—yuck!), DC transit vehicles are kept clean. And, although safety concerns have been made public, metro stations are patrolled during hours of operation.
It's not perfect, which is why commuters still feel compelled to drive to and from work. We advise you to take precautions by asking seasoned transit riders for pointers, such as finding a commuting "buddy" or not staying at the office after dark without a safe way home. Remember too that appearances can deceive. Even upscale neighborhoods see muggings and worse.
Leisure Time in Washington, DC
We promise you that you will never run out of things to do in Washington. Since most people have heard of attractions like the White House, The Capitol, the Smithsonian (National Mall), the Washington Monument, and the various statues and memorials, we will start with the sites we like. Of course, you should visit all of these if you haven't already, but there's a lot more.
Our Favorites from the Smithsonian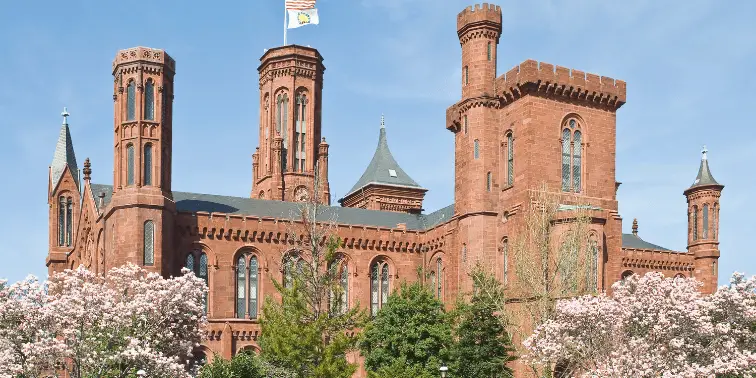 Whenever we're in Washington (now that we've moved elsewhere), we always have to see the Air and Space Museum, the Museum of the American Indian, the National Gallery, the Hirshhorn Museum, and the National Portrait Gallery. We can't wait to see the National Museum of African American History and Culture! Check out the entire Smithsonian here.
Dupont Circle
With its famous Metro stop in the namesake "circle," this neighborhood forms a nexus of the arts, unique (and delicious) dining establishments, museums, indie bookstores, boutique hotels, entertainment, and embassies and much more. For some terrific casual dining, go to Zorba's Café, authentic Greek cuisine only a block from the Metro. I never miss a chance to eat there!
Adams Morgan
Due north of Dupont Circle, the Adams Morgan neighborhood is known for its multicultural inhabitants and array of restaurants and bars. The nightlife here is lively, to say the least. If you're looking for a small apartment for yourself to share, this might be the place. Mornings here arrive slowly for most, so you might want to enjoy a quiet morning walk.
Georgetown
West of Dupont Circle, you'll find hip, upscale Georgetown. Georgetown is home to the elite Georgetown University and close to the John F. Kennedy Center for the Performing Arts (actually in the Foggy Bottom neighborhood near George Washington University). Check out its upscale boutiques and restaurants (the luggage shop I once worked at is now Patagonia).
The National Cathedral
Washington's National Cathedral is a place many visitors overlook—though they shouldn't. And even many of the city's residents haven't done more than drive past. While the building's exterior is enough to wow anyone, the interior and exterior, seen up close, are breathtaking.
The National Zoo
The National Cathedral is on Wisconsin Avenue, which runs northwest. If you walk (20 minutes) or drive (five minutes) to Connecticut Ave., you will arrive at the Smithsonian National Zoological Park a few blocks away. You could spend hours or an entire day seeing all the species in their habitats and the many, many educational exhibits—and, of course, delightful gift shops.
The U.S. National Arboretum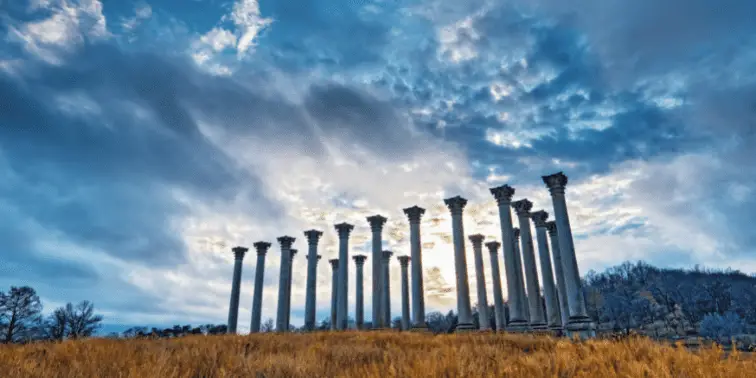 Another often missed site, this 446-acre park in the Northeast quadrant, not far from Gallaudet University, is worth visiting. You'll see an abundance of trees and other plants from across the U.S. and the world, including the Grove of State Trees and a collection of aquatic plants. You'll find this peaceful and educational place along the west bank of the Anacostia River.
Rock Creek Park
Rock Creek originates at the Potomac River, with trails starting at the eastern edge of Georgetown near the JFK Center. The creek itself meanders NNW deep into Montgomery County, ending near Gaithersburg, MD. The beautiful parkland alongside the creek expands and diminishes all the way along. If you enjoy hiking, you'll love every section of Rock Creek.
We've discussed all these Washington, DC attractions, yet we haven't even scratched the surface of what there is to see and do in DC. Once you've moved to Washington, why not plan some Sunday afternoons to visit different parts of the city and absorb the marvelous architecture, landscaping, etc.? Why not take a boat cruise on the Potomac sometime too?
Advice for Those Moving to Washington, DC
Washington, DC is a wondrous place.  But with wonder comes risks, and just about any city has them to some extent. Yes, the nation's capital is prone to risk, but not excessively for a city its size. World Population Review lists numerous other U.S. cities considered more dangerous than Washington, DC. And in 2020, CBS News ranked Washing at 27, below even Buffalo or Wichita.
Washington, DC: 977 violent crimes per 100,000 residents. Hardly bucolic, but the violent crime rate in Milwaukee, WI was 1,332 incidents per 100,000 residents. Washington may have violent crime, but it also has "gazillions" of tourists, security personnel, diplomats, businesspeople, politicians, and other federal government workers. There might even be some spies, Shh…