The stress that can come with a moving truck can be more intense than you might think. Renting a truck means there is a time limit.
Once you pick up the truck and look at the space available, this is where you usually realize precisely just how much stuff you own. Not to mention the sheer physical effort it requires to haul your belongings from the house to the truck itself.
If you are moving a long distance, the stakes can be high to ensure all your belongings fit inside the truck since you likely will only be taking one trip.
Even with a local move, you can still be charged extra if you do not return the truck on time. Essentially, you want to know what you are doing before you even pick up the keys.
See our guide below to give you some tips and challenges to think through to help you pack a moving truck.
Inventory with Ruthless Precision
Before you even start looking at moving truck websites, take stock of all that you own. Start from counting the largest to smallest items to help plan out your move.
How many couches do you own? Are they heavy or difficult to fit through doorways? What about dressers? Bookshelves? Desks?
The most important question to ask yourself is: do they all need to go with you? All of these can take up valuable space in a moving truck, which dictates the size of the vehicle you need to rent.
It might be painful now, but if you can part with a particular bookshelf, sofa, or collection of weighty books, you will be thankful on moving day that you did.
For the items that can go, make some money by selling them, giving them to friends, or delivering them to a donation center.
Track Down Some Tools of the Trade
You will need a few tools to keep your assets in one piece during your move. Some of these items might be available from the truck rental company. Call the rental company or check out their website to see what might be included with your purchase.
Some of the other materials you will have to procure yourself.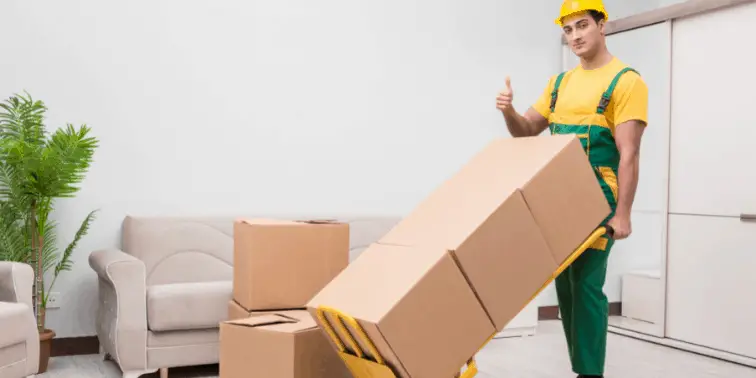 Dollies: Unless you have an entire crew of strong 20 somethings helping you move, you will absolutely want a dolly.
Furniture pads or moving blankets: You can use these extra thick blankets to wrap around your furniture to protect them during the move.
Packing tape:  You can use packing tape to seal boxes and secure moving blankets around objects.
Plastic wrap: For fragile items.
Tie-down straps or ropes: Ask your truck rental company if they provide tie-down straps or cords to help secure items to the walls inside the truck. Moving trucks can have panels on the walls for ropes or straps, which can help keep your belongings from moving around in transit.
Truck Size is Important:
The truck's size matters quite a bit, especially if you are on a tight budget or time is of the essence. Due to lack of space, making extra trips for a local move or leaving something behind on a long-distance move are some of the least desired situations that can come with moving.
If you're deciding between two sizes, always go for the bigger one if your budget allows it. Take it from someone who has had to just leave things on the curb because they didn't fit in the truck, it's totally worth it to get the extra space.
Research, Research, Research!
Research different truck rental companies that fit your budget and type of move. People might recognize the names of these popular truck rental companies: Uhaul, Budget, and Penske, but there might be local companies that are a better fit for your specific situation.
Review their vehicle options and look at pictures online. Call the companies to speak with a representative to explain your situation and see what they recommend. You might want to drive by the companies you are considering and check out the vehicles in person.
I've done all those things many times and have compared U-Haul, Budget and Penske in every way possible to try to make things easier for you.
Assemble Your Team
If your move is serious enough to need a truck, then you will want to be serious about who will help you trudge your sofa down a flight of stairs.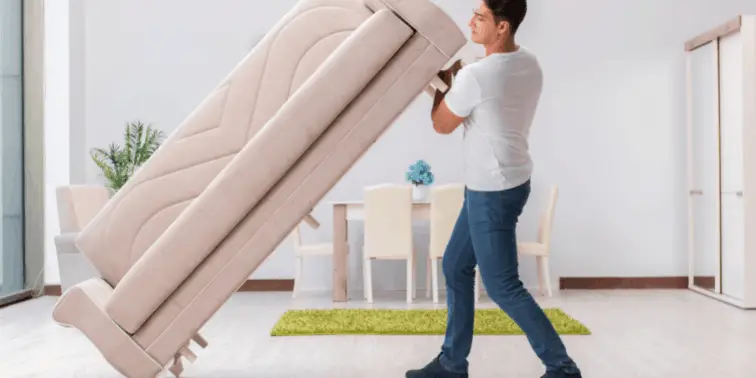 Most furniture is a two-person moving job.
You might consider hiring movers. One of the benefits of movers is that they often come ready with their own packing materials like tape and moving blankets and are generally experts at properly packing a moving truck. However, they are not the most affordable options.
Therefore, your choices might be family, friends, co-workers, anyone else you can recruit.
A few tips on recruiting people to help pack your moving truck:
Start early, try to get confirmations as soon as possible.
Ask as many people as possible! If you have moved before, you know that the likelihood of receiving cancellation texts rises as moving day approaches. Even if everyone does show up, excellent! Many hands make light work.
When you ask people to move, highlight how organized you are and that your goal is to finish this job as quickly as possible. Be honest about how long it will take, but mention that helping out for an hour or two is also valuable if they cannot commit to the whole event.
Tell them you will provide food before, during (if your move will take a full day), and after. Remember, those helping are taking time from their day (usually on the weekend) to lift your belongings through doorways, unpaid. If you start early in the morning, providing some coffee and donuts to get the party started can make a massive difference. Provide food in the middle of the move if needed, but especially after. Pro tip: It does not have to be pizza. (But it can be – here are some moving day food ideas to feed your friends)
When moving day comes, be organized and ready to direct traffic. Your friends' only job should be lifting items and taking them from point A to point B, not packing. They will love you for the organization.
Break Down the Furniture
Without a doubt, furniture is the biggest occupier of space in a moving truck, not to mention the heaviest and most difficult to transport. If any of your furniture can be taken apart and reassembled in your new home, it can help save time and people's biceps.
This includes things like legs on couches and tables. This will help get bigger items through doors.
Packing the Truck
Imagine your truck has three sections. At the very front of the truck (in the direction of the cab) are the heaviest and largest items, like furniture.
The middle of your truck should be for boxes, preferably medium-sized.
The last area, closest to the door, should be for smaller and more fragile items. Anything you need to grab quickly should be in this section.
Heavy Items Get Priority
The heaviest items need to go to the back of the truck. Items like dressers, sofas, desks should be placed there strategically.
Long items like mattresses and couches take up vast amounts of truck real estate. They can also line the sides of the truck if needed.
After the heavy furniture and appliances are secured inside the truck, you can look for any extra space and openings for boxes to ensure you utilize every part of the truck.
Boxes in the Middle
Now that you have moved the heavy items like furniture and tables in the truck, you can use the middle space for your boxes.
This part of the move cannot be a free-for-all either. You will want to be strategic to maximize space. Give priority to your heaviest boxes and make these the base layer, even if they are not the largest.
Place your heaviest boxes on any free space on the floor, on top of sturdy surfaces like couches or tables if they are strong enough.
Add your lighter boxes on top of the heavier packages. Pack boxes as tall as possible, even up to the ceiling.
Pro Tip: Your heaviest items or grouping of items should be in small boxes. For example, imagine a small box packed full of books. It would be very heavy. Now, imagine a medium or large-sized box full of books. It might seem impossible to lift.
Medium and larger boxes should be for sizable and more fragile items, not the heaviest.
Light and Fragile Items Go Near the Door
The last area remaining should be for your lightest and more fragile items or anything you might need to grab quickly. If there are any belongings that you know you will need shortly after reaching your destination, place them here. I like to put things like plants on the truck last so they can get as much sunlight as possible before getting closed in the dark.
Some Quick Lifting and Safety Tips
Lift with your legs, not your back.
Don't let ego take over. If you have even the slightest feeling that a box might require two people – ask for help.
Rushing can lead to injury. Your move certainly is not going to be on time if someone has to go to the hospital.
Tell your movers these tips as well, and let them know that their safety is your priority.
Final Thoughts
Packing a moving truck does not have to be a strenuous and stressful task, especially if you take the time to plan ahead.
Remember, choose the right size truck, recruit enough people, and add your belongings in the proper order. These steps will help keep you on budget and reduce moving day stress. Soon enough, you will be in your new place, recuperating any sore limbs.
Good luck with your move!