Packing is the most critical and stressful part of moving. However, with a bit of organization and preparation in advance, you can make the entire process a whole lot easier.
Your wardrobe won't take as much time as the kitchen for example. However, once you start, you'll notice that your purses need proper packing to arrive safely at your new place.
Your purses are your functional, comfortable, and symbolic daily necessity. Of course, they'll need some extra care and proper packing to survive the moving journey. This is why we put together this 'how to pack purses for moving' guide.
Let's dive in.
Prepare to Pack Purses for Moving
Purses are daily essentials, they carry great significance to women. They hold all necessary daily items including phones, keys, wallets and money, tissues, sanitizers, and more. They're also considered styling accessories that accessorize and complement outfits.
In addition, they can be terrific fashion statements that express personal style and fashion.
That's why your purses might have been one of the first things on your mind when packing to move. Yet, they can be hard to pack because of their delicate materials that require specific protective packing.
Items like purses, shoes, and clothes are fragile. Therefore, they need to be handled with care and protected well during transport. Otherwise, they can easily get scratched, torn, or damaged.
Don't forget to leave one of the purses as your carry-on. It should contain your identification card, money, phone, sanitizer, and any important papers or cards you'll need while you're on the move.
Place your purses in their dust bags before you pack them. Most dust bags are made of soft flannel cotton to protect the bags.
They're an excellent way to keep your purses protected against dust, as well as bumps and jolts. However, if you don't have any, you can just buy them online. They're cheap and sold in bulk.
Another option is to use household items instead. Here are a few items you can use:
Pillowcases
Old sheets
Old towels
Large shirts
Dresses
How to Pack Purses for Moving in 5 Easy Steps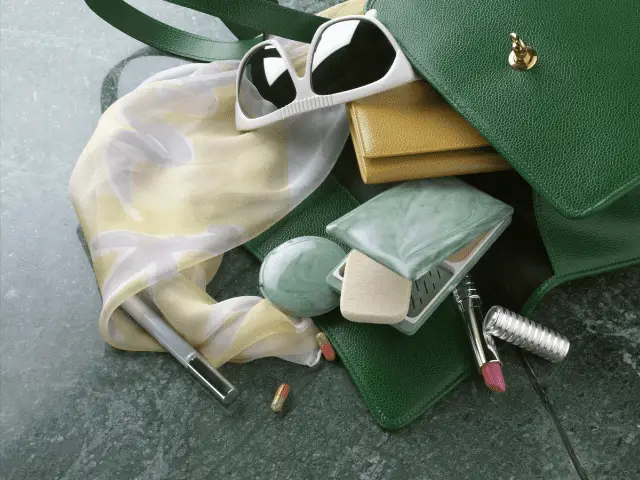 Follow these easy and clear steps that will save you the worries of ruining your purses during moving. You can't just throw your purses in a box and send them away. Bags need to be prepared first.
Step 1: Prepare Packing Materials
Small boxes or shoeboxes
Large boxes
Packing tape
Filling materials
Cleaning cloth
Protective spray
Dust bags
Step 2: Empty Out Your Purses
When you start emptying your dresser, remember to take out your purses and empty them as well. It's not a good idea to leave your stuff in the purses as is.
Sharp objects like keys or pencils can cause a tear in your purse and damage it. Makeup, moisturizers, or sanitizers can spill and stain your purse. Hard objects can cause ugly dents and cuts.
This is why you should go through your purses and make sure they're completely empty before moving on to the next step.
Step 3: Clean Purses Inside and Out
No one wants to take dust along to their new place. It won't be a pleasant surprise when you're unpacking, and it may damage your bags. Besides, your purses might stay packed for days, weeks, or maybe even months.
If dirt and dust settle on your purse, it'll dull its exterior. These dust particles act like an abrasive and rub against each other. This can cause the surface of your purse to erode and damage the fabric or leather. So, make sure you clean the purses inside and out well.
The next step in your cleaning process is to apply a protective spray

and conditioner. These treatments penetrate the fabric of the purse and block any dust, water, or dirt from sticking.
In addition, you can buy protective fabric spray for your purses. Each type of fabric has a specific protectant spray, depending on the type of material, whether it's leather, suede, nylon, canvas, or vinyl. These sprays help keep purses in excellent condition during moving.
Finally, zip up all your purses and buckles, and wrap them. Cover any metal parts with bubble wrap. Secure the bubble wrap with packing tape to prevent damaging the hard parts of the purse itself.
Step 4: Stuff the Purses to Maintain Their Shape
Fill your purses with packing materials to maintain their shape during moving. Packing materials can be either bubble wrap, styrofoam chips, packing peanuts, or crumpled paper.
If these aren't available, you can always use newspapers, old clothes, or even socks. Basically, any soft and clean material will do the trick.
Step 5: Start Packing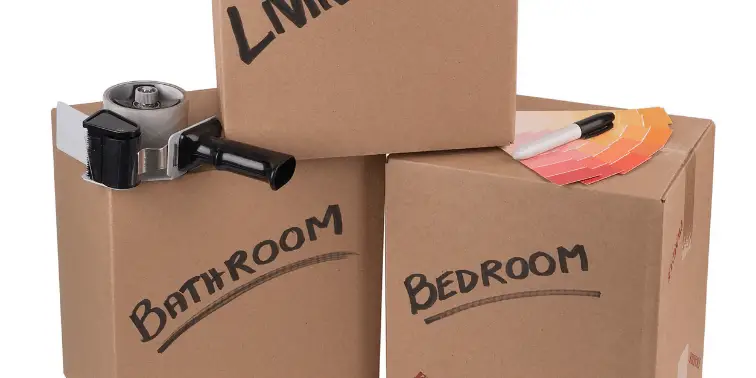 Prepare some suitable size card boxes for your purses. You can use shoe boxes or buy some online.
Use bubble wrap to cover each purse well. This will ensure that no friction will cause any damage to your purses.
Now use the previously prepared boxes to pack each purse separately.
Separating the purses from other items reduces friction and damage.
After you put each wrapped purse in a box, fill any empty space in the box with packing material to keep the purse away from the box edges.
Now, close the box and seal it well with packing tape. You can add some layers of packing tape to make sure it won't break open during moving.
It's always a good idea to label your moving boxes with what's inside. Also, add instructions such as; handle with care, to ensure you or the movers will be cautious with the boxes.
When you start loading your boxes, put the heavier boxes in the bottom first, so they won't add any pressure and cause damage to the lighter boxes.
General Packing Instructions
Here are some reminders that might help you not just to pack purses, but for all your packing needs. The most important thing is to pack a 'First Night' box with all the things you'll need once you arrive at your new home.
Bear in mind that you won't be able to empty all your boxes on the first day. So, make sure to include all the things that you might need for the first couple of days.
Create a moving checklist with all the items you need to pack.
Draw up a timeline and deadline for moving.
Decide whether you're going to hire movers or rent a moving truck only.
Declutter, sell, throw away, or donate it if you're not keeping it.
Prepare good quality packing boxes that won't fall apart mid-transit.
Find the right-sized packing boxes for your stuff and avoid over-packing.
Use plastic wraps to protect fragile items and keep everything in place.
Label everything and take pictures to remember what's stored in each box.
When you start loading your moving truck, start with the heaviest and most stable.
Fragile items are better moved separately or taken along in your car if possible.
Conclusion
After reading our 'how to pack purses for moving' guide, you're now an expert! You know that it's always smart to start early. Preparing is the key to any safe move.
Prepare your purses by emptying, cleaning, and stuffing, and then pack them properly. You won't have to stress out about whether your purses will arrive in good condition. Plus, it'll save you time and effort when it's time to unpack in your new place.
If you found this article helpful, you'll probably also enjoy our tips on how to pack your entire closet for a move.